*This post may have affiliate links, which means I may receive commissions if you choose to purchase through links I provide (at no extra cost to you). As an Amazon Associate I earn from qualifying purchases. Please read my disclaimer for additional details..
If you have started crocheting, you probably face the dilemma of whether to buy inline or tapered crochet hooks. There are many crochet hooks available in the market, and Clover happens to be among the most favored by many crocheters.
Crochet hooks come in different shapes, sizes, and materials. It can be quite overwhelming for a beginner crocheter to figure out what kind of crochet hook they should use.
The Clover company was founded in Japan in 1948. They are known for producing knitting needles and crochet hooks that are made with top-quality materials.
Are Clover crochet hooks inline or tapered?
Clover crochet hooks are tapered hooks, and they have a pointy tip that is slightly on a higher plane than the rest of the shaft. But what is the difference between inline and tapered crochet hooks?
What is the difference between inline and tapered crochet hooks?
An inline crochet hook is a hook that is in the same plane (inline) as the hook's shaft. The head of an inline hook is more pointed, while the throat of an inline crochet hook is deeper. The inline feature makes it easier to pull yarn while crocheting.
On the other hand, tapered hooks are crochet hooks that have a hook head that extends out past the shaft and is a little more rounded.
What makes Clover crochet hooks different from other hooks?
Clover crochet hooks have an ergonomic design that makes crocheting pain free to most crocheters.
Clover is a brand that was established in 1925 and was made an official brand in 1948. They pride themselves in creating crochet hooks that many people around the world love.
Here are some of the reasons why many crocheters prefer Clover crochet hooks:
Comfort
Clover crochet hooks have an ergonomic design that is easy on the hands, and the soft-grip handles make it easy to hold the hooks for longer.
The handles are also warm, which makes it comfortable for arthritis sufferers to crochet without pain.
If you hate the feeling of a crochet hook causing friction while crocheting, you should take comfort in the fact that Clover crochet hooks have a smooth finish. This is because these particular hooks do not have paint applied to them.
The polished aluminum hook gives you a smooth crocheting experience.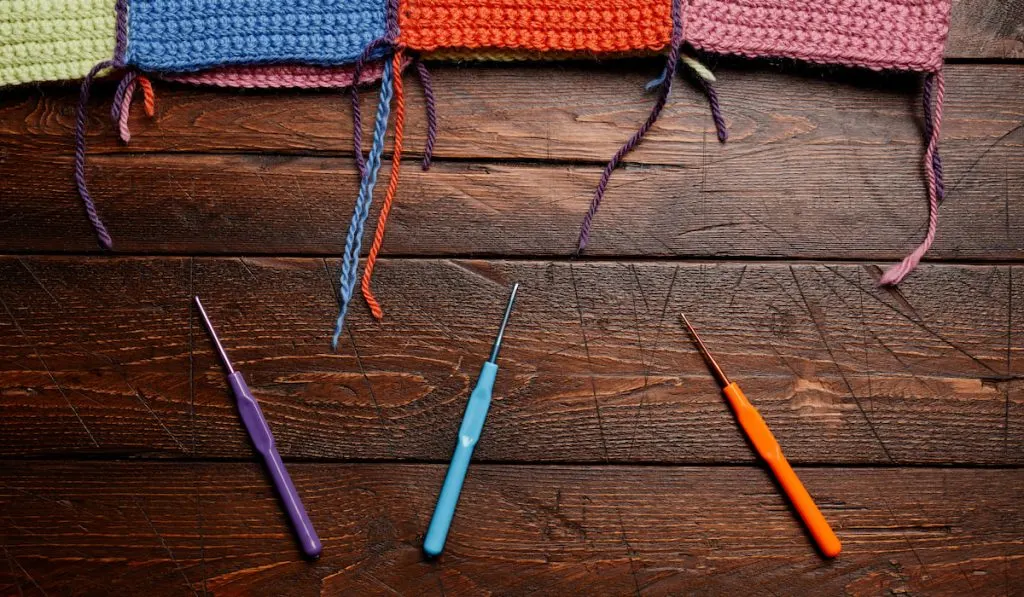 Multi-Colored
Clover crochet hooks have different bright and fun colors that make it easy for you to remember which hook size you were using last.
Multiple Sizes
Clover crochet hooks come in different sizes, making it easy for you to do different projects. The hook sizes are available in 10 sizes to include:
B-2.25mm
C-2.75mm
D-3.25mm
E-3.50mm
F-3.75mm
G-4.00mm
7-4.50mm
H-5.00mm
I-5.50mm
J-6.00mm
If you are looking for crochet hooks that you can work with on thicker yarns, Clover has larger sets that you can use. The sizes are:
K (6mm)
7mm
L (8mm)
M/N (9mm)
N/P (10mm).
The Clover crochet hook is more of a mixture between Susan Bates and Boye crochet hooks; in that, the tip is pointed but not too sharp so that it doesn't split the yarn while crocheting.
Ergonomic Hook Handle
Clover crochet hooks have a non-slip handle that makes it easy for pencil grip crocheters and knife grip crocheters to crochet comfortably. The material used in the hook handle is ABS Resin and Elastomer.
The crochet hook and shaft are aluminum, helping the yarn move without resistance as you stitch. Clover crochet hook has a 3D design that ensures a comfortable grip.
It has:
A flat section for your thumb
A flared section for your fingers at the back
Types of Clover Crochet Hooks
Clover has three types of hooks: Clover plastic crochet hooks, Clover steel crochet hooks, and Clover Takumi soft touch crochet hooks. These are all different depending on how you hold your hook when crocheting.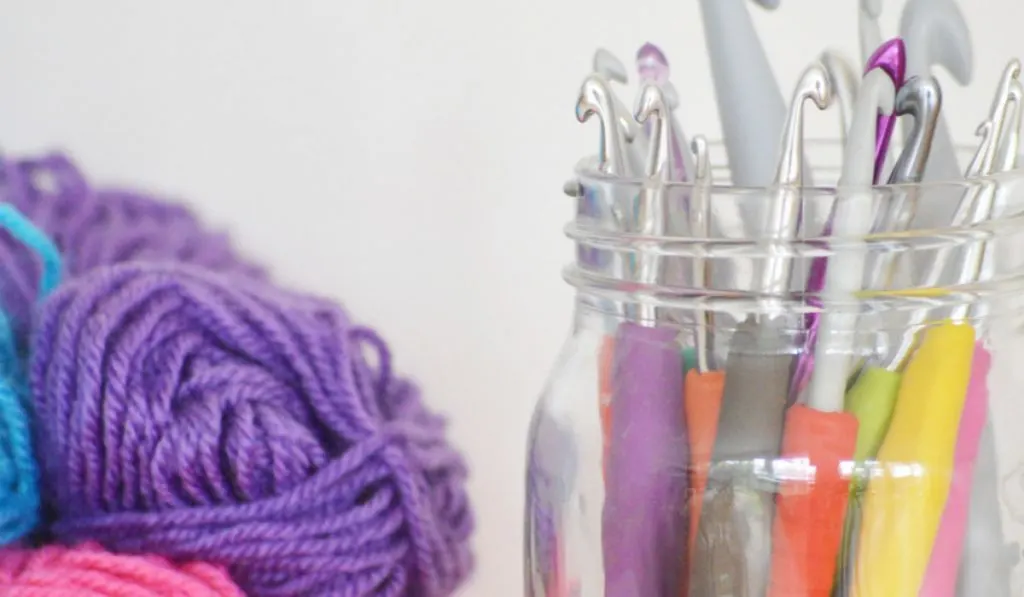 Clover Plastic Crochet Hooks
Clover crochet hooks are made of plastic, so if you prefer aluminum, you may be having doubts about these hooks. However, these crochet hooks are not cheap or breakable plastic.
The large hooks are smooth, and you may not notice you are holding a plastic hook when using them.
The quality plastic finish ensures that your yarn doesn't snag when you crochet, and there are no squeaky sounds that may irritate you when you crochet.
The length of the shaft increases with each size of the hook, and you don't have to worry about thick yarns not fitting well on the shaft.
Advantages
Great for working with thick yarns
Great for those working for long hours
Lightweight
Smooth shaft for smooth crocheting
Tapered
Disadvantages
Clover Steel Crochet Hooks
Are you planning to use crochet hooks with fine thread? Well, you will be glad to know that Clover also has crochet hooks made of steel to make it easy for the thread to glide through the crochet hook.
The handle is also ergonomic such that they are also made of plastic resin and a rubber thumb rest.
The handles are flat to prevent the hooks from rolling away as you crochet.
The sizes are:
Size 0 (1.75mm)
Size 2 (1.50mm)
Size 4 (1.25mm)
Size 6 (1.00mm)
Size 8 (0.90mm)
Size 10 (0.75mm)
Size 12 (0.60mm)
Size 14 (0.50mm)
Crochet hooks from size 0 are always called steel, thread, or lace hooks and are made from steel as steel is stronger, so they won't break easily when they fall. Aluminum also makes it easier to slide thread or lace through the loops without friction.
Advantages
Wide flat handle that helps reduce wrist pain
It has an ergonomic handle that makes it easy to hold the hooks
The hooks are lightweight
The hook size is indicated in black on the hook's handle for easier reading
Disadvantages
The hook sizes are different from the sizes of other brands, which may cause confusion
Takumi Soft Touch Crochet Hooks
If you are considering doing Tunisian crochet or Afghan project, then the Clover Takumi soft touch crochet hooks will help you finish the project.
The Clover Soft Touch crochet hooks are excellent for crocheters of all levels. The smooth handles allow you to create stitches without hand fatigue. The unique shape of the handles is ergonomically designed to fit perfectly in your hand, allowing you to crochet longer without discomfort.
These crochet hooks also feature a tapered end which allows you to see exactly where your hook is and prevents the yarn from catching onto the metal head of your hook.
The soft-touch crochet hook series is under Takumi. They have a sophisticated design that will have you crocheting for long hours without pain.
The material used to make Takumi crochet hooks is bamboo, which is warm to the touch. These hooks are great for people suffering from arthritis. The bamboo part measures 5.7 inches.
Advantages
Light
The grip is soft to the touch
No fatigue after hours of crocheting
There is a clear hook size display on the hook's handle
Hook size is from 2.0 to 6.0mm
The Takumi soft touch crochet hooks are interchangeable
Tapered or Inline, which One Should You choose?
If you are a beginner at crocheting, a tapered crochet hook will work best for you. A tapered crochet hook will allow you to use whichever method of holding your yarn is most comfortable for you( pencil or knife position) while still giving you control over your stitches. The larger ergonomic handle makes it easier to hold on to while you're getting used to the necessary movements.
Once you advance in your crocheting skills, you can use an inline hook but make sure that it is the appropriate size for the yarn and project that you are working on.
So which one is better? It depends on your preference and style of crocheting. Inline hooks have a lot more give in the shaft than tapered ones, so if you have trouble holding onto the hook for long periods of time, an inline hook may help alleviate that problem for you.
Inline hooks also make it easy to work on more detailed work like lace projects. However, if your hands cramp easily because of arthritis or any other condition, an inline may not be your best option.
Tapered crochet hooks are easier to manage and help you achieve a finer gauge. They are more ergonomic, which makes sense when you consider the extreme angles at which you sometimes have to hold your hook when working on an intricate pattern.
You can create garments with more drape and less stiffness since they are much easier to work with than inline hooks.
On garments, they do not leave large "holes" that inline hooks and other knitting needles do. This makes tapered crochet hooks excellent for finishing sweaters, dresses, and other garments.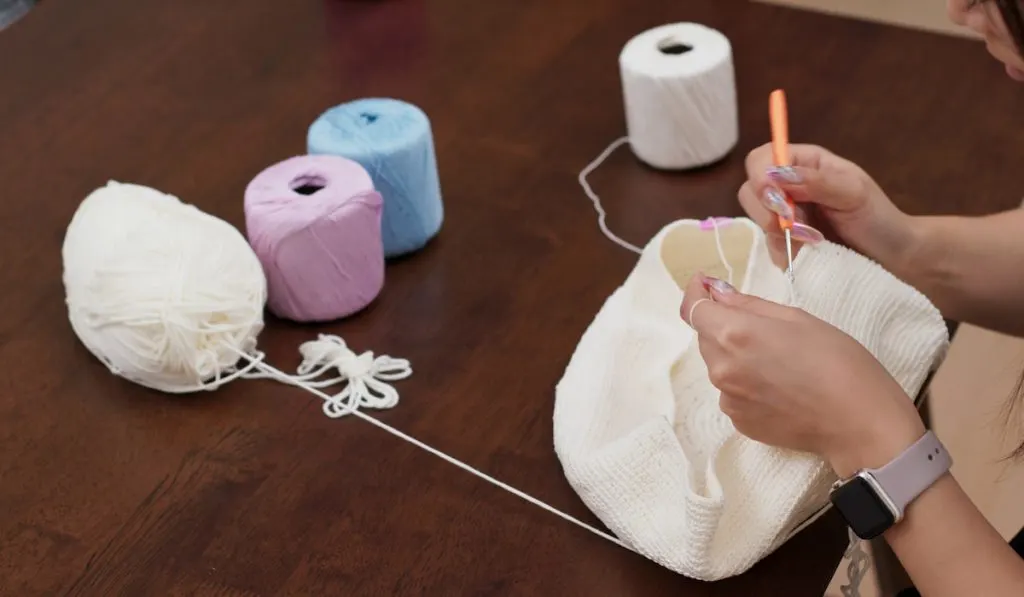 Frequently Asked Questions (FAQs) about Clover Crochet Hooks
How do I choose a Clover crochet hook?
It depends on the intended use. If you're going to work with very thin yarns, a small hook is better. If you're going to add beads or other decorations, a large hook will make it easier.
Clover hooks are available in a wide range of sizes. To make sure you have the size you need, check the label on your yarn to see what size needle it recommends and use it for your project.
Are Clover crochet hooks from Japan?
Clover is a well-known brand in the yarn industry, and they have been producing their crochet hooks since 1948. Their main headquarters are located in Japan, but they also have offices in the US.
Can I get blisters from using Clover crochet hooks?
No. Clover crochet hooks have an ergonomic handle that makes them safe and comfortable to crochet. This is a common concern among crocheters who use crocheting hooks because the metal can cause friction.
Some metal from non-ergonomic hooks can also feel sharp against your skin if the hook isn't smooth. To avoid this, try using a hook cover or grip tape on your hook to make it more comfortable to hold.
What do the numbers on the Clover hooks mean?
The numbers represent the diameter of each hook. The higher the number, the thicker (and larger) the hook. If you're looking for a larger hook, look for a higher number.
How should I clean my crochet hooks?
You will know your crochet hooks are dirty when they start to get sticky.
For this, simply use a damp piece of cloth and rub the hooks against the cloth and dry the hooks afterward thoroughly. You can use a drop of dish soap and wash to clean your Clover crochet hooks.
To prevent rusting, ensure you rinse your hooks and dry them.
Final Thoughts
When you want to create intricate crochet designs, it is important that you use the correct hooks for your project. A tapered crochet hook will help yarns slide easily in the loop while ensuring you don't split your yarn while crocheting.
Clover has been in the business of producing crochet hooks for many years, and the ergonomic designs of their tapered hooks have made them the most sought-after crochet hooks for both new and seasoned crochet lovers.
Resources: