*This post may have affiliate links, which means I may receive commissions if you choose to purchase through links I provide (at no extra cost to you). As an Amazon Associate I earn from qualifying purchases. Please read my disclaimer for additional details..
With crocheting fashion in full swing, it makes perfect sense to have several crochet accessories to elevate your outfits — and what better accessory than the versatile belt?
Whether you are looking to create bold statement pieces, minimalistic ones, or simply stylish corsets to hold your tops in place, this list compiles some of the best and most affordable crochet patterns on Etsy.
Read on to find a pattern or two that tickle your fashion fancy.
1. Simple Crochet Belt Pattern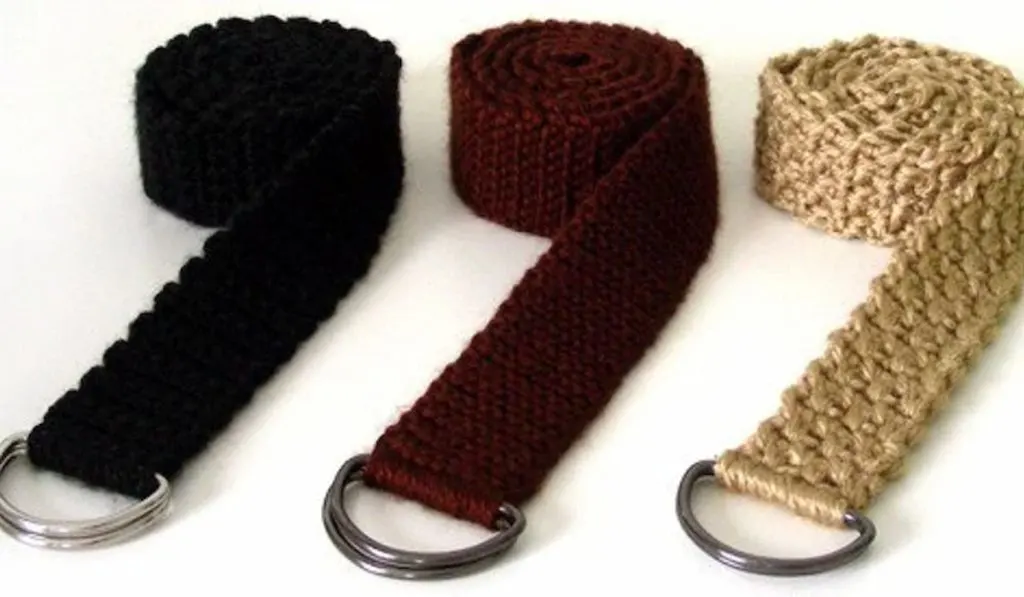 This pattern is a must-have if you want to make a simple belt that fits or if you are a beginner looking for a straightforward project to kickstart your crocheting journey.
The digital file comes with three belt patterns that are flexible enough for you to alter the width and length to suit your preference.
The provided instructions create a finished belt that is roughly 1.25 inches wide that can also be customized with regular belt buckles instead of the suggested D-rings.
Other materials you'll need to complete this crocheting project include the following:
4 mm crochet hook
At least 50 yards of medium-weight yarn
Two 1.5-inch D-rings per belt.
Lastly, you can also use this pattern to upcycle an old worn-out belt of the same pattern.
2. Tie Belt Pattern
This is yet another crochet belt pattern that any minimalist crocheter will love. It is, however, an intermediate-level project that requires you to have some experience in the following stitches:
Puff stitch
Single crochet
Chain
Double crochet
Slip stitch
To reproduce the pattern, the seller recommends the following material:
Boye 1.9 mm crochet hook
Cotton crochet thread (size 5)
Tapestry needle
4-inch winding board for the tassels
The seller also recommends a variety of sizes that you should take into account regarding where you will wear the belt.
Lastly, to guarantee value for your money, the digital file includes written instructions with the following features:
A chart
A selection of detailed pictures for each step
A video tutorial for the Romanian cord
You can also receive massive discounts upon signing up for their newsletter and making orders of various amounts.
3. Pixie Pocket Belt Pattern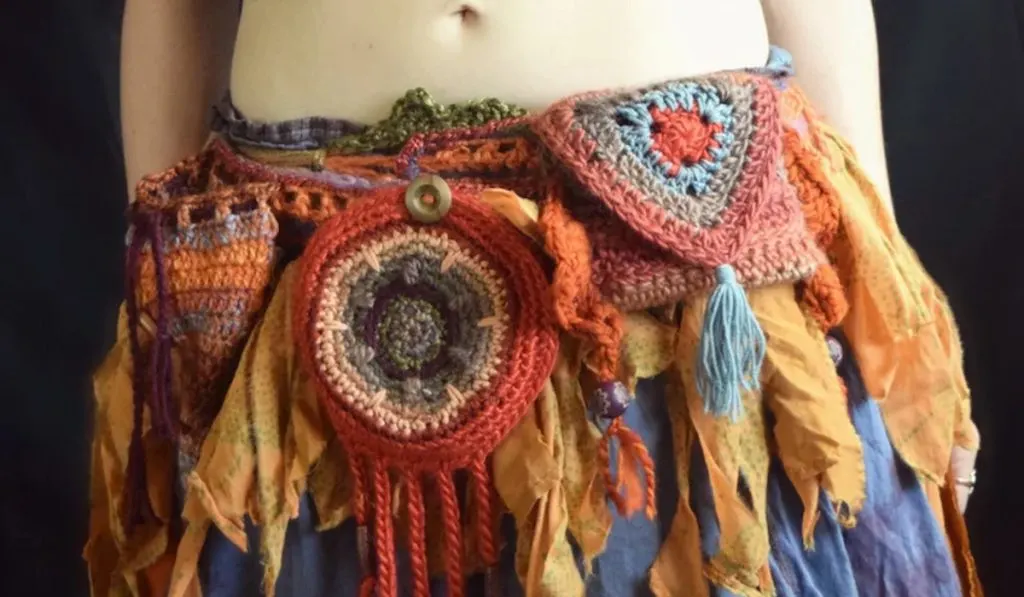 Link to free pattern: https://moralefiber.blog/2018/08/08/pbtintro/
Are you a boho-style enthusiast? Or do you love dressing up your outfits with fun, cute accessories?
You will undoubtedly love this cute pixie pocket belt. Besides, it is easy enough for newbies to follow and replicate, especially because it comes with detailed photos and tips.
You will also love the endless possibilities that come with the Pixie Pocket Belt PDF if you like playing around with colors and textures.
The best thing about this digital PDF file is that it comes with a ton of customization tutorials. You get to experiment by making variations of the original Pixie Pocket crochet belt.
The materials you will need for this crocheting project are these:
Tape measure
Stitch markers
Scissors
Various-sized yarn or tapestry needles
5.0 or 5.5mm hook and 3.5mm or 3.75mm hook
Various colored yarns, fabric, and accessories like buttons and beads
Lastly, you can contact the seller at any time for troubleshooting and any other help you may need on this belt pattern.
4. Vintage Cummerbunds Pattern
Flatter your curves with this waist-cinching belt.
The easy-to-follow pattern will help you produce this vintage-era design.
While the finished product will fit waist sizes between 23 and 26 inches, you can easily adjust the pattern to fit you.
The cherry on top of this crochet belt pattern is that it does not require anything extraordinary to pull off.
You will only need these items:
Knitting worsted in different colors
Buttons
Size G or Canadian size 9 crochet hook
Don't stress about the hook size so long as you have something that attains the correct gauge as per the crocheting instructions. As an easy crochet pattern, it is a great project for beginners.

But that's not all.
The seller also has an array of other crochet patterns that you can get at a discount for every four patterns you purchase.
5. Waist Wrap Belt Pattern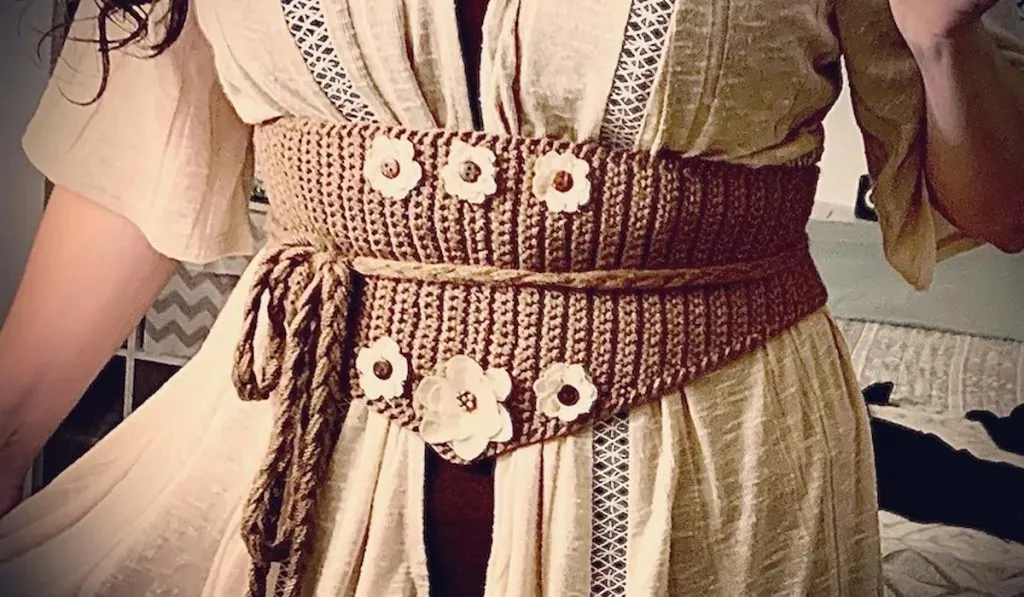 Do you want to bring your tops and dresses together corset-style without having to bear the discomfort and extreme cinch that come with conventional corsets? This waist wrap belt might be your answer.
Plus, it's a quick downtime project, ideal for when you are pressed for time.
Keep in mind that the digital file does not offer instructions on the embellishments captured on the display picture.
Feel free, however, to contact the seller for any questions you might have regarding the crochet pattern.
6. Granny Square Belt Pattern
The Granny Square Belt pattern entails putting together granny Afghan squares to make either a hip belt or waist cinch — you do not need different crocheting instructions, but the hook and yarn will certainly vary in size.
The displayed red lace-up belt features a twisted cord and is 4 inches wide. The orange, green and gold belt is 2 inches wide with a triple tie cord.
Regardless of the belt you choose to crochet, here are the materials you will need:
4-ply yarn or lightweight worsted
Unpolished jute
7. Nelly Crochet Belt Pattern
The Nelly belt pattern is a quick, easy-to-follow project for experienced and newbie crochet lovers.
Detailed photos serve as visual cues of what to expect when following the laid-out instructions.
The finished product will be 48 inches long and 1.5 inches wide, but the pattern can be easily adjusted to suit your needs. The instructions are in American English, using American terms and measurements.
All you will need are the following items:
Belt buckle
Medium worsted cotton yarn (of your preferred color)
Crochet hook — 4.25mm (G)
Keep in mind, however, that this seller does not accept returns or refunds but is available by email to help you out with any issue you might have with the pattern.
8. Boho Crochet Belt Pattern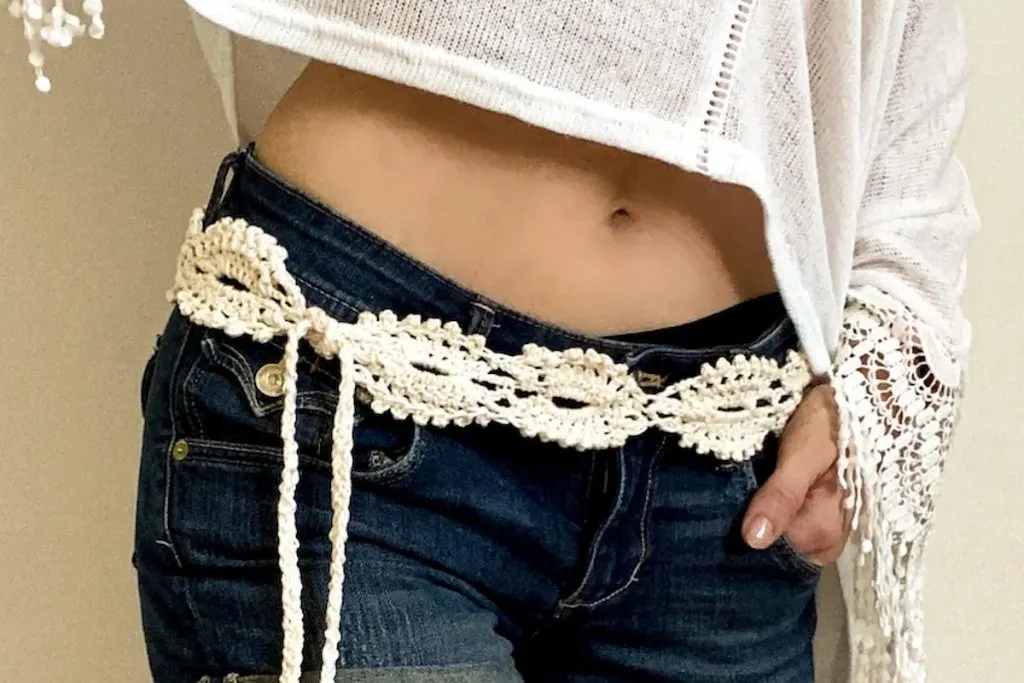 Are you a minimalist who still loves donning her crochet pieces?
This boho belt pattern allows you to dress up your pants or shorts without it being too showy. The instructions are written in American English, making them easy to follow.
The included diagram and picture tutorial guarantees that you'll have a visual representation of what to look out for as you try to replicate the pattern stitch.
As far as sizing goes, the digital file has patterns for adult sizes XS to 2XL and children's sizes, ages 6 to 14 years old.
In addition to the easy-to-follow instructions, you won't need a lot of material to replicate this belt. The seller, however, recommends using Egyptian cotton yarn — DROPS Muskat.
Yarn
Measuring tape
Hook
A blunt yarn (tapestry) needle
Scissors
9. Tulip Corset Belt Pattern
If you love dolling up, you must know that some dresses can be challenging to style.
However, with this Tulip Corset Belt, you can effortlessly achieve a crisp and fresh look every time you rock your dresses and blouses.
As far as size goes, the instructions are designed in such a way that you can customize the pattern to your desired width and length.
To give you a rough idea of what may work for you, the seller has included a row and stitch count for the displayed size.
The seller utilizes regular crochet terms in American English and explains any unfamiliar term or technique for intermediate crocheters.
The seller will appreciate a tag on social media when you share your finished product.
Like other crochet projects in this list, you do not need much to replicate the Tulip Corset Belt pattern. Here is everything you will need from start to finish:
Tape measure
Darning needle
Crochet hook (4.00 mm)
Scissors
At least three different colors of number-4 worsted yarn
⅜-inch ribbon (optional)
Lastly, this digital crochet belt pattern also comes with a no-refund policy.
Final Thoughts
Crocheting is undoubtedly among the most well-rounded hobbies.
Besides being a relaxing pastime, crocheting also allows you a golden chance to make your outfits and accessories. The best part about this is that you can still produce outstanding creations, even as a beginner.