*This post may have affiliate links, which means I may receive commissions if you choose to purchase through links I provide (at no extra cost to you). As an Amazon Associate I earn from qualifying purchases. Please read my disclaimer for additional details..
Knitting or crocheting offers you a fulfilling experience as you create beautiful pieces from yarn. But the process can be tedious and time-consuming if your yarn supply is in a mess.
You need time to create yarn balls before knitting to avoid tangled strands. And when using different colors, a two-sided winder will come in handy.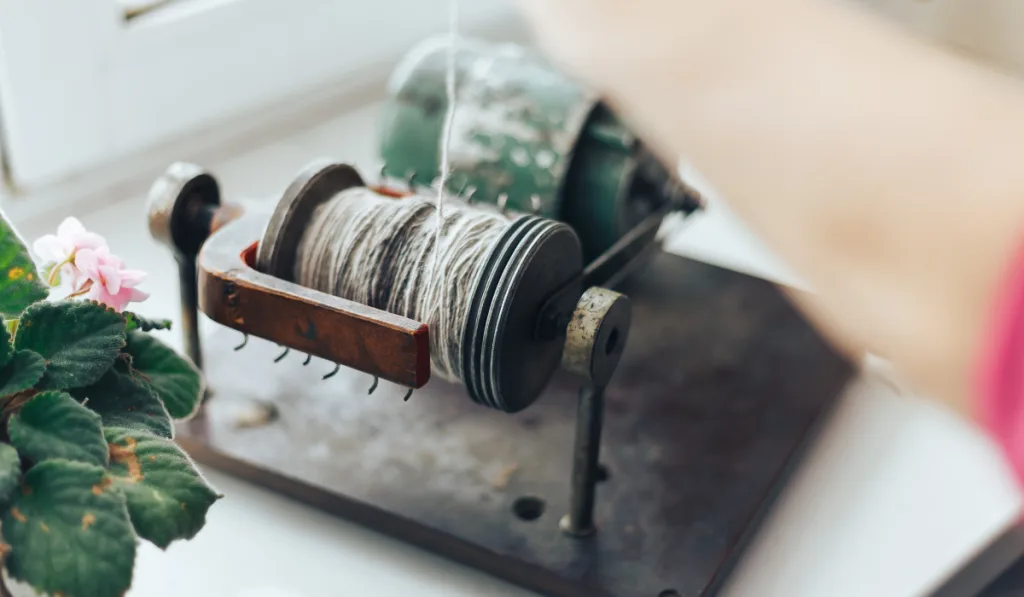 You can enjoy crocheting and knitting without worrying about entangled yarn strands, thanks to the various models of yarn winders in the market today.
Explore the nine best yarn winders that have revolutionized knitting. Whether you are a beginner or a veteran, there is a yarn winder for you!
1. Shexton Portable Yarn Ball Winder
The Shexton Portable Yarn Ball Winder has standard features to offer you a smooth knitting experience. Its sturdy frame enables it to withstand continuous use without wearing out.
Its outstanding features include the following:
A narrower and longer cone that allows it to hold much yarn. Its yarn cakes are larger than other models, leading to uninterrupted knitting.
A well-engineered cranking mechanism that allows you to wind yarn swiftly. Besides, the smooth cranking motion maintains its winding speed, resulting in evenly wound yarn cakes.
Two guides for the yarn optimally distanced from the lead. This enhances smooth winding without knotting or tangling.
This hand-operated, portable winder is listed by many names. You should therefore examine its features and operation mechanism when purchasing from different dealers.
2. Hand-Operated Yarn Ball Winder: 10 Ounce Capacity
Sale
Hand-Operated Yarn Ball Winder 10 Ounce Capacity
✅【10 Ounce Capacity】:Yarn ball winder is 100 grams to 10 ounces. Large capacity, fast speed, improved efficiency; This Yarn Winder has an adjustable desk clamp which fits for table thickness up to 2 inches (50mm)
✅【 Low Noise Design】:Yarn winder large capacity is double cogwheels which makes table gears working smoothly and faster, durable; No disturbance to others even when working late at night;
✅【Yarn Winder Widely Use】: Home, factory, family, DIY studio and yarn winder electric and others. ; The Yarn ball winder does not require tools to assemble. Just adjust the clamps to install the table;
The Hand-Operated Yarn Ball Winder 10 Ounce capacity has standard features that offer a smooth knitting experience.
Its features include the following:
A simple cranking mechanism that allows you to wind yarn swiftly. You can easily create yarn balls by hand-turning the crank.
A guide for the yarn optimally distanced from the lead. This enhances smooth winding without knotting or tangling.
Double cogwheels make it noise free.
Large capacity (10 ounces), fast and more efficient
Tool-free assembly
This yarn winder requires no electrical power and is simple to operate.
It's made of high-quality plastic and metal, which makes it durable. And it also has a large capacity.
3. Knit Picks Hand-Operated Yarn Ball Winder
Knit Picks Hand Operated Yarn Ball Winder (Purple)
WINDS YARN: Knit Picks Ball Winder helps you transform yarn hanks and skeins into compact center-pull cakes that sit nicely while you knit and crochet
SIMPLE TO USE: Easily winds up to 100 grams or 3.5 ounces of yarn; from lace and fingering weights to worsted and bulky weights
QUICK ASSEMBLY: To use just attach to any table edge or surface up to 1-1/2″ thick, twist on the spindle, position the guide arm and start winding
EASY STORAGE: The removable spindle and a foldable guide arm make for compact storage while still allowing quick and easy assembly
GREAT FOR CRAFTING: Lets you organize wound yarn into usable cakes; use with Knit Picks Yarn Swifts for best results
The knit picks hand-operated yarn ball winder offers knitters a smooth crafting experience.
Its sturdy frame helps you transform yarn tangles into a usable form.
Here are its features.
One removable spindle and foldable guide arm enhance quick and easy winding. It also simplifies storage.
A sturdy and durable frame that withstands continued use.
A narrow and medium-sized cone that holds a sizable amount of yarn (3.5 ounces). Its yarn cakes are medium-sized.
One guide arm, which is easy to operate by twisting the spindle.
Allows you to use yarn swifts to organize yarn and wind it into neat cakes.
I have owned this yarn winder (I gave it to a friend), and it works well, although its capacity is lower.
The Knit Picks ball winder creates smooth cakes for a great crafting experience. Although the cakes are smaller, the winder is easy to operate and highly portable.
4. Artisans Craft Beyond Manufacturing Ball Winder
Artisans Craft Beyond Manufacturing Ball Winder
This yarn ball winder has anti-friction bearing on the spool side for free rotation which provides super smooth winding plus anti-skid rubber pads to prevent the yarn ball winder from sliding or scratching your table. Winds up to 450g of fingering weight yarn.
Yarn ball Winders Dimensions – 14″L x 9.50″H x 5″W, – Weight -5 Lbs | Thread Holding Tower For Improved Consistency & Great Center Pull Balls.
Makes Center Pull Ball Of Upto 3 Ounces | Waxed Polished Surface With Deep Wood Grains | Centered Weight For Perfect Alignment.
If you love knitting with a keen eye for sleek designs, the Artisan's craft beyond manufacturing ball winder is for you.
This hand-operated yarn winder has a sleek design and can double as a decorative piece when you are not crafting.
This heavy-duty rosewood ball winder has the following features:
Sturdy frame with a centered weight for perfect alignment. The waxed, polished surfaces enhance durability.
An anti-friction bearing on the spool side for free rotation. The anti-skid rubber pads prevent the winder from scratching your table.
Thread-holding tower for improved consistency.
Hand crank that pulls yarn from the center and winds smoothly.
Artisans' Craft ball winders are among the most efficient and easy to maintain. Their waxed surfaces ensure you get value for your money besides maintaining their elegance.
I recommend this yarn winder, though I have not used it, for its kind of "antique" feel. It can be a decorative piece when not in use.
5. Nagina International Nosteppine Center Pull Ball Yarn Winder
Nagina International Nosteppine Center Pull Ball Yarn Winder
Length – 11 Inches | Width – 0.5 Inches | Package Contains – 1 x Yarn Ball Winder Unit Only.
SKU Code – B01MZI4IY0 | Material – 100% Solid & Premium Grade Rosewood | Portable & Light Weight Handheld Sized Functional Ball Winder | It Can Smoothly And Efficiently Wind Yarn. The Precision And Ease Of Use Makes It A Must Have In Your Knitting & Supplies Kit.
Deep & Fine Sanded Winder With Sheen Glossy Waxed Buff Polish Finish | Deep Rich Natural Wood Grains With Quality Textures Along | Gripping Groves | Stop Using Your Thumb Or Broomstick As Makeshift Tools To Wind A Center-Pull Ball Of Yarn. Instead, Consider Utilizing A Dedicated Tool Designed Specifically For This Purpose.
The Nagina International Nosteppine Center Pull Ball Winder has an elegant design for delightful winding. You can wind your yarn strands manually by creating center-pull balls.
This attractive 11-inch rosewood winder winds one yarn ball at a time. Its features include the following:
Deep and finely sanded winder with a glossy polished finish. This makes it smooth to handle and durable.
Lightweight and medium-sized, hence portable.
Ideal for neatly formed center-pull balls, which are simple to design with.
Simple crank style that suits a craft room where crafters prefer manually winding their yarn.
The winder comes in one stick, although you can purchase more depending on your needs.
Its elegance makes it ideal for gifting friends and loved ones. This piece can fit well in your travel bag, which is perfect if you enjoy knitting while traveling.
6. BUTUZE Yarn Ball Winder
BUTUZE Yarn Ball Winder
WOOL WINDER SIZE: Width is 4.72inch/12cm, height is 4.13inch/10.5cm.
COMPLETE KNITTING SET: With one piece wool ball winder, you can use it to organize the loose yarn. And we considered the needs of knitting, end up offering four kinds of knitting needles freely, so this complete knitting tool set can meet all of your needs.
EXCELLENT YARN SPINNER: Our ball yarn winder and swift with light weight, you can use or remove it easily and effortlessly. And our hand yarn winder has small noise, needn't to worry about causing any disturbance to the families and neighbor.
If you are looking for an all-in-one winder that saves time, consider the Butuze yarn ball winder.
The 4.72-inch-wide and 4.13-inch-high winder comes with a complete knitting set.
Smooth, quick, and consistent are the key features of the Yarn Ball Winder. This new winder comes with four kinds of knitting needles to meet all your needs.
The Butuze yarn ball winder is fast and lightweight. This makes it easy to handle large amounts of yarn by turning the crank.
Other features include the following:
A sturdy multi-colored frame made of plastic.
A Soft Start that allows you to control yarn as it winds onto the cone.
An excellent yarn spinner with low noise.
An ability to wind loose yarn into well-kept balls with a commendable speed.
Its precision and efficiency make it ideal for home use.
You can get it at retail for about $18.
7. Stanwood Needlecraft Winder
Sale
Stanwood Needlecraft Winder
CENTER-PULL YARN BALL, our yarn winder creates yarn balls with the string that can be pull from the center, making your knitting sessions convenient and neat.
ULTRA HEAVY DUTY, our yarn winder is constructed from 3-millimeter-thick steel with rust-resistant powder coating to ensure it will stay in place so you can organize your yarns quickly and safely.
REINFORCED NYLON GEAR, our specific gears are designed to be both durable and flexible. Tough enough to handle high-speed winding, soft enough to ensure the gear noise is at an absolute minimum.
The Stanwood Needle Craft Winder is a heavy-duty yarn winder designed to be durable and flexible.
Thanks to its steel construction and reinforced nylon gears, this winder spins efficiently with minimum noise.
The Needlecraft Winder's tool-less set-up feature saves time and can wind up to ten ounces of yarn at a time. Other features include:
A center-pull yarn ball that enhances convenience when knitting
A sturdy frame with a rust-resistant coating that makes it durable
A fixed yarn guide with a secure bobbin for fast winding
You should go for this model if you want a winder that is easy to use and lasts longer. One piece retails at about $82.
8. Knitter's Pride Mega
The Knitter's Pride Mega yarn winder is sturdy and easy to assemble and use. The hand-operated winder is made from natural and laminated birch wood, making it a classic.
Other features include the following:
Quality ball bearings that enhance smooth winding.
Anti-skid rubber pads that prevent the winder from scratching your table.
Wooden gears that ensure noise-free winding.
This winder has a smaller capacity and is ideal for smaller yarn cakes.
9. New Ashford e-Ball Winder
Smooth, quick, and consistent are key features of the new Ashford e-ball winder. This automated winder will help you convert hanks, skeins, and balls to yarn cakes.
This electric winder makes large yarn cakes of up to 17.5 ounces at an infinitely variable speed — perfect for handling large amounts of yarn.
This Ashford winder includes the following features:
A sturdy frame made of silver beech hardwood.
A 2.0 DC motor that drives and balances the cone assembly and a 12V main power cord
A rubber foot pedal instead of a hand crank which controls the yarn
A 5/16-inch yarn guide
A "soft start" feature that allows you to control yarn as it begins to wind onto the cone
This electric ball winder suits industrial use and is ideal if you own a yarn store or spend at least 10 to 20 minutes each day winding yarn; otherwise, this device is likely excessive.
If you don't own a yarn store or spend hours winding yarn weekly, you might be better off buying luxury fibers instead of an automated ball winder.
This winder can be hard to find in stock. This seller currently has two Ashford e-Ball Winders available. You may also be able to find a used one on Etsy and eBay. Prices start at $500.
What to Look for in a Yarn Winder
With numerous yarn winders on the market today, choosing your ideal model can be challenging. Designers are incorporating new features in their designs to improve efficiency and precision.
Consider the following features when choosing a yarn winder for home or business use:
Sturdy construction: Like any home accessory, you should examine the frame, thickness, and strength of a winder before buying.
Ease of cranking: Time-saving is essential. You should find out how easy it is to wind yarn using the winder. If you are buying from online stores, check other buyers' reviews.
Size of the cone: Also known as a bobbin, this part determines how efficient a winder is. Go for narrower and longer cones for a tighter wrap and larger yarn cake.
Distance between the guide or winding lead and the bobbin: This determines your yarn cake size. If you are working on a large quantity of yarn, go for models with a longer distance between the guide/winding lead and bobbin.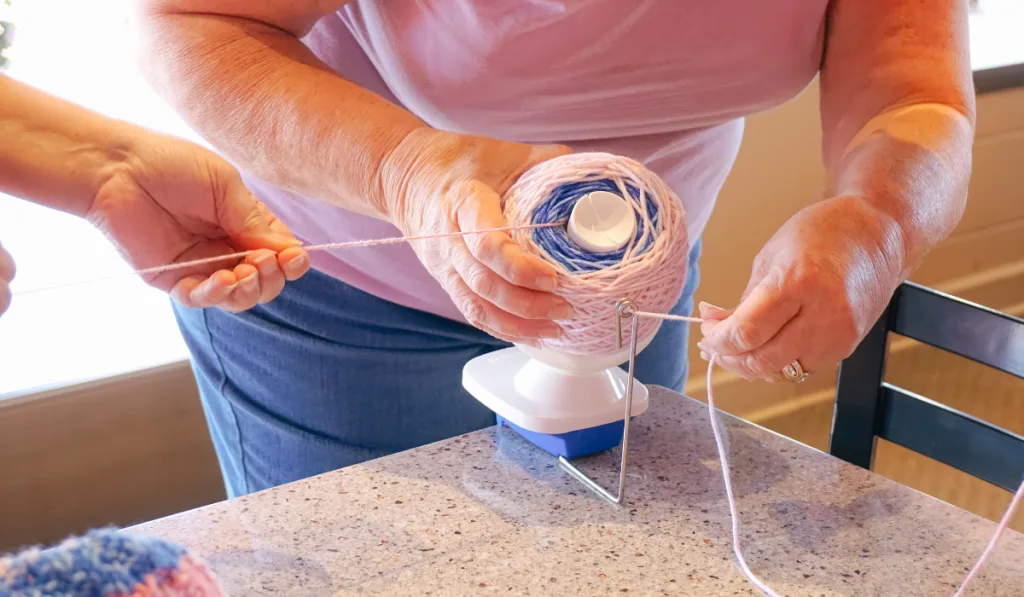 Key Takeaway
You have a wide array of yarn winder options. Whether knitting is your hobby or business, there is a model that suits your needs.
Before paying for a winder, remember to check its functionality or customer reviews.
FAQs
What Is the Fastest Way to Wind Yarn?
The fastest way to wind a yarn is by using a ball winder with a swift.
Are Yarn Ball Winders Worth It?
Yes. Yarn ball winders are worth it because they save time and minimize tangles. This improves efficiency.
What Is the Difference Between a Yarn Swift and a Ball Winder?
A yarn swift holds the yarn to prevent it from knotting or getting tangled. A ball winder winds the yarn into a ball.
Do You Need a Swift to Use a Ball Winder?
No. You don't need a swift if you buy yarn in skeins or cakes. However, it can help you if you buy yarns in a hank.
Who Makes the Best Yarn Winder?
Many designers make great yarn winders. Stanwood Needlecraft and Knit Picks are among the leading yarn winder designers in the market.
Is It Better to Pull Yarn From the Inside or Outside?
You can pull yarn from either the inside or outside. When you pull from the inside, ensure it won't roll around so it remains tidy.
Pulling from the outside is easier since the strand ends are visible.
Resources