*This post may have affiliate links, which means I may receive commissions if you choose to purchase through links I provide (at no extra cost to you). As an Amazon Associate I earn from qualifying purchases. Please read my disclaimer for additional details..
Crochet dresses are a must-have in your wardrobe. Comfortable and lightweight, these dresses are the perfect outfit when you want something fun and festive to wear.
You can wear it over your swimsuit when heading to the beach or as a breezy outfit during summer.
The open weaves allow the summer breeze to cool you off and show off your sun-kissed skin.
When it gets colder outside, you can rock it with leggings and a cardigan for an elevated look.
If you are looking to make your own crochet dress, then this post is for you. We have rounded up the best crochet dress patterns you can use to create unique pieces you will treasure for years.
Let's get started!
1. BoHo ZigZag Maxi/Mini Crochet Dress Pattern
WonkyZebra has an amazing vintage pattern you can use to create a crochet dress. This inspired zig zag design can be made into a maxi or a mini dress to suit the height and style of the person wearing it.
The full-on 70s-inspired crochet dress in a romantic boho design is easy to create once you set the first row. The colors in the bands of stripes are changed more frequently for a big impact.
Alternatively, you can use similar shades within the bands for a more defined look.
Making a dress with this crochet pattern is easy and it shouldn't take an experienced crocheter more than a week to get it done.
The seller also sends additional fitting tips so you can size the dress effectively to fit different body shapes.
2. Basketweave Sundress Pattern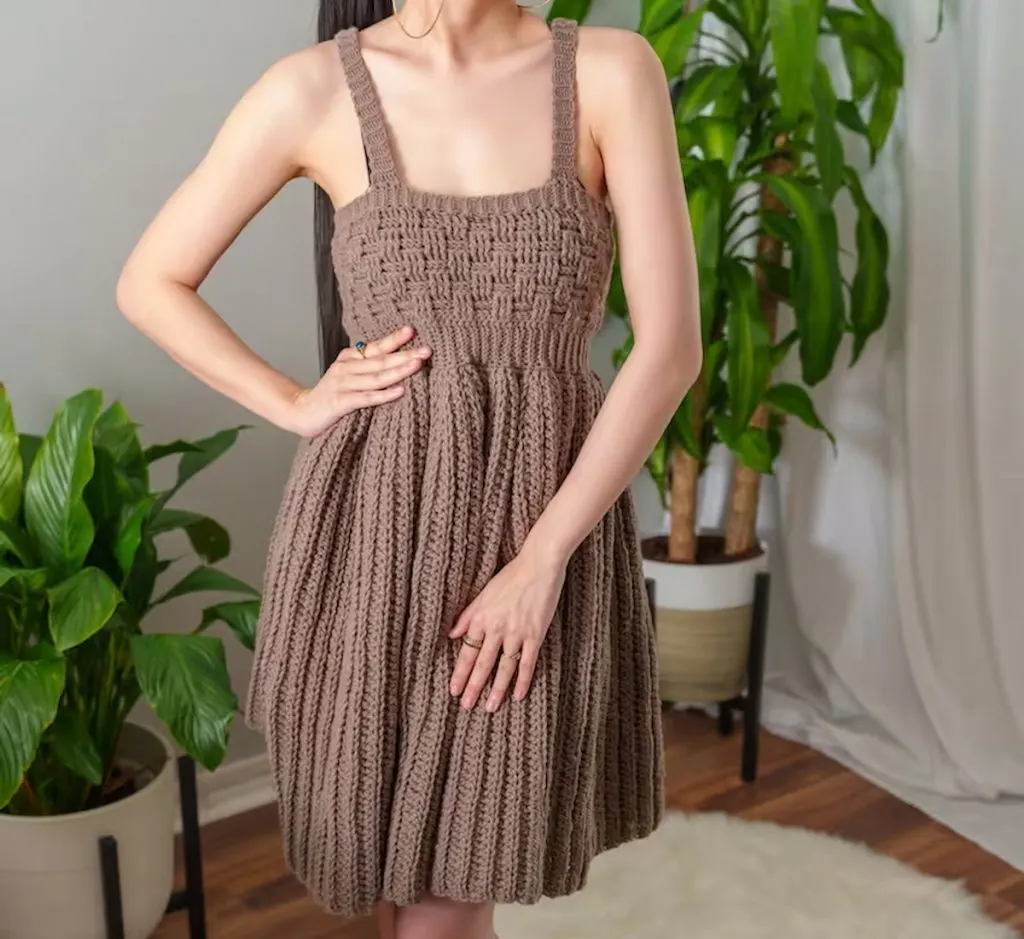 This pattern is what you need to create the perfect sundress. The Basketweave sundress pattern by TCDDIY is easy to make and will take you just a few days to complete.
In addition, this cute, flowy dress has thick straps so you can wear a bra without the bra straps showing.
The pattern is ideal for all crocheters who want to make a comfy and stylish sundress.
While the pattern is for a size small, you can easily adjust it by following the modification instructions in the pattern PDF.
To create a dress with this crochet pattern you will need:
750 grams or 1,500 yards of Lion brand, pound of love category 4 yarn
5 and 7mm hooks
Pair of scissors
Tape measure
The color in the design is taupe but feel free to change it to a color of your liking.
3. Dimension Maxi Dress Pattern
Do you have a special event coming up and want an outfit that will set you apart from the crowd? Then you should make your own crochet dress with this Dimension maxi dress pattern.
The design has unique motif detailing that adds a touch of class and elegance to the dress.
The resulting piece would look good as a boho wedding gown or fancy dress for a night out.
Ideal for intermediate crocheters, this Dimension maxi dress pattern comes in six sizes:
Small
Medium
Large
XL
XXL
XXXL
To make this design, you will need a 3.5mm hook and 1800 – 2600 yards of yarn.
The organic cotton sport yarn is perfect for this design, but you can also consider Lion Brand's Oh Baby yarn if you want more color variation.
4. Alice Dress Crochet Pattern
Are you looking for a stunning crochet dress pattern? Then you should check out the Alice crochet dress pattern by Spirit and Thread Crochet.
This easy-to-wear dress is light and breezy and the perfect outfit for warm weather.
It's also easy to layer so you can stay warm when it gets cold outside.
The pattern is for an advanced beginner but it should not take you more than a week to complete your dress.
Crocheting the bust area correctly can be a challenge if you haven't done a bralette-style top before, but the seller has simplified this for you with easy-to-follow instructions and photos.
What we like about this crochet dress pattern is its flexibility. The pattern has instructions for XS/A to DDD cups so you'll definitely find your size.
You can also try different color combinations to create a dress that perfectly matches your style.
To make a crochet dress with this pattern you will need:
1,200 – 2,000 yards of worsted yarn
4mm and 5mm hooks
Scissors
Yarn needle
5. Aviva Crochet Dress Pattern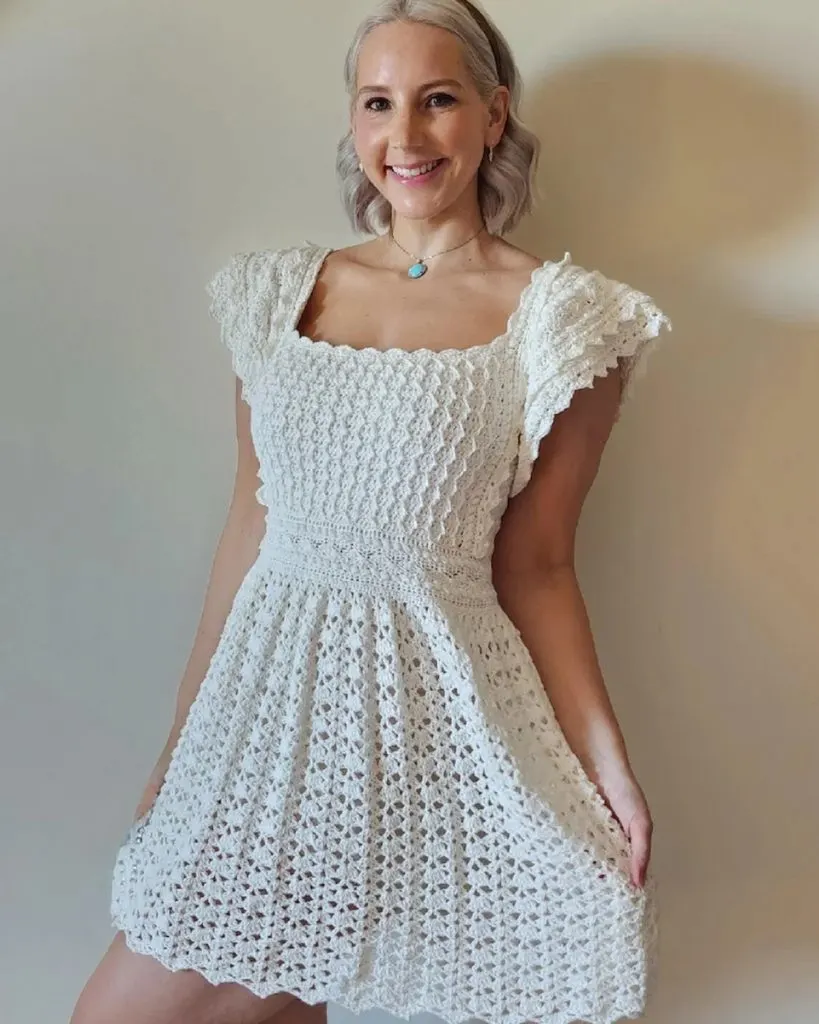 Here's another beautiful crochet dress pattern that's fun to make for summer. The pattern includes instructions for the Aviva dress and top.
The design is made to measure so you first have to measure yourself and follow the pattern to create a fitting outfit. Luckily, the pattern has a detailed sizing guide to show you what you need to measure.
That said, advanced beginners can also comfortably make this dress since the seller provides detailed steps, photos, and stitch graphs to simplify the process.
To make the Aviva crochet dress, you will need any type of 4ply cotton yarn and a 3.5mm hook. For an XS UK size 6, you will need about 1,200mm of yarn to make the Aviva dress.
6. Snapdragon Crochet Dress Pattern
And with this pattern by Daisy and Dime, you can create your own crochet dress for a casual day out in the sun.
The wrap crochet dress has a deep V-neck that shows off your beautiful skin. It also features an A-line skirt and textured-shell stitching throughout the design.
For the sleeves, you can go with the classic flutter sleeves or the long bishop sleeves.
The dress has a top-down, all-in-one design, allowing you to try the dress on as you go. This will help you get the perfect length and fit for your Snapdragon crochet dress.
The pattern has a measure-yourself style, meaning you can adjust the size to fit you perfectly using your measurements.
While you can make this dress with any yarn, the pattern works best with finer yarn.
The skills required to pull this design off include:
Double crochet
Single crochet
Front post double crochet
Shell stitching
Increasing
Woking in the round
7. Vintage Crochet Green Goddess Dress Pattern
Here's another cute design by WonkyZebra. This green goddess crochet dress has a classic 60s style with a lovely shape and a beautiful roll-neck collar.
Unlike other crochet dresses, the main part of this design is a solid fabric that conceals your underclothes.
However, there are still some substantial crocheted areas that allow you to showcase your crocheting skills, like the shell edge hemline and stunning lace midriff.
With its little fancy shape, this is a great design to show off your figure. The dress is also easy to make as you'll mainly crochet in plain treble stitches.
8. Nami Dress Crochet Pattern
The Nami dress pattern is a customizable pattern you can use to make a maxi, midi, or mini crochet dress.
The pattern is for an intermediate crocheter but there are sufficient instructions to guide you through the entire process with ease.
This crochet dress design is made to measure so you'll have to get your measurements before you start crocheting.
You can make the dress with the sleeves or without them out depending on your style. In addition, you can decide how much flare to add to the skirt and adjust the length to your liking.
To make this dress, you will need:
4-ply cotton yarn (fingering weight)
3.5mm crochet hook
900 – 1,550mm of yarn
9. Crochet Dress With Full Skirt Pattern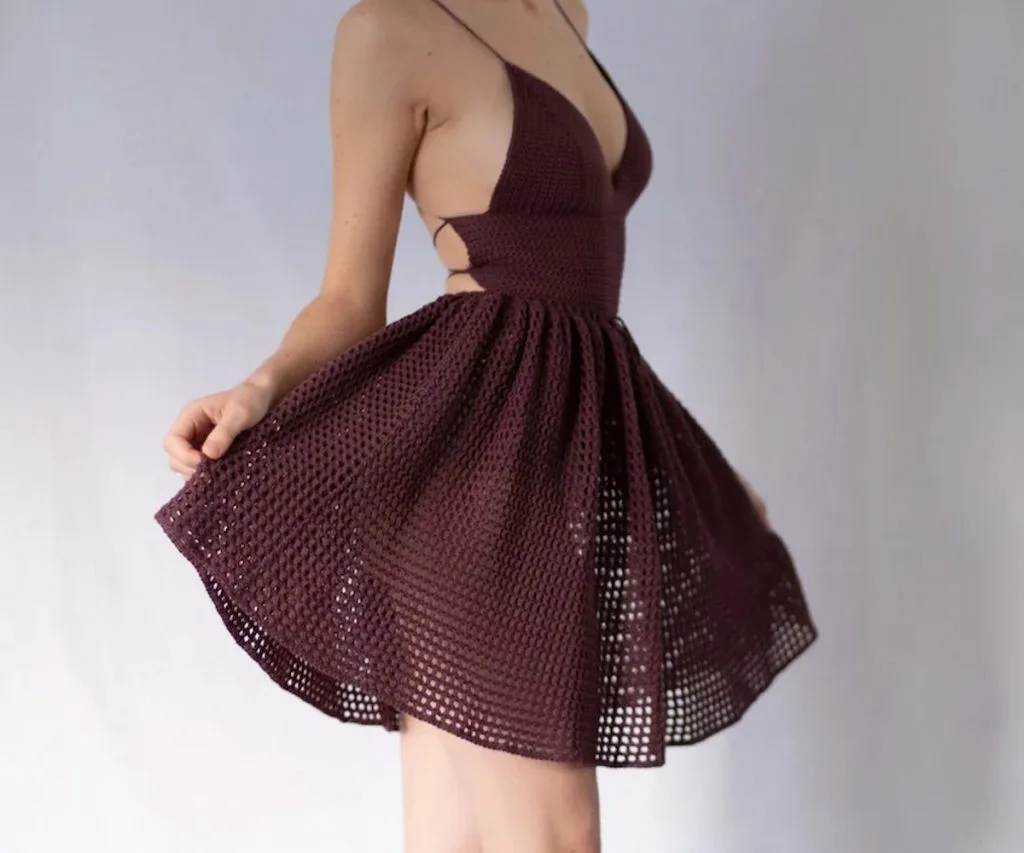 Lastly, we have this beautiful crochet dress pattern that's a fun make for summer. The dress is made of three parts; the bust, waist, and skirt region which are crocheted from top to bottom.
The bust and waist portions have an adjustable fit for all sizes. But when you get to the skirt, you can adjust the stitch count for an absolute fit.
To make the crochet dress with this pattern you will need:
8 skeins or more depending on your size
3.5mm crochet hook
Scissors
Darning needle
Final Thoughts
Classy, versatile, and timeless. This is the best way to describe a crochet dress. The feeling of wearing something you have created by hand with your own hook and yarn is so amazing.
Pick any of the crochet dress patterns in this post and make an amazing dress you will enjoy for years to come.