*This post may have affiliate links, which means I may receive commissions if you choose to purchase through links I provide (at no extra cost to you). As an Amazon Associate I earn from qualifying purchases. Please read my disclaimer for additional details..
Gnomes are funny, imaginative creatures. We know them for their charm and whimsical air.
Have you ever thought of bringing these delightful creatures to life through art?
You can crochet their pointy hats, fluffy beards, and rosy cheeks and add a touch of magic and personality to your craft.
Gnome crochet patterns will inspire your creativity and take you to a place of fantasy. You'll feel great crafting charming, gnome-inspired home decor and gifts for your friends and family.
Here are eleven adorable gnome patterns to try for your next crocheting project. They will spark your creative juices and sprinkle whimsy into your surroundings.
1. Gnome Ladybug
The Gnome Ladybug crochet pattern combines the charm of gnomes and the playful nature of ladybugs.
You can create a gnome ladybug using fine lightweight yarns in black, white, light brown, and red colors.
The crocheting requirements include the following:
11 7/9 inch pipe cleaner
2.25mm crochet hook
3 beads, 3mm in diameter each.
Blending black and other bold colors with red, white, and light brown captures the classic ladybug color scheme. You should crochet the body in red and adorn it with black polka dots.
The black-dotted stocking hat resembles the ladybug's markings.
Although gnome crochets are not new, adding the whimsical ladybug touch to your pieces adds fun and playfulness to your project.
This pattern is ideal for intermediate crocheters.
2. Gnome With Bee
The Gnome with Bee is a cute and fun pattern to do.
Using yellow, black, white, and light brown yarns, you can combine the enchanting world of gnomes with the beauty of bees.
You need the following for this pattern:
Crochet hook size 2.25mm
Yarn of the same weight – 2 fine or sport/baby weight yarn, 4-ply in black, yellow, and light brown
Pipe cleaner (11 7/9 inch)
3 beads, 3mm in diameter.
Light brown yarn is for the gnome's nose while the black and yellow colors match the bee's body.
You should crochet the bee separately with tiny wings attached to its yellow and black striped body. The end product is a gnome with a pointy hat and fluffy beard adorned with a small bee.
Try this pattern if you love infusing nature and magic into your pieces. Gnome with Bee is ideal for decorative pieces for your room and for gifting to your loved ones.
This pattern is for intermediate and experienced crocheters.
3. Christmas Tree Gnome
Another pattern for intermediate-level crocheters is the Christmas Tree Gnome. This delightful pattern blends the gnomes' charm with the Christmas festive spirit.
You need the following materials for the Christmas tree gnome:
2 fine, sport/baby weight yarn, 4-ply yarn
Alize cotton gold in white and green
Light brown yarn art JEANS
2.25mm hook size crochet
11 7/9 inch pipe cleaner.
Green yarn on the gnome's body, white for the beard, and festive colors for the hat and accessories make the pattern identical to a Christmas tree. You can embellish the hat with stripes and beads.
Gnome Christmas Tree allows you to showcase your skills and enhance the festive atmosphere.
Help your loved ones create lasting memories by gifting them a gnome Christmas piece this festive season.
4. Spring Gnomes
If you are a beginner or experienced crocheter looking for a new but simple design for your next project, try Spring Gnomes.
You can use the design to gift to your friends and family during their birthdays.
You need the following materials:
Sport weight yarn, 45% acrylic, and 55% cotton
Polyester toy filling
2.5mm hook size crochet
Long needle for embroidering.
Pastel-colored yarns such as pink, blue, yellow, and green are most suitable as they reflect vibrant spring hues. You can adorn the hats with leaves, flowers, or tiny butterflies.
Spring Gnomes are great for home decor. You can place them on potted plants, mantles, or shelves to reflect the spring scene.
I love this pattern because it is simple and adds joy to the promise of a new season. You can also try it and reflect on the magic of the next spring season.
5. Mini Snowman Gnome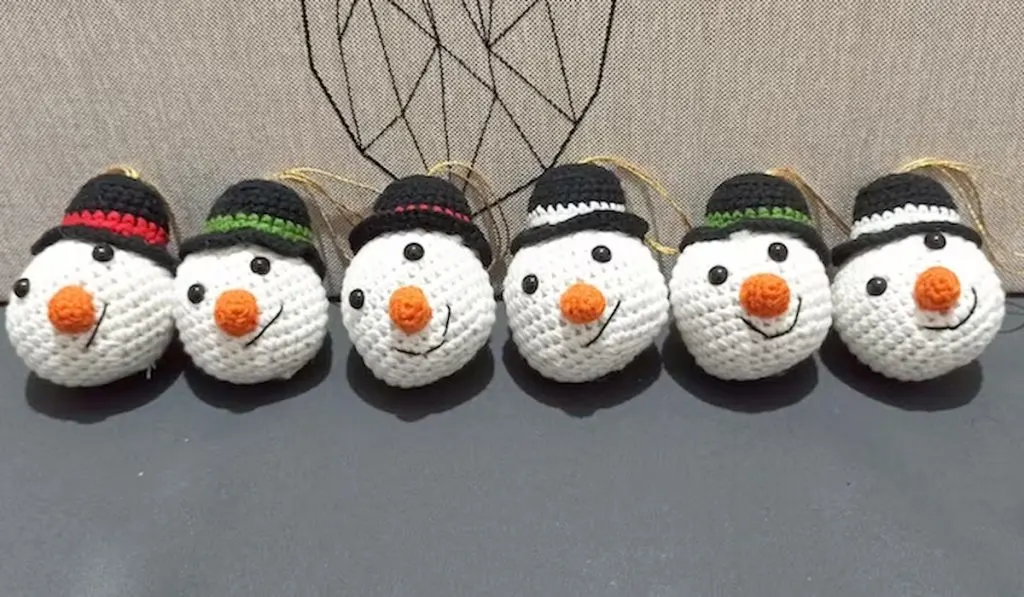 Are you ready to decorate and flaunt your love for the cute and cheerful this Christmas season? If yes, try Mini Snowman Gnome.
Mini Snowman Gnome requires premium cotton yarn and a 2.5 mm hook size crochet. The spherical gnome's body is white, while the hats are black with red, green, or pink stripes.
You can use the snowman gnome pieces to decorate your room. There are many places you can put them, such as on tables or shelves, or hang them on Christmas trees.
You can also attach them to your backpack or use them as keychains.
Mini Snowman Gnome pieces are your perfect companion for the winter.
6. Birthday Cake Gnome Pattern
The Birthday Cake Gnome Pattern is an easy-to-follow crochet pattern that features a birthday cake shape. You can use it to gift a loved one on their birthday.
You need a worsted-weight yarn and a crochet hook to create this gnome pattern. You can use brown, white, light blue, yellow, and pink yarns to represent different parts.
The body is spherical and mainly brown, like chocolate. You can add white on the arms and floral attachments to the body.
You should crochet the gnome hat separately before sewing it into the head at a straight angle. Blending blue and white on the hat mimics the decorations on a birthday cake.
You can also enhance the celebratory mood of a birthday through colorful decorations on the gnome's head. White, yellow, and pink flowers come in handy for this.
7. Organizer Gnome Pattern
When you combine the charm of a gnome figurine with the functionality of an organizer, you get Organizer Gnome Pattern.
This pattern is ideal for crafting storage accessories and pieces that add a touch of magic and style to your space.
Unlike other gnome patterns, Organizer Gnome Pattern can use any color. You need to choose color shades that match your preferred gnome theme.
The gnome body features a drawstring closure suitable for storage, a round head, and a pointed hat.
This pattern is ideal for all crocheters because of its ease and versatility. Besides, you only need yarn of your favorite color, crochet, and a suitable hook for the project.
If you think of gifting your friends and loved ones handmade crafts, try an organizer gnome.
8. Flower Gnome
Flower Gnome results from combining the beauty of blossoming flowers and the charm of gnomes. You can choose any flower to adorn the gnome's body, such as sunflower details.
You need the following to crochet Flower Gnome:
Fine yarn
Crochet hook 2.5mm
About 50g fiber filler.
The structure of this pattern features a cylindrical body, a round head, and a pointed hat. You can customize your gnome with different color variations, such as brown, white, yellow, and light blue.
Your color choice depends on the floral details you want to use. For example, brown and yellow for sunflowers.
The flower gnome pattern is easy to make and therefore suitable for beginners. You can use the crafts to gift to your friends or add elegance to your living space.
9. Nurse Gnome
If you want to give any nurse or nursing student a gift, think of the Nurse Gnome pattern.
Made from white and red yarn, the 9 ½ inch tall and 11-inch circumference gnome is cute and a perfect gift for nurses.
You need polyfill and yarn to craft this pattern using a suitable hook.
The Nurse Gnome offers crocheters a heartfelt way to show gratitude for the dedicated service of those who help to save lives.
You can appreciate and honor the compassion and selflessness of these professionals by handcrafting this pattern.
The gnome nurse pattern is suitable for intermediate crafters.
10. Bluebell Gnome Crochet Pattern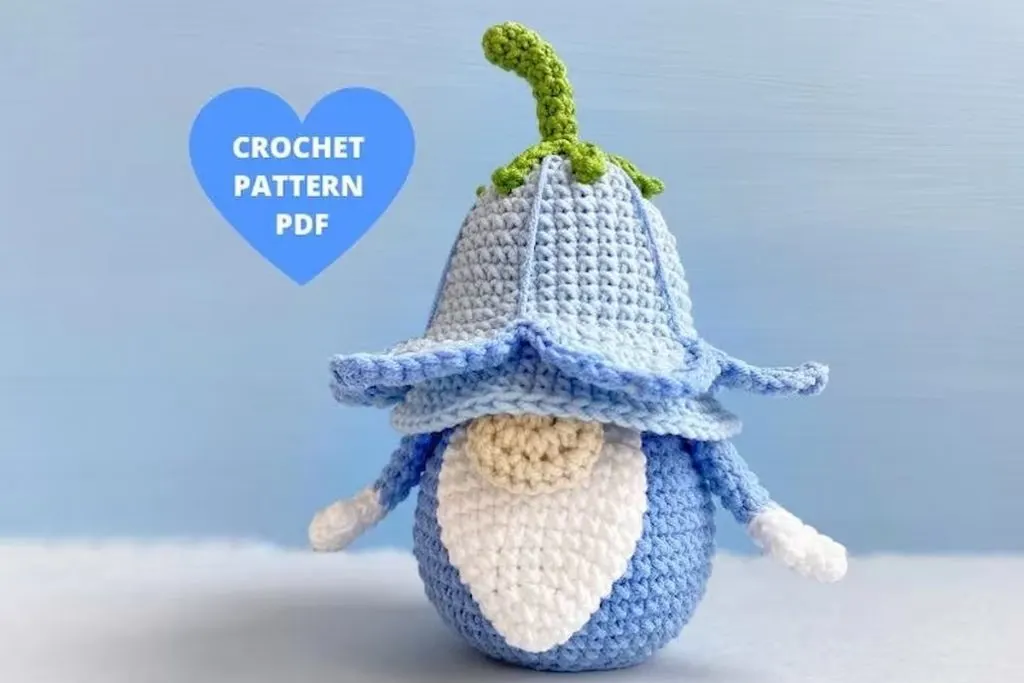 The Bluebell Gnome Crochet Pattern features a round head, round body, and bell-shaped hat.
Made from blue, white, and green yarn, this pattern captures the elegance and charm of bluebell flowers.
You require the following for this pattern:
Crochet hook B
Sport fine yarn (5-ply).
You can use the pattern for decorative pieces or thoughtful gifts for your loved ones, especially during the spring holidays.
11. Garden Gnome Pattern
The Garden Gnome Pattern captures the visual appeal of traditional gardens. You can create adorable pieces using this pattern and add elegance to your outdoor space.
You can adorn the gnome's body with thorns, flowers, and boots to create a garden impression.
This pattern is easy to create from tutorials and therefore ideal for all crocheting enthusiasts.
Garden Gnome Pattern pieces are perfect for gifting to your gardener friends.
Parting Shot
Crochet gnome patterns offer a delightful way to infuse creativity and charm into your crafts. The above gnome patterns can spice up your crocheting journey and inspire creativity in your craftwork.
Make your world more enchanting with gnome crochet patterns.
Resources