*This post may have affiliate links, which means I may receive commissions if you choose to purchase through links I provide (at no extra cost to you). As an Amazon Associate I earn from qualifying purchases. Please read my disclaimer for additional details..
The dystopian neon glow of Cyberpunk isn't just a science fiction vision; it's a captivating aesthetic that juxtaposes the grimy streets of a high-tech city with the luminosity of its neon billboards. It paints a world where advanced technology and digital interfaces coexist with the grit and determination of its inhabitants.
This intense, juxtaposed ambiance holds endless allure, especially for creative souls. Today, we're immersing ourselves in this electrifying world, exploring yarn palettes inspired by the pulsing heart of Cyberpunk themes.
From the gleaming neons of nighttime cityscapes to the muted tones of a rain-soaked alleyway, these palettes promise to inject a touch of the future into your crochet and knitting projects. So, ready your needles and let's venture into this neon-lit, code-driven realm together, creating tactile masterpieces that echo the soul of Cyberpunk. 🌃🧶🔌
Gunnar
"Gunnar" means "fighter" in Norse mythology. We want this palette to create a feeling of shedding some light on the dependency we have as humans on our gadgets.
We humans are fighters, and we want people to know that we, too, can also be independent of technology.
Distant Future
You might think that the future means everything will be better, but that's not always the case. It can be pretty scary to think about what's ahead. These color palettes capture those emotions perfectly.
Lion Brand Wool-Ease Thick & Quick
New World
Can you believe how quickly technology is advancing these days? It's crazy!
Computers and other forms of tech are running nearly everything. These color palettes are cool and vibrant, capturing the exciting future that's just around the corner.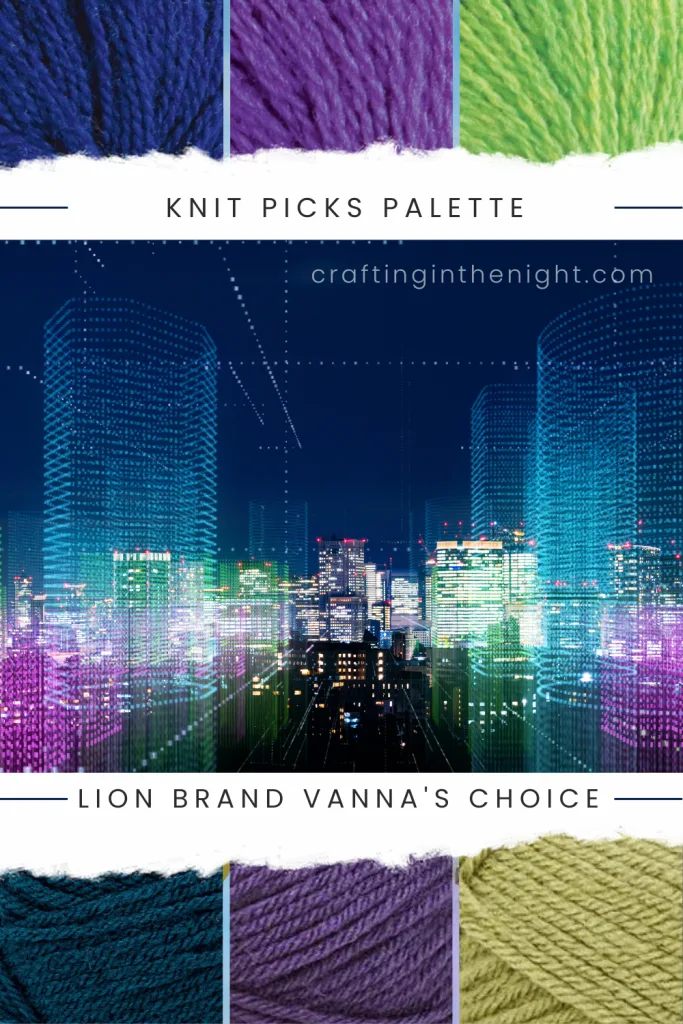 Knit Picks Pallete
Lion Brand Vanna's Choice
Xiomara
This name means "battle ready." This color palette brings us the true definition of cyberpunk, which is being rebellious. We want this palette to focus on the attitude and the outlook of it all.
Knit Picks Swish DK
Lion Brand Basic Stitch Anti-Pilling
Broken Wormhole
Have you ever noticed how intricate and beautiful futurism patterns can be?
They often have such simple yet detailed designs that are easy to overlook. We wanted to highlight these concepts by creating color palettes that showcase the idealism in futurism's colors.
Knit Picks Swish Worsted
Lion Brand Heartland
Into the Unknown
Have you seen these awesome color palettes?
They show how technology is constantly evolving and affecting everything around us. What we have now will soon be outdated, but I believe there's always room for progress. The possibilities are endless!
Central
Have you heard of cyberpunk? It's a cool sci-fi subgenre set in the future, with a focus on "high tech and low life." Think of conflicts between AI or megacorps. We want this color palette to capture that heightened but still tangible tech vibe.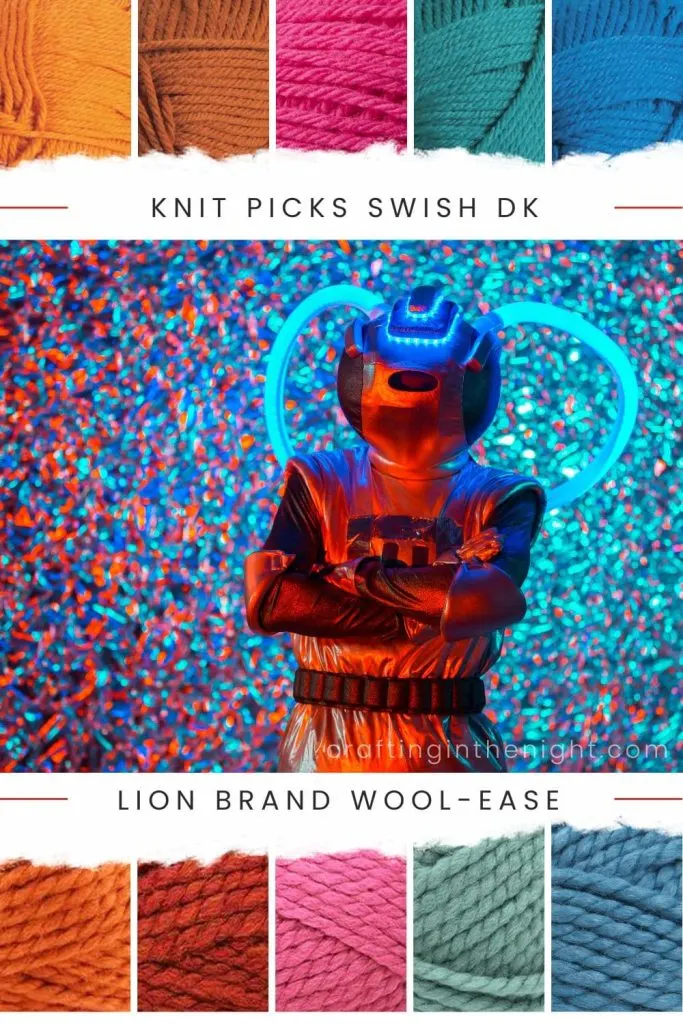 Cryptic Thoughts
Have you ever worried that artificial intelligence might take over the world?
It's a common fear, but don't worry! Most of us use AI in our daily lives without even realizing it. This color palette captures the mixed feelings we have about AI — a little scary but hopefully harmless.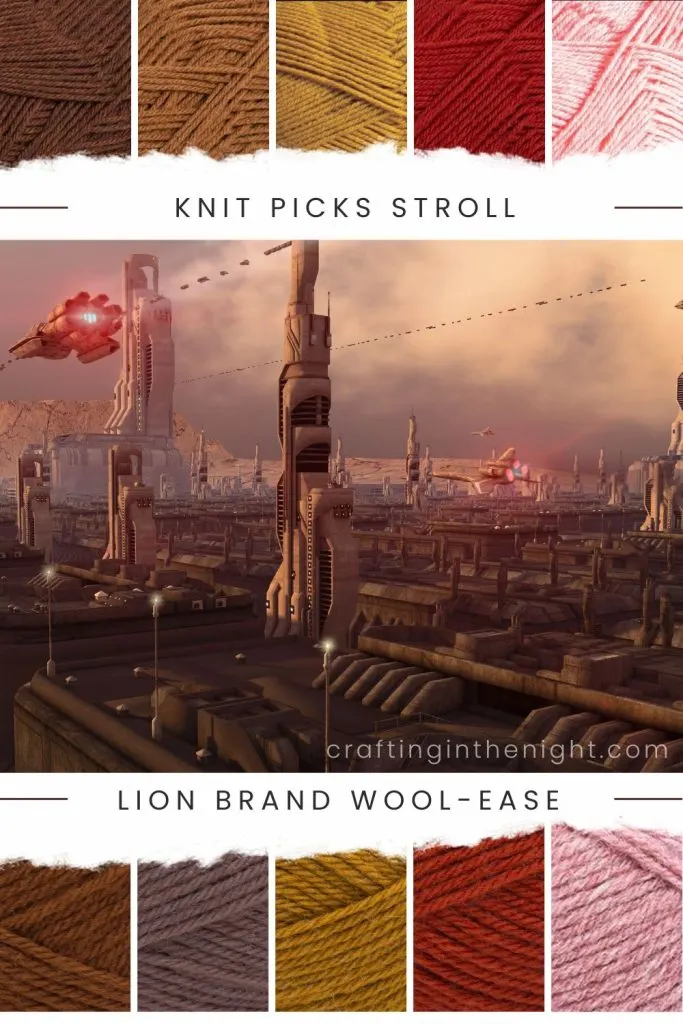 Knit Picks Stroll
Lion Brand Wool-Ease
New Life
Have you noticed how science fiction has become super popular lately? From Iron Man's suit to the amazing world of Wakanda, it's everywhere!
But did you know that sci-fi has been around since the beginning of science and technology? This color palette expresses how technology has evolved and shaped our modern world.
Blending Edge
Sometimes we forget to trust our own instincts and rely too much on what others think. It's like this palette's name, Blending Edge. We need to stop being so attached to technology because it can be a tricky thing. Let's stay true to ourselves!
Knit Picks Palette
Najia
Fun fact: "Najia" means "free" in Arabic. This palette inspires us to embrace our independence and not fear technology. We're capable of creating amazing things and remaining stronger and smarter than our creations!
Knit Picks Palette