*This post may have affiliate links, which means I may receive commissions if you choose to purchase through links I provide (at no extra cost to you). As an Amazon Associate I earn from qualifying purchases. Please read my disclaimer for additional details..
As someone who loves to crochet, I know how important it is to keep my supplies organized.
There's nothing worse than sitting down and starting to work on a project and realizing you don't have the right crochet hook or yarn.
That's why I've found that having a crochet craft cart can be a game changer when it comes to staying organized.
A crochet craft cart is a rolling cart that is designed to hold all your crochet supplies. It typically has multiple shelves and compartments, making it easy to keep everything in its place.
Wheels make it easy to tuck it away when not in use and roll it out to your favorite crochet spot when it's time to work.
But simply having a craft cart isn't enough — you need to make sure it's organized in a way that works for you.
In this article, I'll share some tips and tricks for organizing your crochet craft cart so you can spend more time crocheting and less time searching for supplies.
One of the first things you'll want to do is think about what you normally need when you are working on a project.
Grab a sheet of paper and write down what items you like to have on hand. This will help you determine what supplies might work best when organizing your supplies.
When organizing your crochet craft cart, it's important to keep in mind the size and layout of your cart.
Make sure to choose storage solutions that fit within the dimensions of your cart and consider the accessibility of each item. By keeping frequently used items within easy reach, you can make your crafting experience more efficient.
Organizing Supplies for your Crochet Craft Cart
When it comes to organizing my crochet supplies, I like to keep things simple and easy to access. Here are a few ways that I keep my yarn, hooks, and other supplies organized:
1. Zipper Bags for Crochet Works In Progress
I love using zipper bags to keep my works in progress (WIPs) organized. Not only do they keep everything in one place, but they also make it easy to grab my project and take it with me on the go.
I like using clear bags so that I can easily see what's inside, but you can use any kind of bag that you like.
These zipper bags are my favorite because they are super durable and fit a lot.
2. Plastic Bins for Granny Squares and Other Motifs
If you're like me and you love making granny squares and other motifs, you know how quickly they can pile up. I like to keep mine organized in plastic bins.
In my crochet cart, I have two bins on the second shelf.
The one on the left I use for squares that are completed but need their ends sewn in, and the one on the right is finished squares. This way, I can easily grab a few squares that need their ends woven in and just trudge through the task.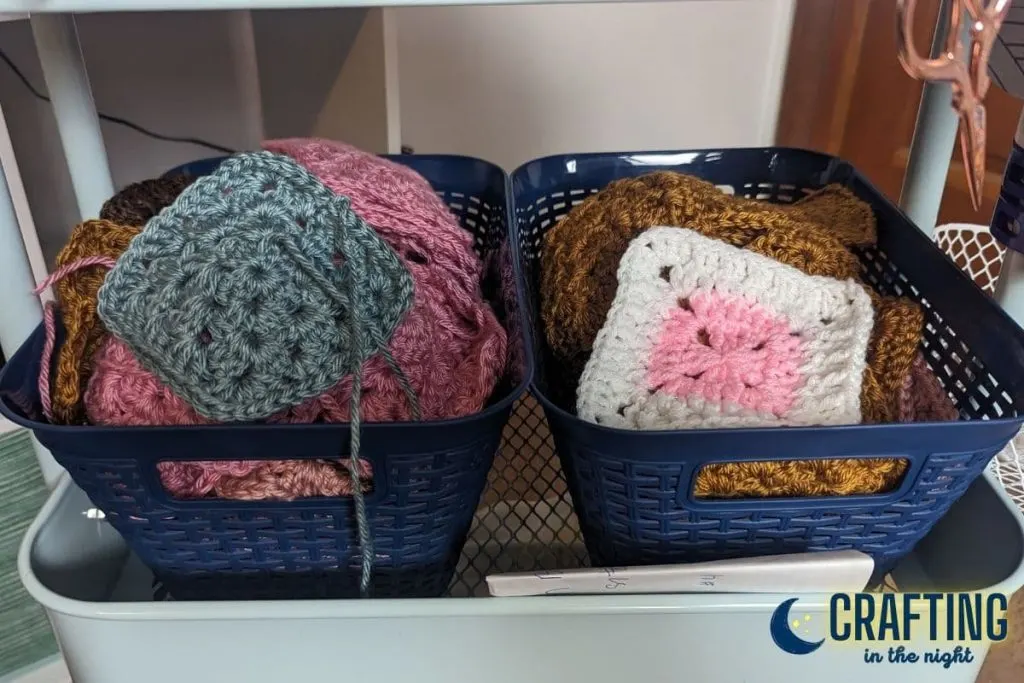 I've never met a person who liked weaving in ends, but with this method, moving even one or two squares over to the "done" basket helps me feel like I'm making progress.
I got my bins from the Dollar Tree. Before buying bins, measure the inner dimensions of your cart shelves to make sure they will fit.
3. Containers for Stitch Markers
Stitch markers are a must-have for any crocheter, but they can be easy to lose.
I use stitch markers to track the hook size used in my projects. I organize these stitch markers in a large pill box separated with one color in each section.
For stitch markers used in projects, I typically just keep a magnetic tin attached to the cart. This way, I always know where they are when I need them and can grab however many I need.
You can also attach magnets to the pill box if you want to attach it to the outside of the cart.
4. Trash Can for Yarn Clippings
Crocheting can create a lot of yarn clippings and scraps.
To keep my workspace tidy, I like to keep a small trash can nearby. This way, I can easily toss my clippings and keep my workspace clean.
Right now, I'm using a cute box from the dollar store, which just hooks over the handle with a ribbon. This is awesome because it's easy to remove to empty.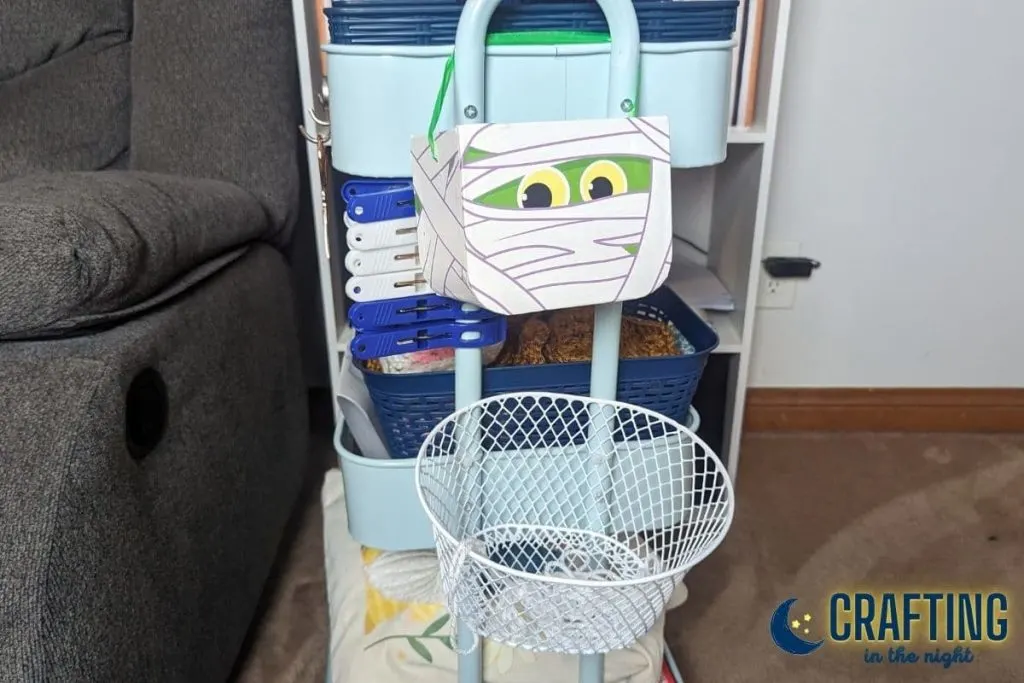 A small magnetic pencil cup (like the kind you might have used on a locker as a kid) would work too, and there are even some that will clip right over the edge of most carts.
5. Baskets
A small mesh basket can be attached with zip ties, making a handy spot to put scraps of yarn too big to throw away but too small to risk losing in the larger spaces in the cart.
I found a perfect bin and zip ties at the dollar store. I tend to use this basket as a catchall while I am working and then clear it out at the end of the night.
6. Magnetic Hooks
I keep my crochet hooks in the case they came in, my scissors stored right on the side of the cart on a small magnetic hook, and my crochet patterns stored in front of my bins.
7. Containing Other Crochet Supplies
In addition to these specific organizational methods, I also like using bins and containers to keep my other crochet supplies organized.
For corner-to-corner (C2C) graphghans, I use plastic clips from the Dollar Tree.
When I'm not using them, these clip to the side of my cart where I can easily access them if needed. These clips are also great for keeping multi-page patterns contained.
💡 Pro Tip: Look for clips with a hole at the top of the clip. This makes it super easy to hang them from the magnetic hooks. When I purchased my clips, I didn't even think of this, but in use, it's been a game changer. I hang them up all the time now when using bobbins for a C2C or even just to keep a pattern handy.
I mostly crochet baby blankets, but if you use safety eyes and buttons, your craft cart is also a perfect location to store them and have them on hand when needed.
By keeping everything in its place, I can easily find what I need when I need it without having to put my project down and go hunting for missing items.
Choosing the Right Craft Cart
When it comes to organizing your crochet supplies, a craft cart can be a game-changer. But with so many options on the market, how do you choose the right one for you?
Here are some factors to consider:
Size and Storage
Consider the amount of space you have available for your cart and how much storage you need. Most of the crafting carts you'll see available at retail stores and online have three shelves and built-in wheels.
A larger cart may have more drawers and shelves, but it may not fit in a smaller space. A cart with adjustable shelves or drawers can be a great option to customize the storage to fit your needs.
Here are a few options, and you can see how much variation there can be:
12/08/2023 03:01 am GMT
Mobility
Do you plan on keeping your cart in one spot or moving it around your crafting area?
A cart with wheels is a wonderful option for those who need to move their supplies from one spot to another. However, if you plan on keeping your cart stationary, a cart without wheels may be a better option.
Design and Style
While function is important, you also want a cart that looks good in your crafting space.
Consider the design and style of the cart and how it fits in with your overall aesthetic. There are many options available, from sleek and modern to rustic and farmhouse inspired.
Overall, choosing the right craft cart comes down to your individual needs and preferences.
Consider the factors above and take your time to find a cart that fits your space, storage needs, and personal style.
Frequently Asked Questions
What are some creative ways to store crochet supplies?
I like using a rolling utility cart to store my crochet supplies. It's easy to move around, and I can store all my yarn, hooks, and other supplies in one place.
Another creative option is to repurpose a bookshelf or dresser to store your supplies.
How can I organize my crochet projects in progress?
One way to keep your crochet projects organized is with project bags.
These bags are specifically designed to hold your yarn, hooks, and any other supplies you need for a specific project. You can label the bag with the name of the project and keep all the pieces together in one place.
What are some recommended storage options for crochet hooks?
There are many options for storing crochet hooks, depending on your preferences.
Some crocheters prefer using a crochet hook case, which can hold multiple hooks and keep them organized. Others prefer using a hook stand, which can display your hooks and make them easily accessible.
Another option is to use a pencil case or makeup bag to store your hooks.
What are some space-saving solutions for storing yarn?
If you're short on space, consider using a hanging organizer to store your yarn. You can hang the organizer on a closet door or wall and easily see all your yarn colors.
Another space-saving option is using vacuum-sealed bags to compress your yarn and store it in a small space.
How can I keep my crochet supplies organized and easily accessible?
One tip is to keep your most frequently used supplies within reach.
For example, you can use a small caddy to hold your hooks, scissors, and stitch markers and keep it next to your favorite chair.
Another way to keep your supplies organized is to label everything. Use easy-to-read labels to identify each bin or drawer so you can easily find what you need.
What are some DIY crochet storage ideas?
If you're feeling crafty, there are many DIY storage solutions for crochet supplies.
For example, you can repurpose an old ladder to create a yarn storage system. Or you can use PVC pipes to create a wall-mounted yarn dispenser. Another option is repurposing mason jars to store your hooks and other small supplies.
How I Organized My Craft Cart