*This post may have affiliate links, which means I may receive commissions if you choose to purchase through links I provide (at no extra cost to you). As an Amazon Associate I earn from qualifying purchases. Please read my disclaimer for additional details..
Crocheting is a great craft because it allows you to display your creativity. Whether you are doing it as a hobby or profession, it is fulfilling to handcraft beautiful and functional items.
We have endless possibilities when it comes to crocheting patterns. But the hexagon blanket crochet patterns stand out.
In addition to their visual appeal, hexagon blanket motifs are versatile in color, size, and patterns. Whether you are a beginner or an experienced crafter, there is a pattern to inspire your creative journey.
Here are eleven captivating hexagon blanket crochet patterns. Each pattern showcases different crafters' creativity and skill in the crocheting world.
1. Hexadaisy Crochet Blanket Pattern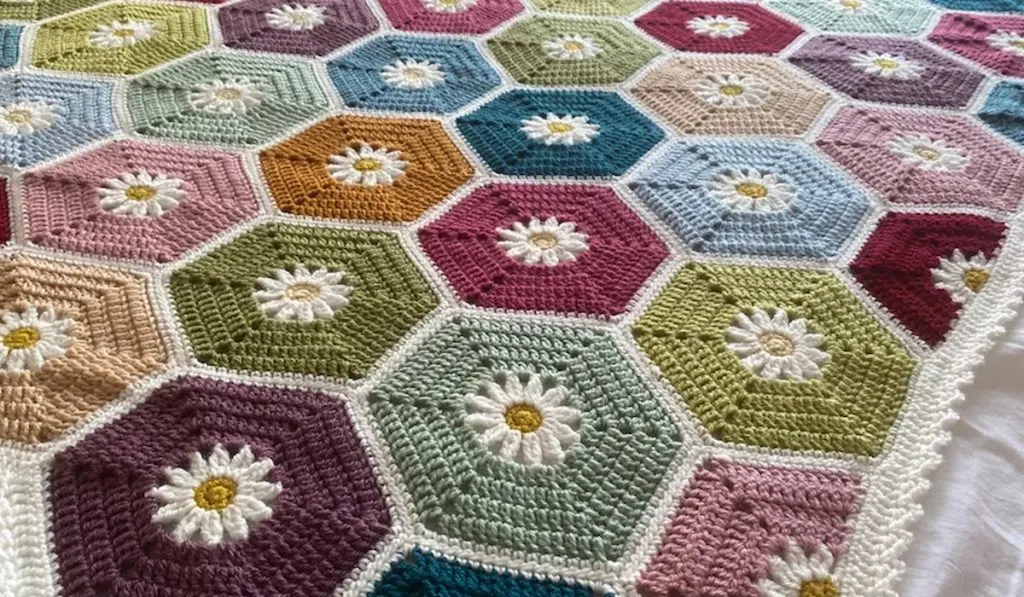 The Hexadaisy crochet blanket pattern combines colorful hexagonal designs to create a daisy-like pattern.
The multicolored patterns entail central daisy motifs surrounded by delicate but colorful petals. I love creating this pattern because it allows you to combine colors and textures to your preference.
Whether you love bold and vibrant schemes or soft pastels, the outcome is a beautiful craft in your room.
You can use this blanket to add elegance to your bedroom or create a gift for your loved one on a special occasion.
2. Zinnia Hexagon Temperature Blanket Pattern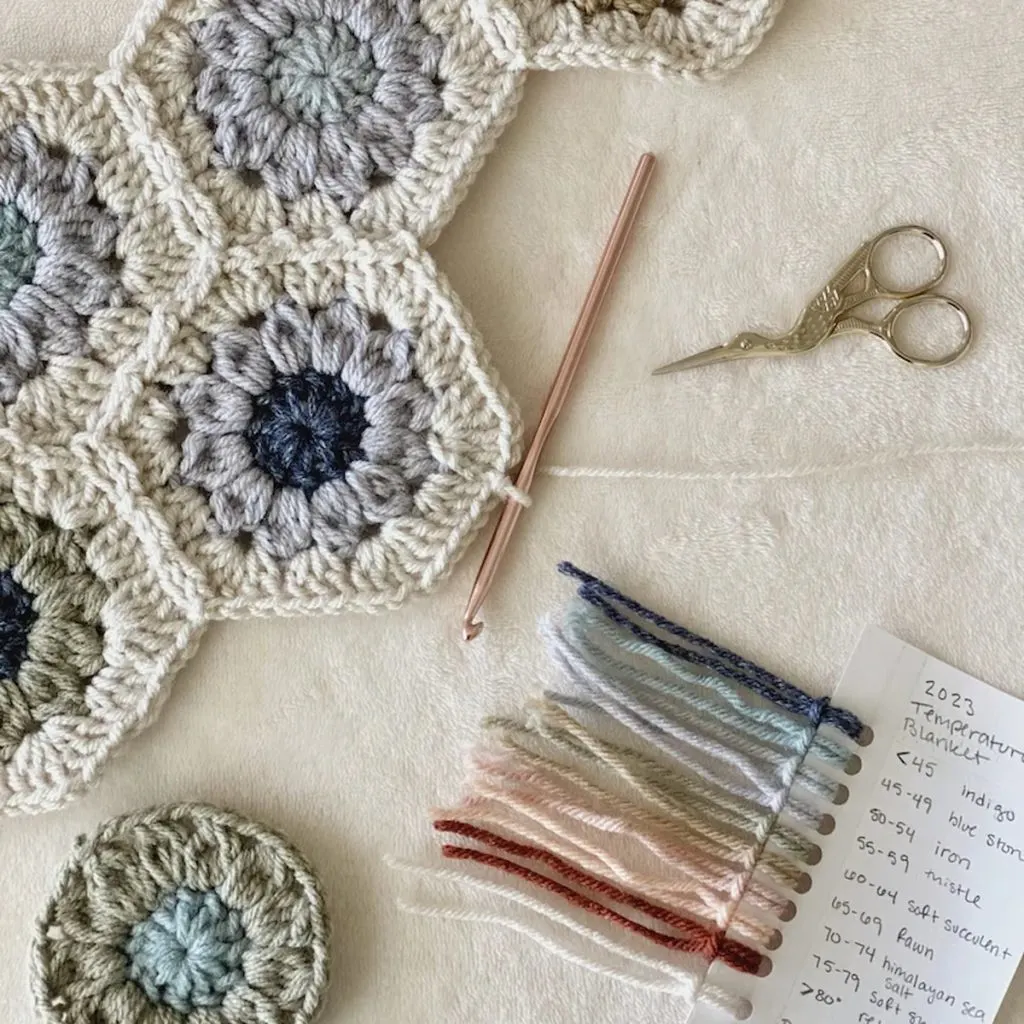 The Zinnia hexagon temperature blanket pattern features zinnia-like patterns from thick yarn. Like the zinnias, which bloom in different color varieties, you can also crochet your warm blanket in many colors.
Zinnias come in nearly every color of the rainbow (except blue and black), so you can adjust the colors of the central flowers to the recipient's or the room's taste. You could even have multiple blankets to represent the changing seasons throughout the year.
You can choose blue and purple hexagons for cooler days, and orange and yellow for summer days. The possibilities are endless.
You can also use a temperature chart to represent different seasons or months in the year.
The zinnia temperature blanket blends versatility and creativity. This allows you to appreciate the dynamics of nature.
3. Crochet Blanket Pattern-Hexagon Blanket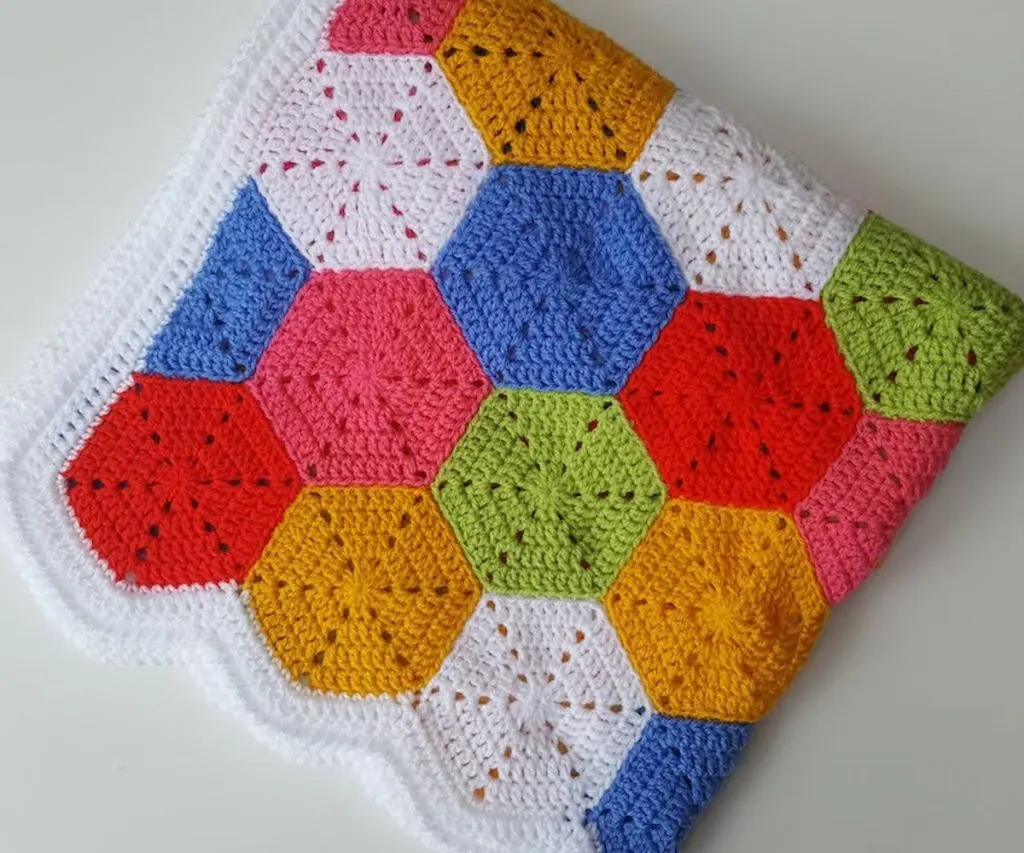 The crotchet blanket pattern-hexagon blanket features warm, bright-colored patterns. The intricate hexagon patterns stitched neatly with a uniform binding are great for a baby's or young child's bedroom.
The blanket is made of lightweight acrylic yarn and is soft and ideal for a baby's skin.
The pattern uses both single and double US crochets, where you combine slip and chain stitches.
You can also use a different yarn and blend the colors to your taste, but remember to keep the stitches medium and firm. A 4.5mm hook is ideal for crocheting the individual motifs before stitching them into a colorful piece.
4. VVCAL Full Pattern Hexagon Blanket
The VVCAL Full Pattern Blanket combines layouts of different yarn weights, including catona color packs, river-washed, and metropolis color packs.
This hexagon pattern allows you to express how you view nature using different colors, designs, and textures. A 5-lace round border can fit any blanket size.
The VVCAL full pattern is ideal for baby blankets, birthday and wedding gifts to your loved ones, or baby shower gifts.
5. Succulent Spring Hexagon Afghan Crochet Pattern
The succulent spring hexagon Afghan crotchet pattern allows you to create visual interest in designs using simple crochet stitches.
There is no limit to how creative you can get with this pattern.
The changing color combinations and the thrill of modifying intricate patterns keep you going. It would be best to have a small hook and light yarn to create this design.
Matching the colors on the foundation of the hexagons and the binding results in great pieces. You can use them as decorative covers on your furniture.
6. Crochet Pattern Easy Blanket
If you are looking for an easy-to-crochet yet visually appealing pattern, consider the easy blanket crochet pattern.
This design features a simple hexagon made from worsted weight/category 4 yarn (you can also use any weight).
It is recommended to use a double crochet for intricate and neat patterns. The simplified motif offers new crafters an easy-to-master pattern, and seasoned ones, a pattern to relax into.
The simple hexagons are ideal for busy days when you need to enjoy your hobby time or take a break from complex patterns.
The freedom to choose color combinations and yarn makes this design versatile and interesting to craft.
I love blending bold colors with bright ones for this pattern, but soft and subtle ones are also great for a new decorative piece in your room.
7. Hygge Burst Hexie Blanket Pattern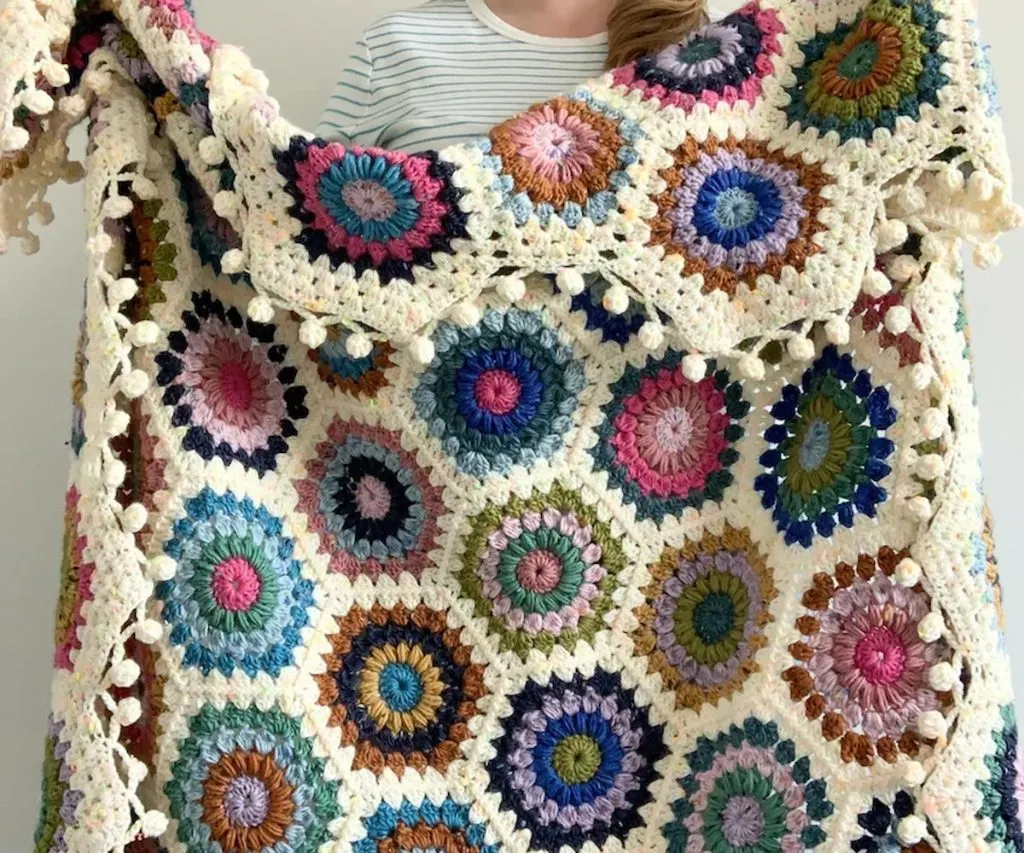 Everything is cozy, special, warm, and pleasant in the Hygge burst hexie blanket pattern.
The pattern entails hexagonal motifs that exude warmth and comfort. You can crochet the designs from a combination of the simplest stitches using textured yarn of different colors.
The blend of warm and bold colors adds depth to the pattern's visual appeal.
To enhance warmth in your piece, use soft plush yarns because they evoke a sense of relaxation.
You can personalize your blanket by choosing your favorite color palette. From soothing shades to vibrant ones, everything works to offer you a tranquil feeling.
8. Crochet Baby Blanket Pattern
A combination of neat little hexagons constitutes the crochet baby blanket pattern. The pattern includes four baby designs.
Patchwork hexagon blanket
Heart hexagon blanket
Ombre hexagon blanket
Daisy hexagon blanket
Medium 4 and dk weight yarn are ideal for this pattern. The foundation of simple crochet stitches makes this pattern ideal for a beginner.
You can customize this pattern's size, color palette, and decorative features to your taste. The end product is a unique baby blanket or a precious gift to your loved ones.
9. Honeycomb Web Blanket Crochet pattern
A series of hexagons weaving into a web creates a neat, warm honeycomb web blanket.
This pattern showcases the beauty of honeycomb-inspired motifs combined with the elegance of a weblike structure.
The pattern's unique texture and visual appeal captivate, making it a decorative piece in your bedroom. Each honeycomb pattern is a product of advanced crochet techniques and quality yarn.
Front post stitches, clusters, and intricate stitch combinations create a stunning dimensional effect on your craft. You can choose your favorite color combinations, from bold to dramatic ones.
The honeycomb web crochet pattern is rewarding but requires more time and experience. It is, therefore, ideal for advanced crocheters.
You can use this pattern to craft a blanket for the cold season or create a unique masterpiece for your loved ones on a special occasion.
10. Coral Story Blanket- Brioche Crochet Pattern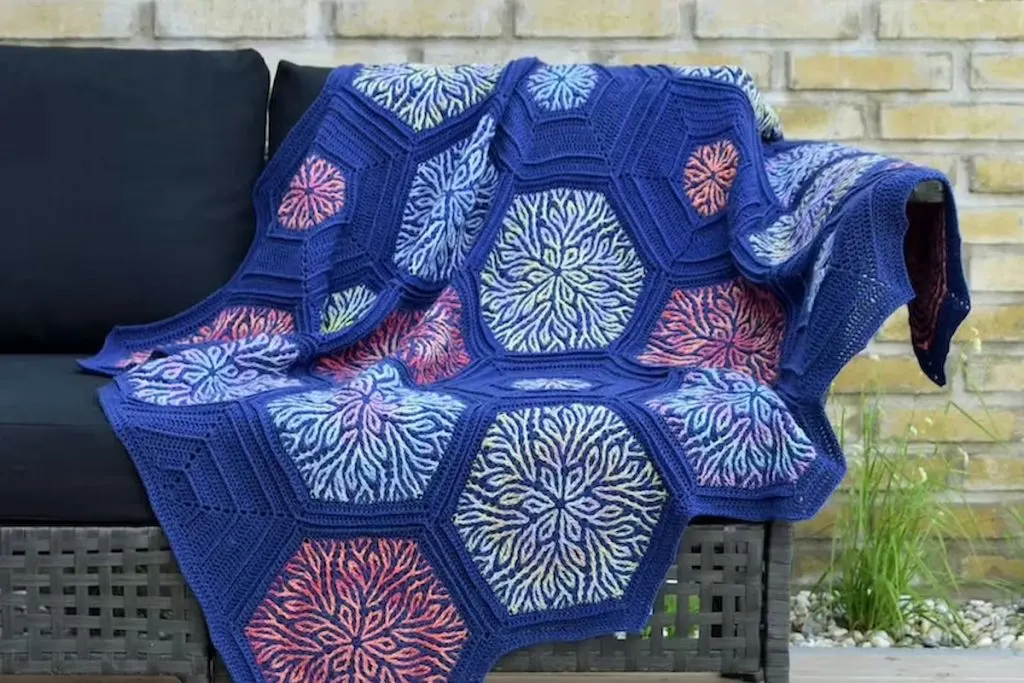 The coral story blanket uses the brioche techniques that consist of hexagon motifs. Blending colors that complement and contrast create a coral-like hexagonal pattern.
This popular and innovative hexagonal pattern mimics the brioche knitting stitch. The blend of two colors in each piece creates a ribbed effect, resulting in a beautifully textured blanket.
You can use the brioche crochet to add depth, elasticity, and visual interest to your piece.
The pattern yields a distinctive look on your blanket with impressive texture and versatility.
Try this pattern for your next piece and enjoy the fascinating coral story crafting journey. You can use it to craft scarves, hats, and blankets.
11. Easy Hexagon Crochet Baby Blanket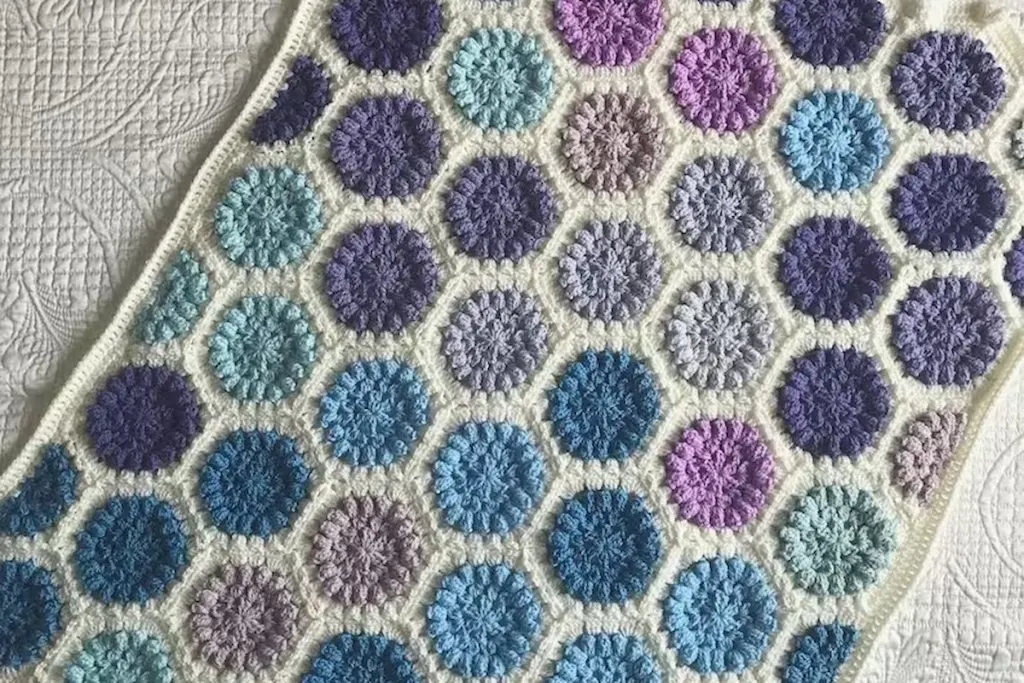 Are you a confident beginner crocheter? If yes, consider the easy hexagon crochet baby blanket pattern.
Although the pattern is simple and straightforward, it creates cozy pieces for your baby blanket and other decorative pieces.
You can use soft and gentle yarns to create a soft blanket for your baby. Like many designs, the crochet baby blanket pattern allows you to customize your craft to your color preference.
Choose warm colors to enhance the blanket's warmth. You can add embellishments to the pieces and along the binding for decoration.
Parting Shot
Crochet blankets offer crafters a platform for creativity and self-expression. With many intricate hexagonal designs in the market, there is a pattern for everyone.
Whether you are a beginner or an experienced crocheter, you can pick one blanket pattern and spice it up with your favorite color combinations.
The unique charm and appeal that comes from creativity are not only fulfilling but also profitable.
You can monetize your craft as you experience the delightful journey of crafting cozy and cherished blankets.
Resources