*This post may have affiliate links, which means I may receive commissions if you choose to purchase through links I provide (at no extra cost to you). As an Amazon Associate I earn from qualifying purchases. Please read my disclaimer for additional details..
Dive into the serene and refreshing world of an ocean color palette, perfect for inspiring your crochet and knitting projects.
In this article, we'll submerge ourselves in the tranquil blues and vibrant aquas that mirror the beauty of the sea and sky, discovering how these calming shades can bring a sense of relaxation and harmony into your crafting endeavors.
Whether you're envisioning crocheting a cozy afghan, knitting a snuggly baby blanket, crafting stylish sweaters, or adding a touch of oceanic charm to your home decor items, we've got you covered.
Let's plunge into the captivating world of ocean colors and explore how this soothing palette can create a sense of coastal serenity in your crochet and knitting projects!
The Ocean's Allure
The ocean's allure is matched by its hazards, powerful currents, towering waves, and hidden depths that remind us of nature's might.
This blend of beauty and danger prompts introspection and reevaluation of our place in the world, much like this palette.
Mary Maxim Mellowspun DK
Lion Brand Local Grown
Full of Wonders
Just like this mysterious color palette, the ocean's vastness reaches far beyond the horizon, reminding us that there is a world full of wonders beyond what meets the eye.
Mary Maxim Starlette
Lion Brand Re-Up Bonus Bundle
Dynamic Chaos
The ocean's dynamic nature, with its constant flow, is a reflection of life's ever-changing flux.
It reminds us to be adaptable, to navigate through uncertainties, and to find our rhythm amidst the chaos, much like this color palette.
Mary Maxim Maximum Value
Lion Brand Touch of Alpaca Thick & Quick
Soul-Stirring Blue
Our journey is enriched much like this color palette in the hues of the ocean's emotions. The calm blues of the ocean bring a sense of peace while the light greens evoke tranquility.
Loops & Threads Impeccable
Lion Brand I Like Big Yarn
Dive to You
Dive into the world of underwater beauty with this inspired color palette and let it inspire you to create something truly unique and beautiful.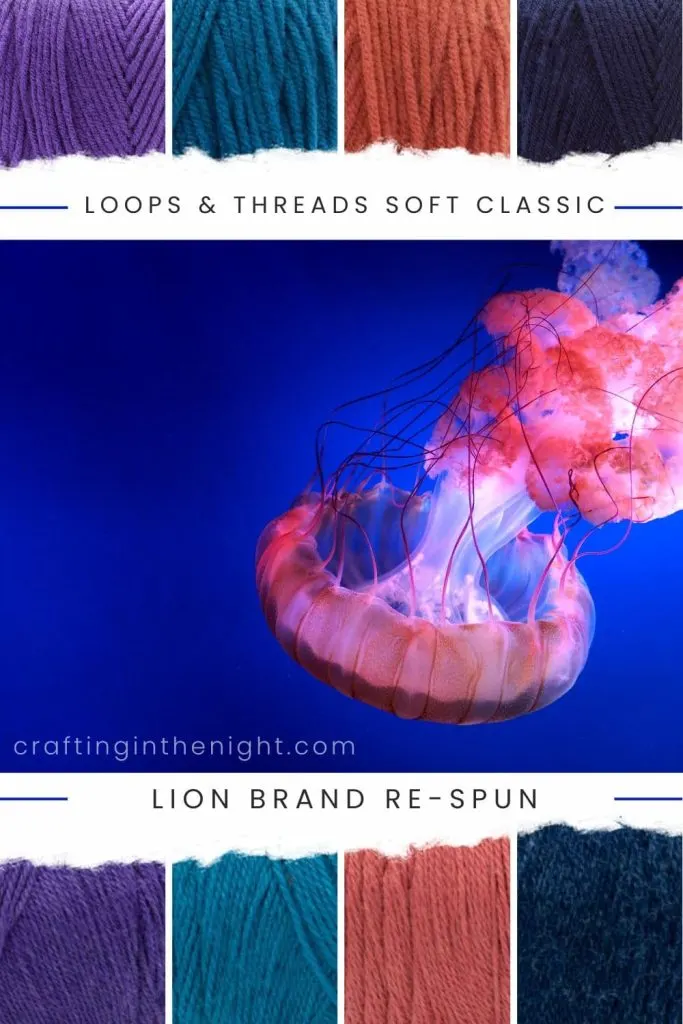 Lion Brand Re-Spun Bonus Bundle
Underwater Beauty
The ocean is an endless source of refreshment and beauty.
Its vastness and mystery can also be terrifying. Let this color palette transport you to the depths of the ocean.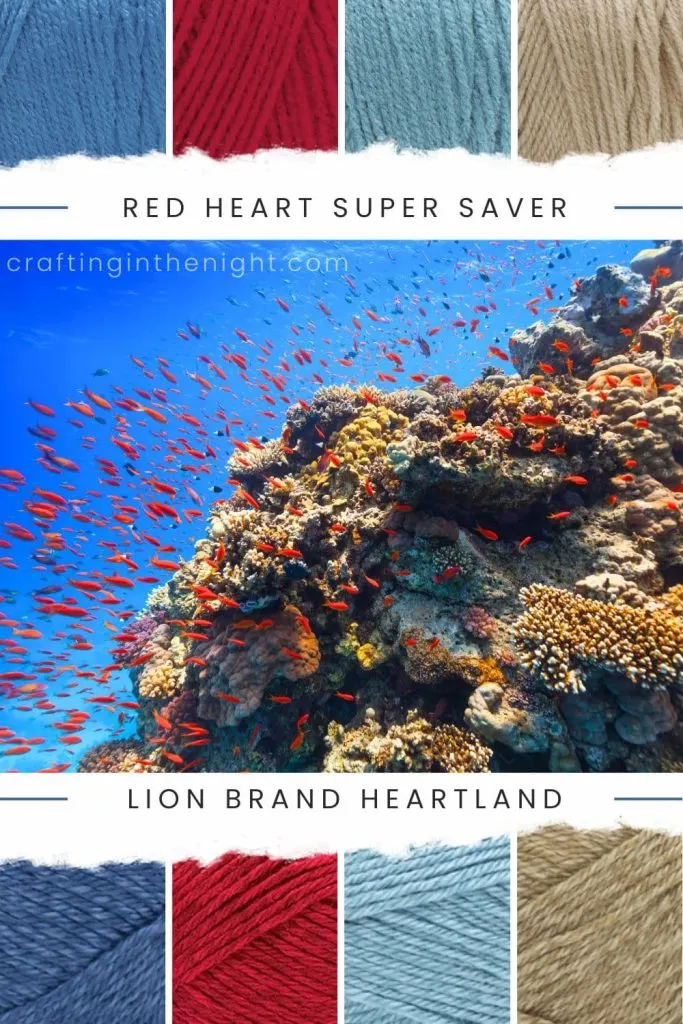 Red Heart Super Saver
Lion Brand Heartland
Essence of the Ocean
Imagine using these colors to create a stunning underwater style that captures the essence of the ocean. The possibilities are endless with this palette, and it can be used in various creative fits.
The Blue's Glory
Much like this stunning color palette, the grandeur of the ocean never fails to leave us in awe, feeling humbled, inspired, and filled with wonder.
Knit Picks Swish Worsted
Lion Brand Basic Stitch Anti-Pilling
Into the Unknown
Explore the depths of your creativity with this ocean-inspired color palette!
The vastness of the ocean beckons us to take risks and embrace the unknown, unlocking our full potential.
Knit Picks Brava Worsted
Lion Brand Pound of Love
Taste of Waves
Take a moment to appreciate the ocean's reminder that life is a beautiful blend of emotions, with each shade adding depth and richness to our journey.
Explore this captivating color palette and let its colors inspire your expression.
Knit Picks Palette
The Deep Blue
The ocean brings back memories and a sense of belonging and comfort, just like this gorgeous color palette that takes inspiration from the underwater world.
Knit Picks Palette