*This post may have affiliate links, which means I may receive commissions if you choose to purchase through links I provide (at no extra cost to you). As an Amazon Associate I earn from qualifying purchases. Please read my disclaimer for additional details..
Step into the warm and earthy embrace of a brown color palette. In this article, we'll immerse ourselves in the comforting and versatile world of browns, exploring the myriad shades that evoke nature's beauty and rustic charm.
Whether you're contemplating crocheting a cozy throw, knitting a classic sweater, or looking to create fabulous home decor pieces, we've got you covered.
Let's embark on a journey through the spectrum of browns and uncover how this enduring color palette can add a touch of natural elegance to your life!
Warmth's Beauty
Brown is often seen as a neutral and natural color, which can elicit a sense of warmth, security, and earthiness. Just like this color palette, it brings a cozy, comfortable feeling.
Letters of Love
Have you felt the joy of receiving a letter? They're never inconvenient and patiently wait for you to read them.
Like these color palettes, they're cherished memories to treasure. It's heartwarming to know someone thought of you.
Fawn's Versatility
Brown is a versatile color that is often associated with earth and nature.
It can be found in various shades, ranging from light tan to deep chocolate. Check out this stunning selection of brown palettes that will surely inspire you!
Safe & Sound
When used in architectural design, brown can create a sense of security and stability. By grounding the space and providing a sense of safety and protection, it creates a warm and inviting atmosphere.
This color palette is perfect for those who want to feel grounded and secure.
Loops & Threads Impeccable
Lion Brand 24/7 Cotton
Colors of Nature
Nature is filled with the warm and inviting color of brown. It's a hue that dominates the landscape and can be found in many animal's coats.
From the lightest tan to the deepest chocolate, brown is a color that surrounds us in our everyday lives. Just like this beautiful color palette that we can appreciate wherever we go.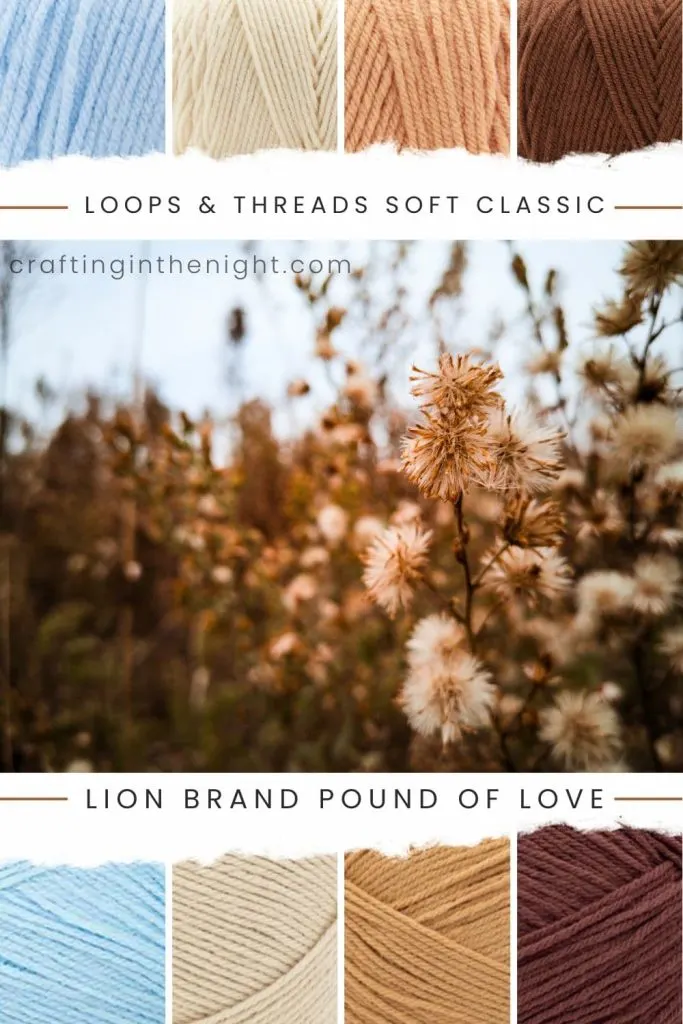 Loops & Threads Soft Classic
Lion Brand Pound of Love
Timeless You
Take a look at this amazing color palette inspired by the timeless color brown!
Whether you're into vibrant hues or prefer muted tones, brown has the incredible ability to enhance and complement other colors. That's why it's such a popular choice in both interior design and fashion.
A Welcome Solace
In addition to its neutral qualities, brown has a natural and organic feel to it. It is reminiscent of earth, wood, and other natural materials.
This connection to nature can evoke a sense of warmth and comfort much like this color palette.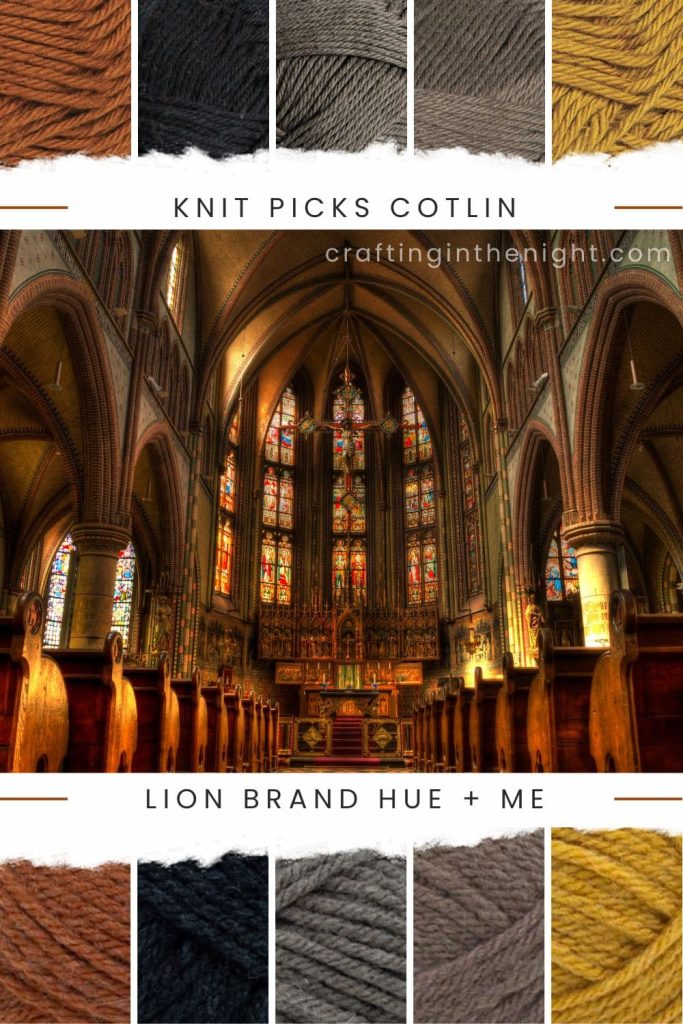 Our Thanks To You
When we surround ourselves with the color brown, we are reminded to be grateful for all the good things in our lives.
This positive mindset helps keep negative emotions at bay, just like the warm and comforting hues of the color brown.
Knit Picks Swish Worsted
Lion Brand Perle 5/2
Crisp & Cool
Experience the awe-inspiring colors of autumn leaves in shades of brown, red, and yellow. Plus, indulge in the joy of walking on crispy, fallen leaves.
Embrace the enchanting essence of these beautiful leaves by complementing them with this lively color palette.
Knit Picks Brava Worsted
Lion Brand Basic Stitch Anti-Pilling
Wilderness Joy
Brown believes that having gratitude is beneficial for living a positive life. That's why it takes pleasure in the small things.
Whether it's a warm and comfortable home, the beauty of nature, or even just the simple things we often overlook, brown truly appreciates them, just like this lovely color palette.
Knit Picks Palette
Friend In Arms
Books offer a reliable source of comfort, whether it's through the familiarity of a beloved story or the bond formed with relatable characters.
During moments when you feel alone, books can be a constant companion. Take a look at this soothing color palette for added comfort.
Knit Picks Palette