*This post may have affiliate links, which means I may receive commissions if you choose to purchase through links I provide (at no extra cost to you). As an Amazon Associate I earn from qualifying purchases. Please read my disclaimer for additional details..

Welcome to my crochet blanket project featuring the delightful "Speedy Granny Ruth" pattern by Christa at the Secret Yarnery! I'm thrilled to share this cozy creation with you.
I've worked up a color palette that I affectionately call "Sunset Serenity." With a harmonious blend of coral, white, light grey, dark grey, and yellow, this blanket exudes tranquility and warmth.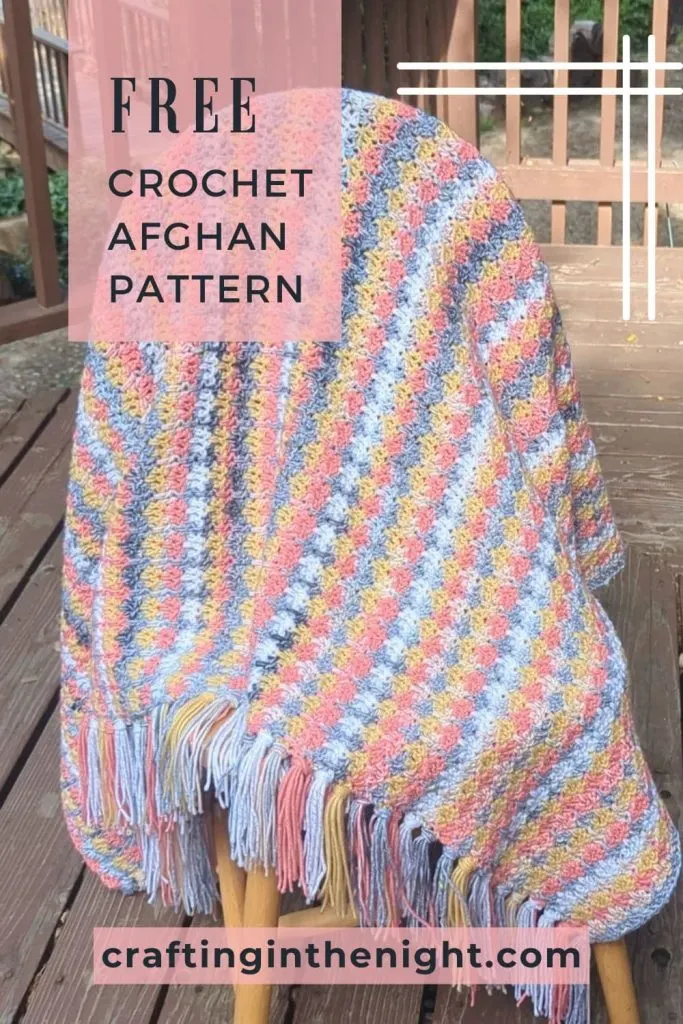 In this blog post, I'll guide you through every step of the process, from the exact materials I used to the order of yarns to create the enchanting color sequence. This is a fun project whether you're a seasoned crocheter or a complete beginner. This pattern is incredibly easy and beginner friendly. You'll be amazed at how quickly it comes together!
Before we dive into the crochet journey, let's take a moment to appreciate the captivating hues of "Sunset Serenity."
The delicate coral reminds me of the soft glow at twilight, while the crisp white resembles the moonlight on a clear evening. The gentle interplay of light and dark greys mimics the soothing ebb and flow of ocean waves, while the sunny yellow adds a touch of brightness and cheer.
Materials
I Love This Yarn – City Beat (variegated)
I Love This Yarn – Metallic – Coral Sparkle (Coral Pink)
I Love This Yarn – Grey Confetti (Grey)
Size J (6.0 mm) Crochet Hook (This is my favorite crochet hook set on Amazon.com)
I didn't keep exact track of the number of skeins used for each color but, I do save my yarn labels and I have one label for each color except City Beat, for which I have two.
My finished project came out to 45″ wide by 55″ long (not including tassels)
Color Sequence
With this pattern, you get to switch colors after every row without the hassle of dealing with countless ends to weave in.
This clever technique allows you to achieve a stunning blanket with a rich tapestry of colors, all while saving you precious time that would otherwise be spent on tedious end-weaving. If you want to duplicate my blanket, here is the color sequence I used.
Coral Pink
Variegated
Gray
Yellow
Variegated
Coral Pink
Gray
White
Variegated
Yellow
Tips and Tricks
Putting this blanket together really is pretty easy, and Christa's tutorial is excellent, so I encourage you to watch it.
However, there are still a couple of tips I want to give you for working the Speedy Granny Ruth pattern:
Weave in starting and ending ends – I tried incorporating the starting end and ending end into my tassels and don't love the way it turned out. If I did this project again, I would just weave in those two ends.
Watch your tassels – When you are adding your tassels to the blanket, make sure that you are always adding them from the same direction. This blanket looks great from both sides, and one of the mistakes I made was not paying attention when I was adding tassels.
Since I didn't add them all in one sitting, when I would come back, I wouldn't always look to see which direction I should be going. You can see how that looks in the picture below.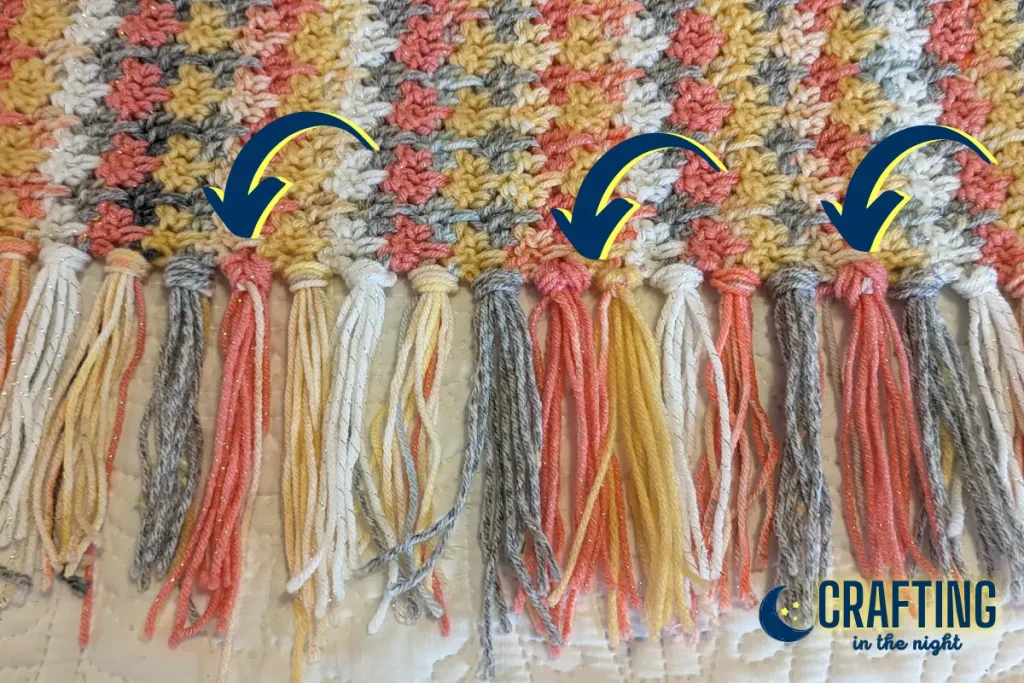 There are no tassel police – Don't get too hung up about making a perfectly straight tassel edge. The reality is, you have the wrong kind of friends if they come over to your house, lay out your beautiful crocheted blanket, and look to see if your tassels are even.
Christa covers how to trim up your tassels and, even after following the instructions, I had a few strands longer than the others. I was tempted to go back and try and make them all perfect until I remembered that there are no tassel police. Remember, imperfections are one of the things that make handmade projects uniquely yours.
Video Tutorial
There is a FREE video tutorial for this blanket pattern. Don't forget to like the video and subscribe to Christa's channel if you love her content like I do!
I hope you now feel ready to dive into creating your own version of this beautiful blanket. Grab your crochet hook and gather the enchanting "Sunset Serenity" colors of yarn. Before you know it, you'll be wrapping yourself in the warmth of your very own "Speedy Granny Ruth" masterpiece!