*This post may have affiliate links, which means I may receive commissions if you choose to purchase through links I provide (at no extra cost to you). As an Amazon Associate I earn from qualifying purchases. Please read my disclaimer for additional details..
Discover the rich tapestry of these autumn color palettes, where every hue tells a story of falling leaves and cozy fireside evenings. From the deep russets of forest floors to the golden glows of harvest moons, this palette is a heartfelt ode to nature's grandest spectacle.
As you embark on your next crafting adventure, let these colors wrap your creations in the warmth and nostalgia of the season. Immerse yourself in this autumnal embrace, and watch as your projects come alive with the spirit of fall.
Flame Horizon
Autumn is such a beautiful season, isn't it? The leaves on the trees turn into stunning shades of gold, red, and orange.
If you want to capture that fiery autumn vibe, try using this color palette.
Shades of Autumn
Autumn is all about those vibrant colors like orange, red, and yellow. They represent the beautiful fall foliage and the deliciousness of ripe pumpkins.
It's a time for Halloween, Thanksgiving, and celebrating the abundance of the harvest season.
Let's embrace the autumn spirit with this amazing color palette!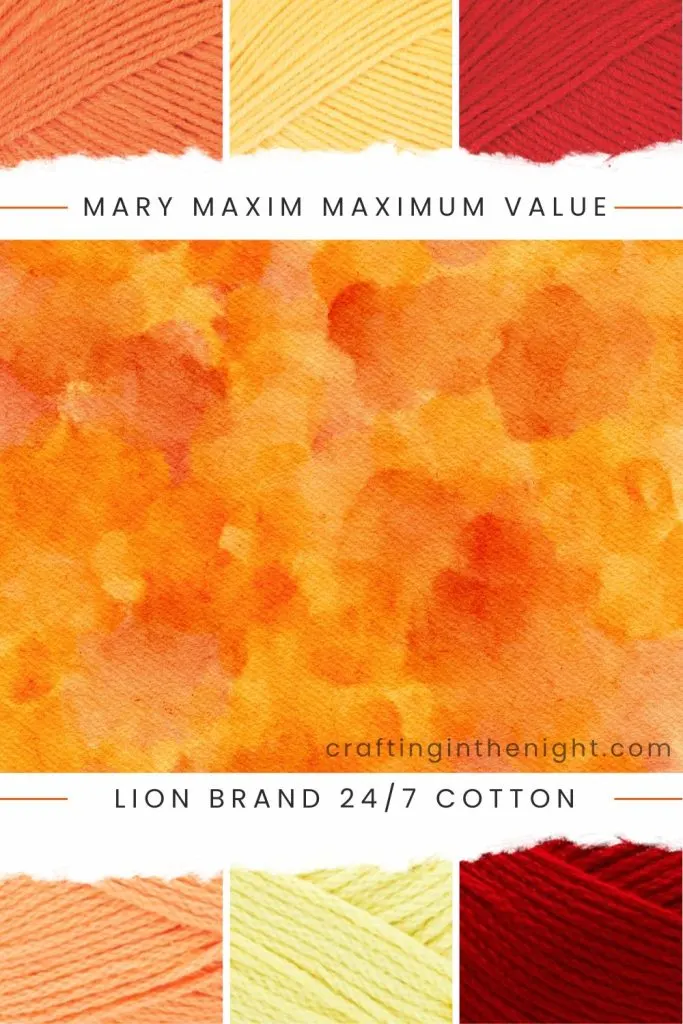 Cozy Days
When summer gets super hot, fashion often takes a backseat to staying cool and comfy.
But fear not, because autumn brings in a whole new range of stylish options like jackets, sweaters, and boots that are more flattering than shorts and flip-flops.
Fall is the perfect time to play around with colors, styles, and looks, so why not kickstart your fashion journey with this color palette?
Spice Season
Can you imagine anything better than holding a cozy mug on misty mornings or chilly nights? Well, now is the ideal time to get creative with hot chocolate and coffee recipes.
Why not add a touch of your own style with this awesome color palette?
Loops & Threads Soft Classic Solid
Pumpkin Patch
Hey, pumpkin lovers! Autumn is the perfect time to indulge in all things pumpkin. From classic pumpkin pie and bread to trendy pumpkin-spiced teas and coffees, there's something for everyone.
Don't miss out on this delicious color palette, and make sure to get your pumpkin fix!
Pieces of Autumn
Nothing beats the breathtaking sight of orange, red, and yellow trees — and the added delight of stepping on crunchy fallen leaves.
Embrace the beauty of autumn by matching it with this vibrant color palette.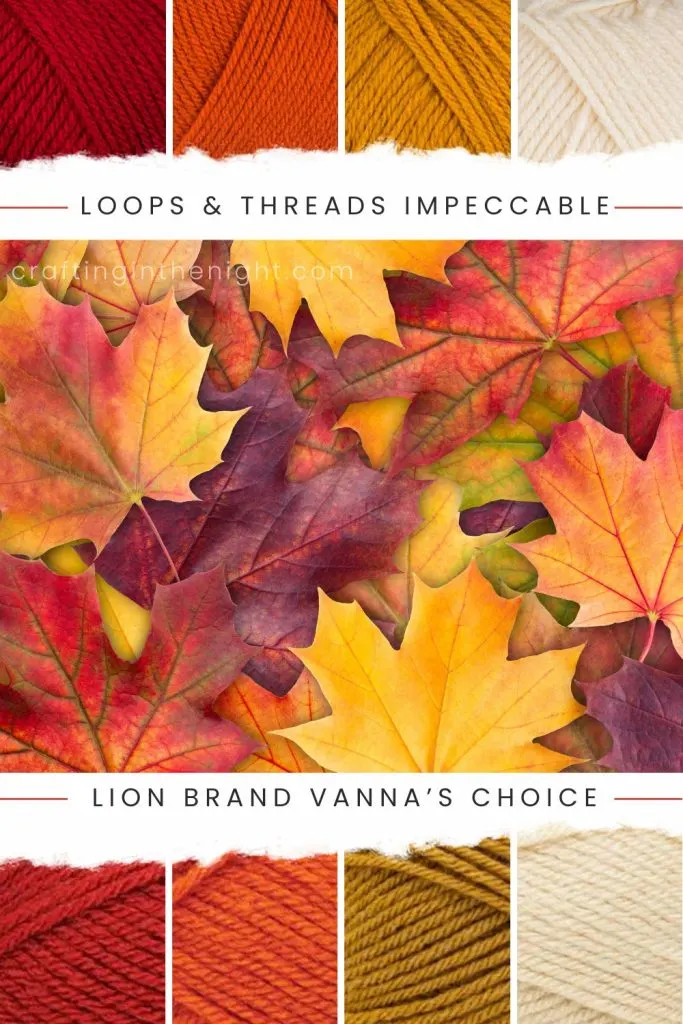 Lion Brand Vanna's Choice
Turning Pages
As the weather gets cooler, why not snuggle up with a good book by candlelight? It's the perfect time to break out your favorite knitted sweater and over-the-knee socks. Plus, reading outside in the fall has a special kind of magic.
To really get in the autumn spirit, check out these cozy color palettes.
Knit Picks Swish Worsted
Lion Brand Pound of Love
Golden Days
Now that summer is over and temperatures are cooling down, it's the perfect time to enjoy all the amazing things your area has to offer. Who's excited for hayrides, pumpkin patches, and apple picking?
Let's embrace the beautiful autumn color palette and make the most of this season!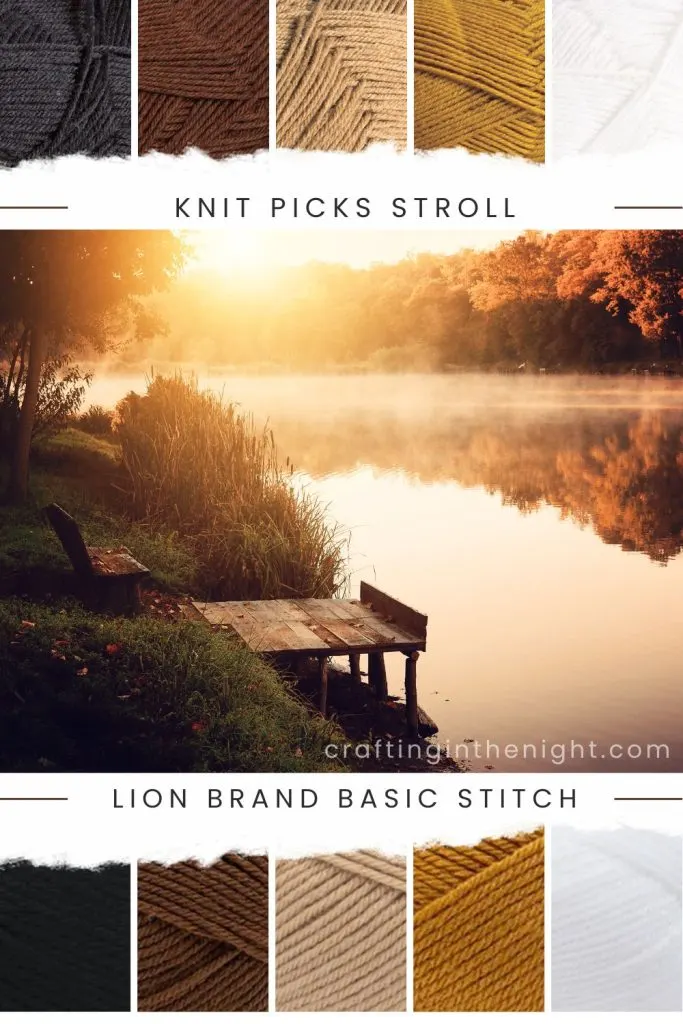 October Days
October is such a fantastic month, weather-wise! The warm days slowly transition into cool, refreshing nights. After relying on air conditioning for months, autumn brings in delightful breezes that let you keep your windows open.
Now's the perfect time to experiment with an autumn-inspired color palette and mix up your style!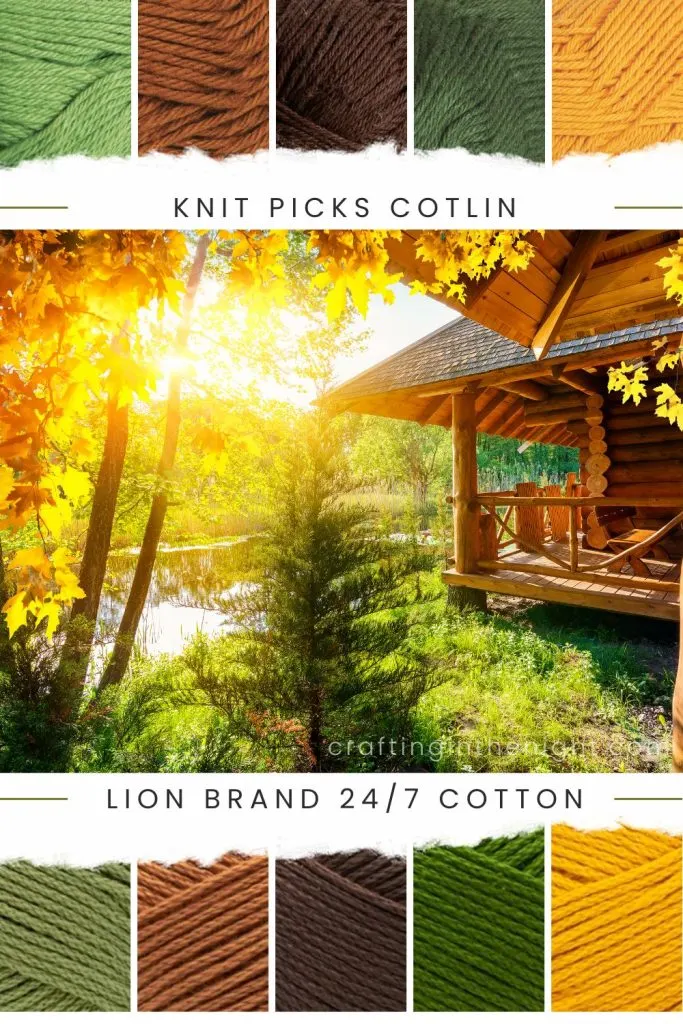 Paint Me Red
In autumn, the trees put on a spectacular show, transforming into stunning shades of red, orange, yellow, and brown. It's the perfect time for a leisurely drive, surrounded by the breathtaking beauty of nature.
Soak in the fiery colors and let Mother Nature's palette enchant you.
Knit Picks Palette
Colors of Autumn
Autumn, the incredible artist of nature, adores splashing breathtaking shades of red, orange, and yellow across our beloved planet. It's a season filled with the most stunning scenes, truly a masterpiece.
Why not embrace this autumn-inspired color palette and let your style shine with its vibrant hues?
Knit Picks Palette