*This post may have affiliate links, which means I may receive commissions if you choose to purchase through links I provide (at no extra cost to you). As an Amazon Associate I earn from qualifying purchases. Please read my disclaimer for additional details..
Drench your projects in the warmth of these yellow color palettes, a symphony of sunlit hues that promise to brighten every corner. From the delicate whispers of buttercream to the bold statements of goldenrod, this spectrum embodies optimism, joy, and radiance.
Whether you're weaving a sunflower-inspired throw or a lemon-hued scarf, these curated shades will ensure your creations shimmer with positivity. Dive into this sunny journey and let every stitch shine with the glow of a thousand suns.
Sunshine Sunflower
Seeing sunflowers is pretty amazing. Their big heads just soak up the sun and make you smile. They're perfect for summer with their bright petals and towering height.
Why not try matching your outfit with these sunny beauties-inspired color palettes?
Lion Brand Touch of Alpaca Thick & Quick
Squeaky Squeak
Rubber ducks are like your own little pets: They're always there for you, like a friend and therapist rolled into one.
Feeling stressed? Give your rubber duck a little pat. Going through a tough breakup? Have a chat with your trusty rubber duck.
To make things even better, why not match your rubber duckies with these awesome color palettes?
Mary Maxim Maximum Value
Lion Brand Chenille Appeal
Little Zing!
Lemons are sour and acidic, but some people love them. They can balance out other flavors in food and make it taste delicious.
Just like how lemons make food better, why not make your style pop with these color palettes?
Get on Board
Train rides are so romantic — you can't even put it into words. Everyone wants a window seat, no matter how old you are. You just gotta see the beautiful countryside whizzing by as you chug along to your destination.
Get that train ride vibe with these cool color palettes.
Lion Brand Basic Stitch Anti-Pilling
Buzzbee
Bees are super awesome! They have so much to teach us humans. Even though they're tiny, these bees are super important for life on Earth.
Why not match these cool bees with these color palettes?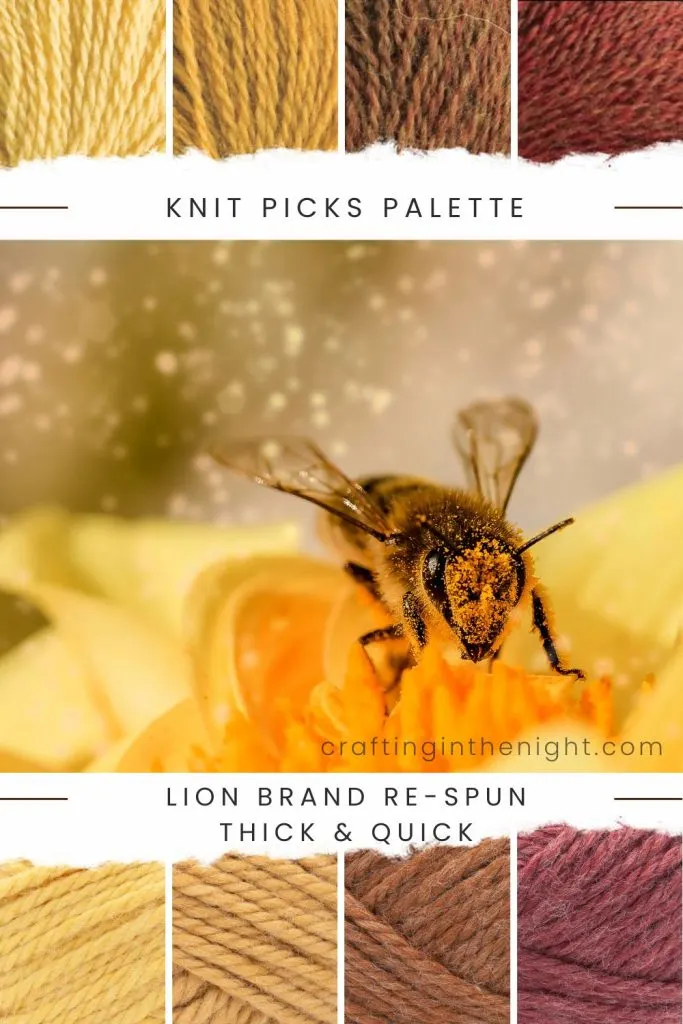 Knit Picks Palette
Lion Brand Re-Spun Thick & Quick
Up in the Air
Have you ever just looked up at the sky and seen those fluffy white clouds? They're so beautiful and mesmerizing! It's like they take you to a whole other world where you can just chill and enjoy the moment.
Check out these cool color palettes to really get into that vibe.
Glow Bright
Have you ever thought about decorating your room with string lights?
It's a great way to bring some happiness and joy into your space, and it even adds a festive feel to your neighborhood! It's like having twinkling stars right in your own home.
Match up with these color palettes and show off your shining charm.
Steps with You
Did you know that according to movies, stairs are the ultimate spot to find true love?
Forget about bridges and park benches, staircases are where it's at! They're full of love and mystery and even make for a great escape route if you're running away from your crush.
Let's get into the romcom vibe with these amazing color palettes!
Knit Picks Stroll
Lion Brand Vanna's Choice
Endless Horizon
When the sun goes down, it's the ideal moment to relax and appreciate all your hard work. Plus, who doesn't adore the stunning colors in the sky? It's a little reminder that every day has something unique to cherish.
Why not feel as special as the sunset with these fantastic color schemes?
Beautiful Morning
Have you ever woken up to a beautiful sunrise with all its colors and the peacefulness of the morning? It's like you're the only one on the planet and the world is unfolding before your eyes like a scroll.
The scene is so calming and serene, just like the color palettes of the sunrise.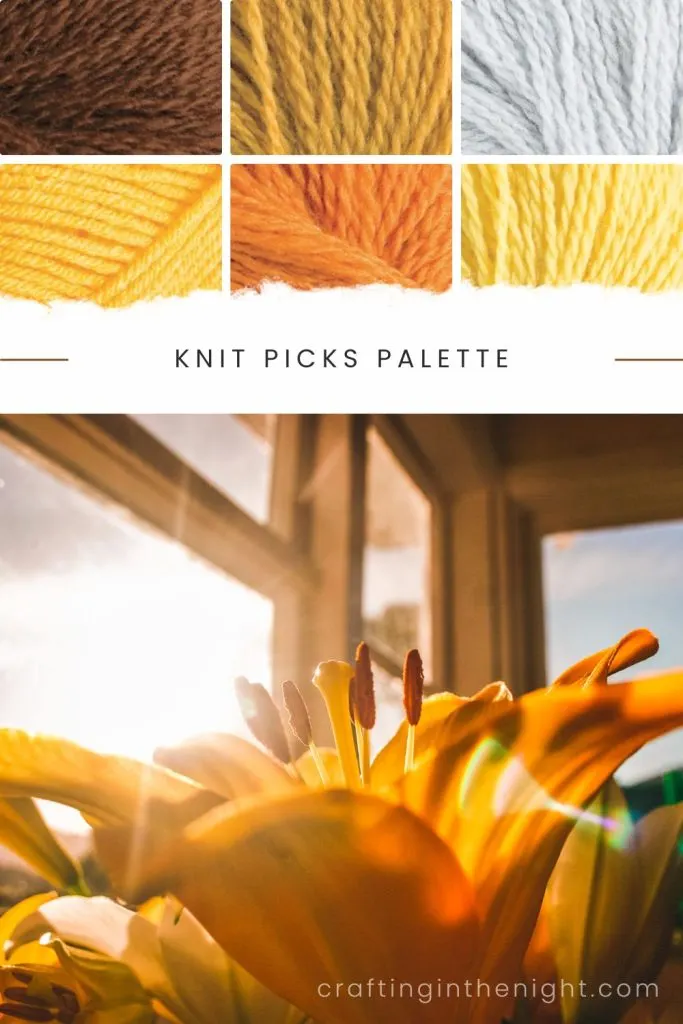 Knit Picks Palette
Magic Hour
Have you ever experienced a beautiful afternoon? It's a time of peace, warmth, and calmness.
The sun shines softly, creating a cozy atmosphere. The sky is painted with shades of blue and fluffy clouds. The air smells like blooming flowers and the refreshing scent of nature just like these color palettes.
Knit Picks Palette