*This post may have affiliate links, which means I may receive commissions if you choose to purchase through links I provide (at no extra cost to you). As an Amazon Associate I earn from qualifying purchases. Please read my disclaimer for additional details..
Step into the vibrant world of the savannah as we explore Lion King-inspired color palettes. Here, the breathtaking hues of the grasslands come to life like never before.
Inspired by the captivating landscapes and vibrant colors of Disney's "The Lion King," I've ventured into blending the worlds of art and technology. The result? A digital collection of crochet projects that will take your breath away.
However, there's something vital you should know. As lifelike and meticulously detailed as these creations appear, they are all generated by artificial intelligence. No human hand has touched them, and they live only in the realm of pixels and bytes.
Though they might seem tangible, these pieces are solely for visual inspiration. No patterns accompany them.
My hope is that they spark your creativity, giving you a taste of the boundless possibilities that lie at the intersection of technology and craft.
Dive in and let the warm tones of the Pride Lands fuel your next crochet adventure!
If you see a project you really wish were real, let me know in the comments. You never know, if something is super popular, I may create the actual project.
1. Tote Bag
Immerse yourself in the rich tapestry of the Pride Lands with this tote bag, boasting deep shades of orange, brown, and black.
Whether you opt for the chic brown leather handles or prefer to crochet your own, its design ensures a blend of style and the wild heart of the savannah.
This granny square tote bag inspiration has a 6-round granny square serving as the central visual element. I'd work this granny square starting with Burnt Orange for the center and alternating that with Chocolate Brown for six total rounds.
The next part gets a bit tricky.
To mimic this crochet tote bag inspiration, I'd work the body up in double crochets. The challenge here lies in joining the rows of double crochet to the granny square.
A solution might be to "square" up the center diamond using the burnt orange, making joining the straight rows a lot easier.
I'd edge the top rim with a single crochet or crab stitch and then either crochet handles or find some nice leather ones to attach like pictured above. I do think the leather accentuates this bag nicely.
Color Palette Inspiration
Mary Maxim Starlette
2. Scarf
The serenity of the African sun is captured in this scarf's shades of gold, oranges, and medium brown.
The striped pattern, reminiscent of sun rays piercing through the trees, drapes around you, weaving tales of Simba's homeland.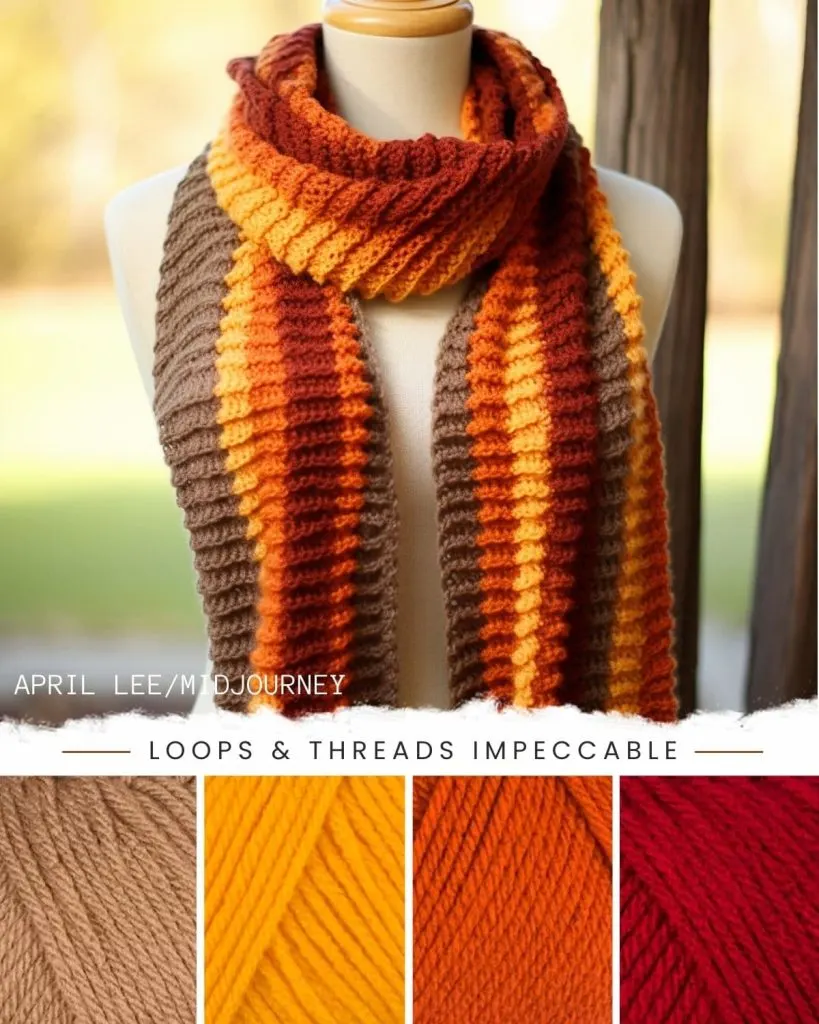 I love this textured crochet scarf.
I'd work this pattern up using a row of foundation double crochet until the scarf was the length I wanted and then alternating front post double crochet and regular crochet all the way down.
Depending on your love (or hate) of back post double crochets, row 2 would be the reverse, doing a back post double crochet around the front post double crochets. This would give the ribbed texture we see in the scarf pictured.
If front post double crochets are more your style, row 2 would be single crochets all the way across, and then turn and work repeats of rows 1 and 2 until the scarf is complete.
Clear as mud? I loved this scarf so much I've already purchased the yarn and will have a written pattern for it soon!
Color Palette Inspiration
Loops & Threads Impeccable
3. Market Bag
Brighten your shopping days with this market bag in lively shades of orange and yellow.
At its heart lies a vibrant orange flower center, serving not just as a focal point but also as a reminder of the blooming beauty of the Pride Lands.
This is a neat crochet market bag.
If I were trying to make this pattern, I'd focus on making the flower triangles first, then work the mesh stitch down and through, joining together at the bottom.
I'd then finish by adding in several rows of single crochet at the top, splitting them off for the two handles.
Color Palette Inspiration
Lion Brand Wool-Ease Thick & Quick
4. Purse
Roar in style with this purse showcasing a beautiful amigurumi lion head, surrounded by a crocheted mane of orange, brown, and gold.
The purse's body contrasts with deep brown adorned by golden stripes, reflecting the regality of a lioness in the wild.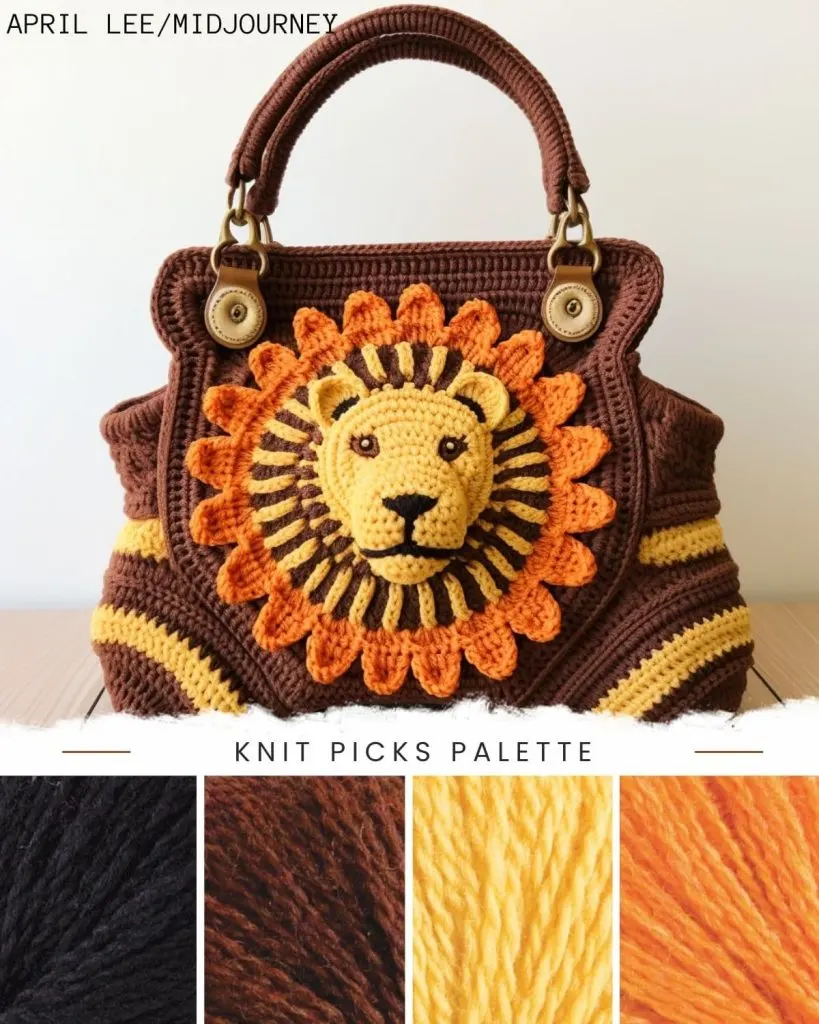 This crochet lion purse I think would be the most difficult item in this post for me to recreate, but amigurumi lovers out there might not see it as too difficult of a project.
This purse would probably need to be worked up in a couple separate pieces.
I'd start by creating the center panels, and then work on joining at the sides. The lion would likely be worked in three pieces. The mane, the ears, and the face and muzzle. I'd then hand-stitch the facial accents and eyes.
Color Palette Inspiration
Knit Picks Palette
5. Dishcloths
Infuse a touch of the wilderness into your kitchen with these dishcloths.
Stripes of tan, dark brown, deep orange, and gold dance across their textured surface. By mixing up color arrangements, create a set that is not only functional but a unique representation of the African landscape.
Crochet dishcloths are fun and typically very easy to make.
You could work these up in any textured stitch, but I'd recommend at least trying one with the lemon peel stitch. Follow the stripe pattern shown above or mix it up!
Color Palette Inspiration
Lion Brand 24/7 Cotton
6. Ripple Throw Blanket
Drape yourself in the comforting embrace of this ripple throw blanket. Its main body, a medley of yellow, tan, orange, and brown, is reminiscent of a sunset over the Pride Lands, while the white trim adds a touch of pristine elegance, much like clouds framing the horizon.
Your favorite ripple pattern could be used to create this blanket, but I am quite partial to the double triple ripple!
Color Palette Inspiration
Knit Picks CotLin
7. Granny Square Blanket
With each square telling its own tale, this blanket brings together the warm hues of tan, gold, and burnt orange, interspersed with calming blocks of white.
The blend of colors creates a patchwork reminiscent of the varying terrains and moods of Simba's journey.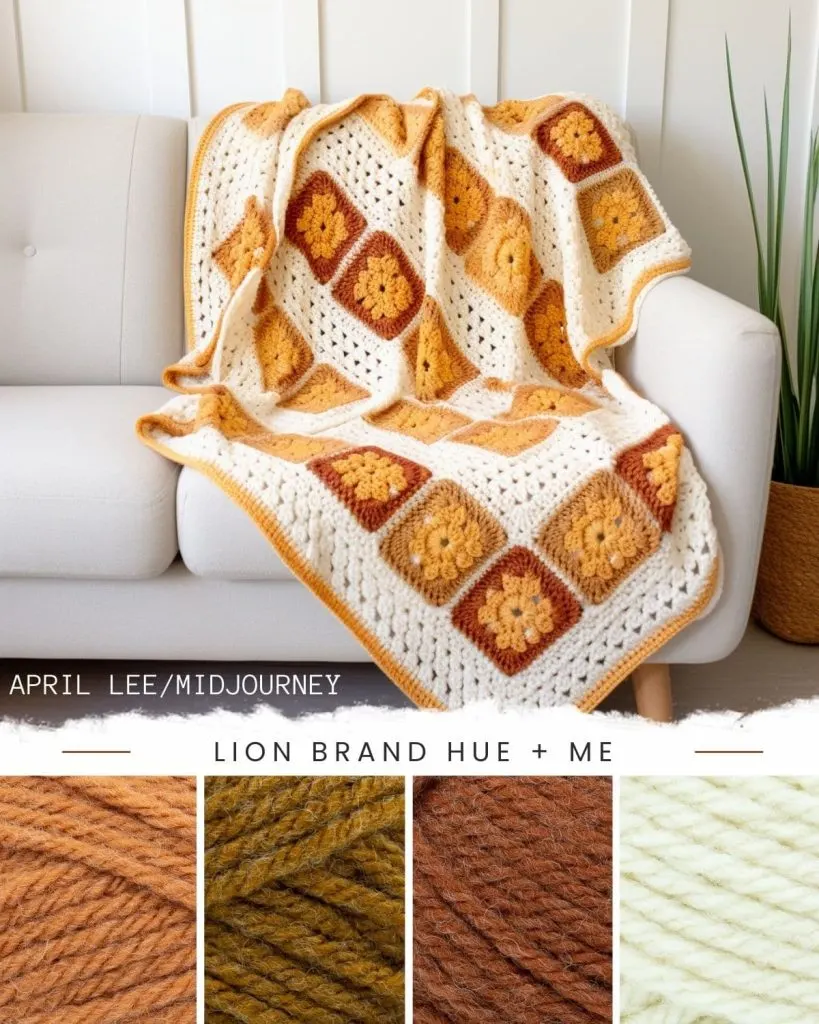 For this blanket inspiration, I'd pick my favorite flower or sunburst-style granny square. You could use a variety of combinations of the three dark colors. Each square in this example is 2 colors so you could have the following square variations:
For the layout shown, you would need 47 total blocks to duplicate this rectangular blanket (fewer if you wanted a smaller square baby blanket).
I would join the three center granny squares with single crochet in white and then work rows of double crochets until the width was correct for the 16 granny squares to line up.
Then I'd repeat again for as many repeats as necessary until the blanket is the size you would like it to be. Here is a sample layout for the pictured image:
Color Palette Inspiration
Lion Brand Hue + Me
8. Dog Sweater
Showcase your furry friend's regal side with this striped dog sweater.
Designed in the stately shades of deep brown, dark gold, and burnt orange, it's perfectly suited for your cute Yorkie, making them the undeniable king or queen of the park.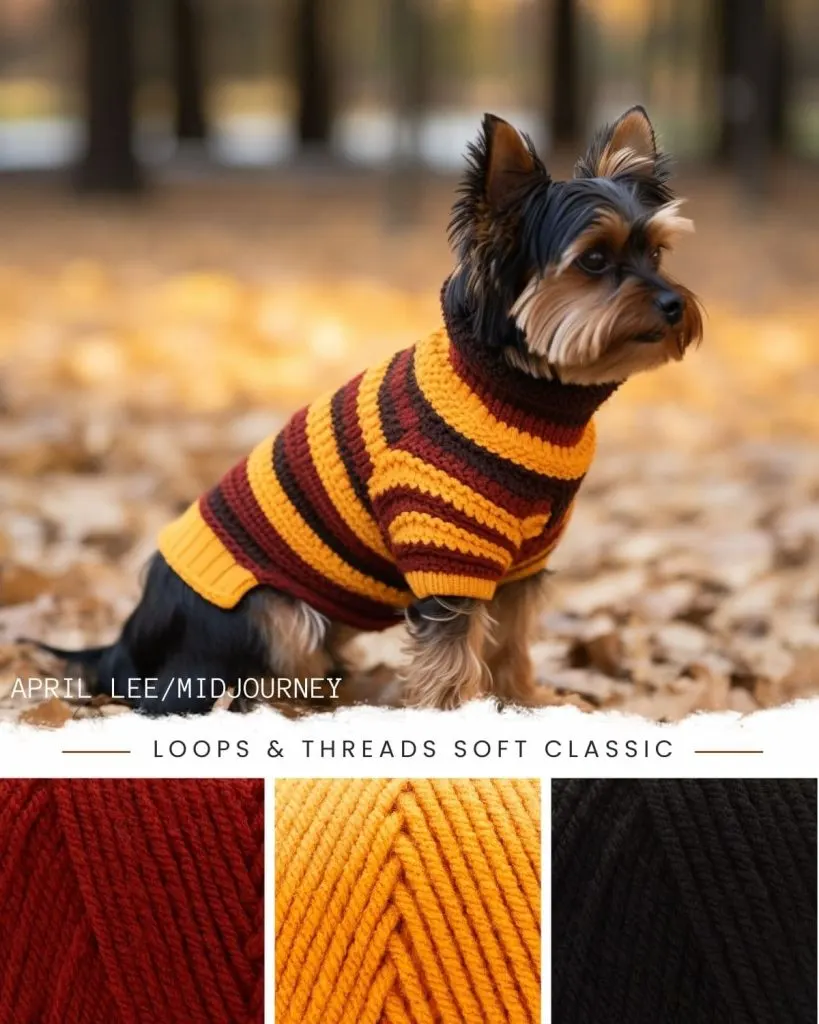 While this virtual Yorkie looks super cute in his sweater, I'm sure your furry friend would be even cuter!
I'd work this crocheted dog sweater up using a variety of half-double crochet and crochet stitches. For the back of the sweater and the bottom of the leg section, a simple single crochet ribbing would look great.
Color Palette Inspiration
Loops & Thread Soft Classic
9. Baby Blanket
Transport your little one to the heart of the Pride Lands with this baby blanket. Orange and brown starburst granny squares, reminiscent of a lion's mane or the radiant African sun, are beautifully bordered in white.
These squares are artistically arranged in rows, interspersed with stripes of sky blue, brown, and gold. A delicate shell border adds a touch of gentleness, perfect for your baby's peaceful dreams.
This amazing baby blanket has already been added to my project list.
Construction should be simple enough: Make the granny squares and join together to form a strip.
Then for the stripes, I'd use a modern granny stitch. If you make the colored section of the stripes, you could then join as you go in white to join the granny block strips to the striped strips and then finish the blanket off with a nice shell stitch border.
Color Palette Inspiration
Knit Picks Palette
10. Beanie
Embrace the spirit of the Pride Lands with this beanie. Simple yet captivating, it features gold and burnt orange stripes, created using the timeless granny stitch. It's an accessory that not only keeps you warm but also evokes the warmth of the African savannah.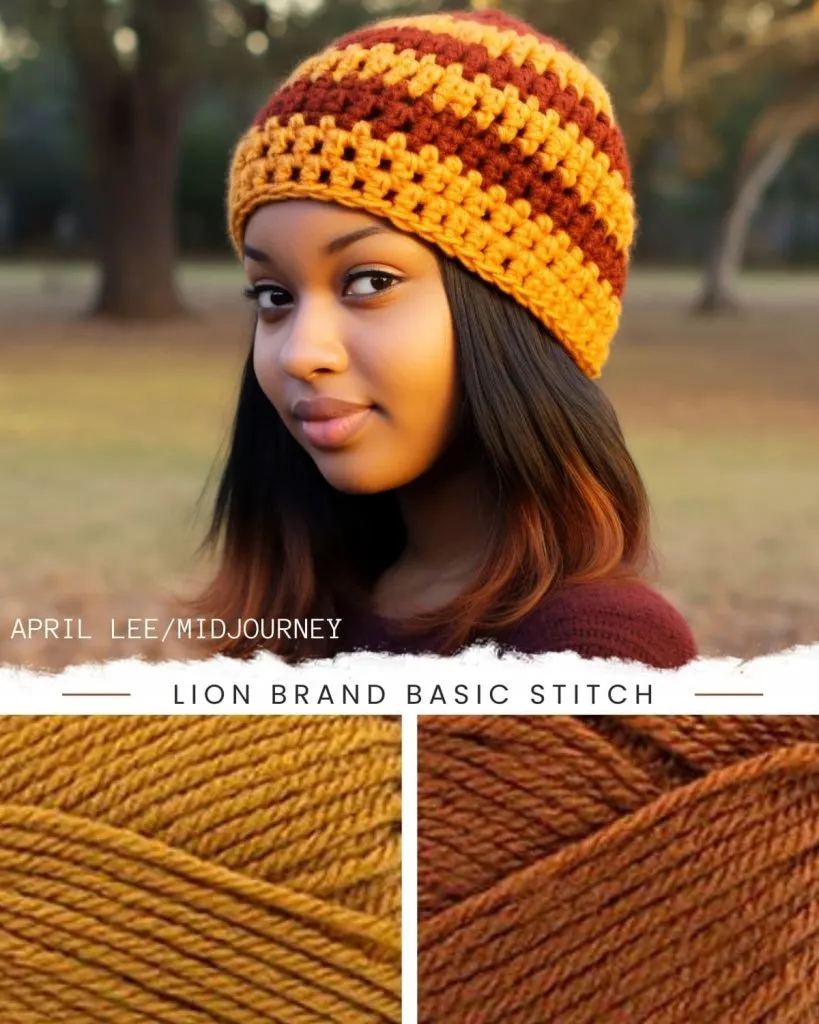 If you've ever made a double crochet beanie or a granny cluster beanie, this pattern should be easy enough to work up. It would probably work just fine for bottom-up patterns as it would for a top-down pattern.
Color Palette Inspiration
Lion Brand Basic Stitch Anti-Pilling
11. Coasters
Elevate your table setting with these Lion King-inspired coasters.
Using a rich color palette of orange, dark brown, gold, burnt orange, and light brown, you can craft coasters with diverse patterns, each one a tribute to the majestic landscapes and vibrant tales of the Pride Lands.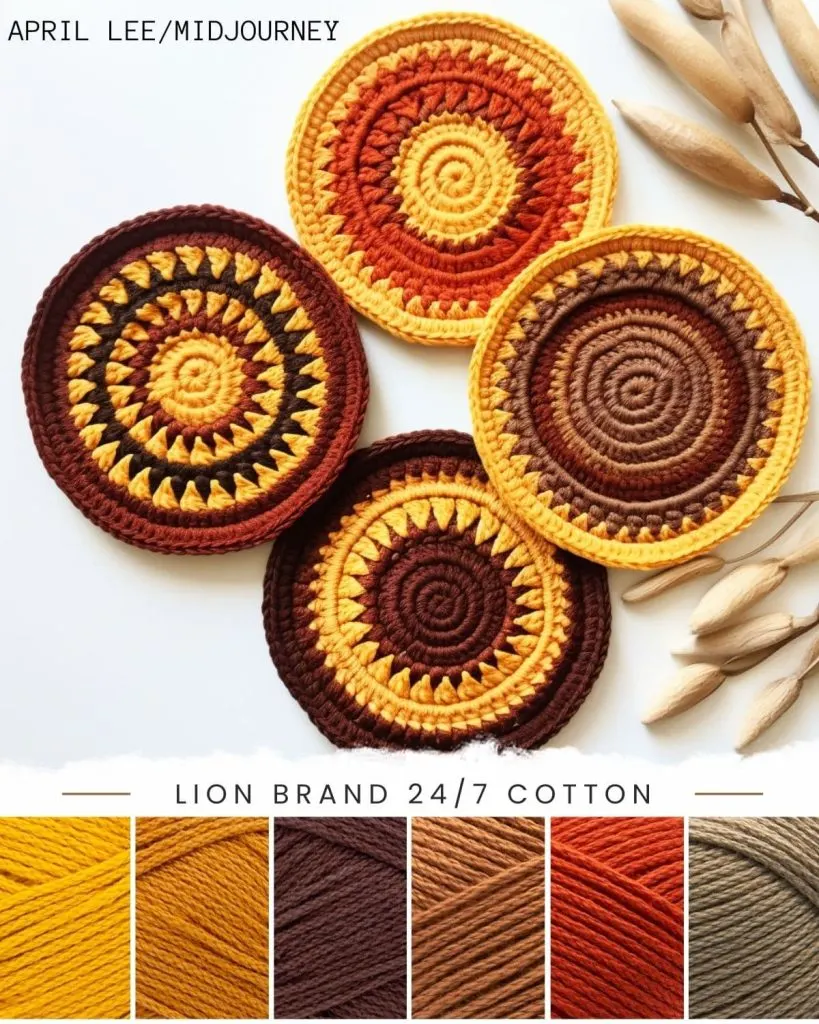 Mimic these coasters using combinations of single crochets, double crochets, and half-double crochets. I'd experiment with mixing up colors and stitches in a variety of patterns.
Color Palette Inspiration
Lion Brand 24/7 Cotton
Next Steps
Get Social: Share this post on Facebook, Instagram, and/or save it to Pinterest. Sharing helps the site grow but also, it will help you find this post when you are ready to start your next crochet project!
Share on the Facebook Group: Join our Facebook group, and share any of our patterns that you have made!