*This post may have affiliate links, which means I may receive commissions if you choose to purchase through links I provide (at no extra cost to you). As an Amazon Associate I earn from qualifying purchases. Please read my disclaimer for additional details..
Embark on a festive journey with these Christmas color palettes, where each hue evokes memories of snow-kissed mornings and joyous carol-filled nights. From the deep greens of evergreen trees to the vibrant reds of holly berries, this palette encapsulates the heart and soul of the holiday season. As you dive into your yuletide crafting, let these colors infuse your creations with the magic and wonder of Christmas. Immerse yourself in this festive symphony, and watch as your projects gleam with the spirit of celebration.
Star Light, Star bright
"Star light, star bright, the first star I see tonight. I wish I may, I wish I might have the wish I wish tonight."
Sending Christmas wishes can strengthen relationships and create a lasting bond.
Whether it's a card, a call, or a gift, the essence is to spread peace and happiness just like these color palettes!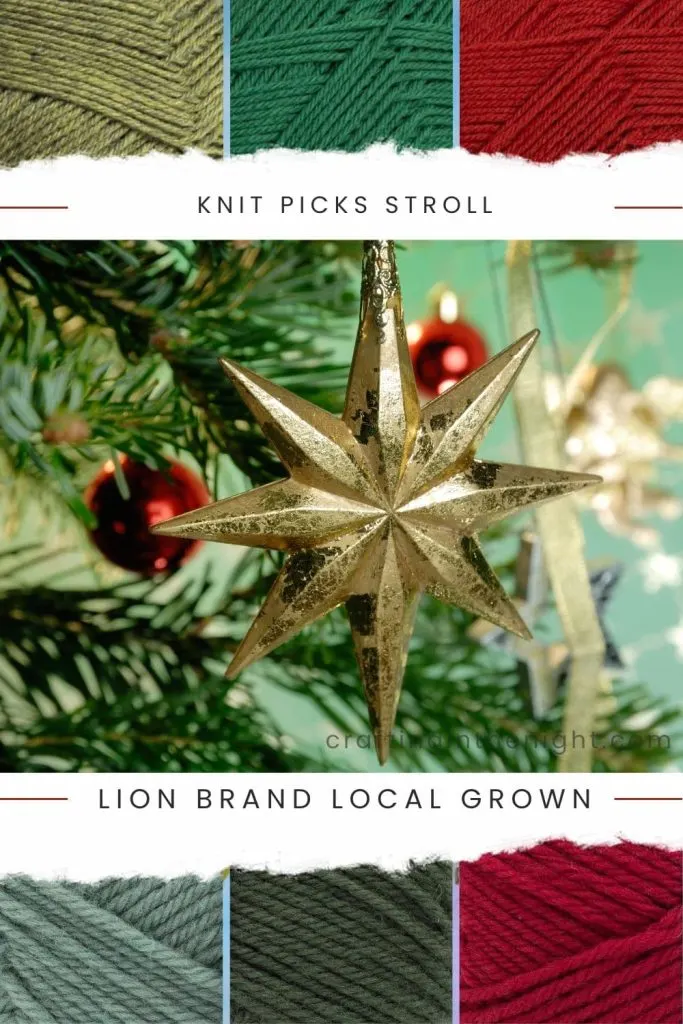 Seasons of Cheer
Who doesn't love Christmas? It's the most wonderful time of the year! We decorate, listen to music, party, bake, and shop for gifts.
Let's get into the holiday spirit with this awesome color palette selection!
Mary Maxim Mellowspun DK
Lion Brand Truboo
Fa-la-la-la
Decorating for Christmas is a special tradition that brings back that magical feeling, the way we do it is like casting a spell.
Just like these palettes, we want to pass on the joy to our kids and make it a yearly ritual. Let's recreate the magic!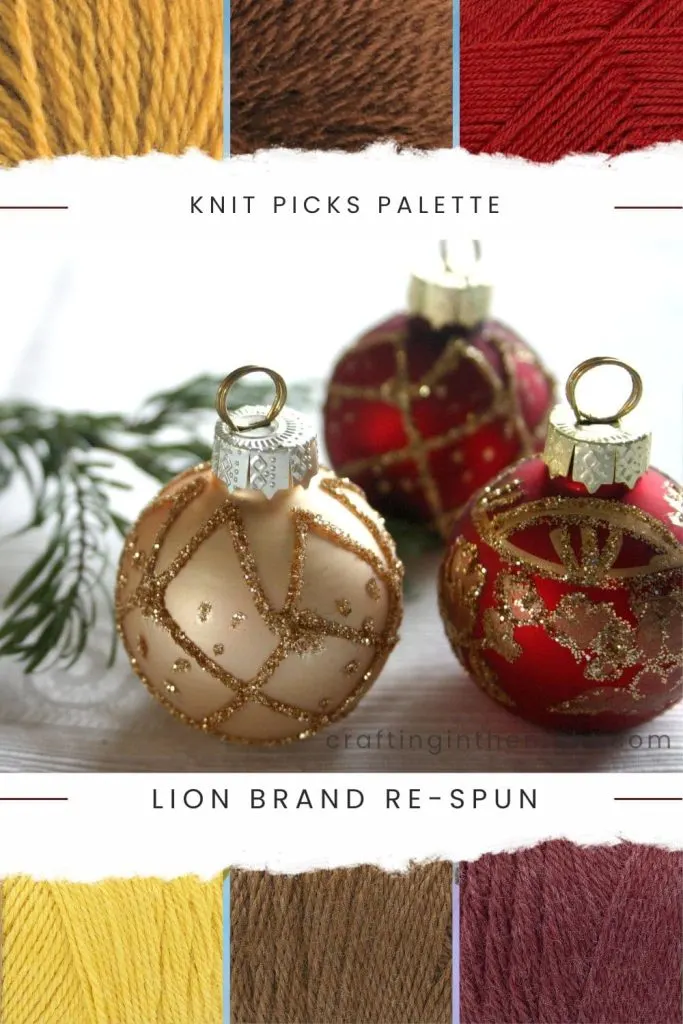 December Magic
For years, we've been jazzing up our Christmas trees with all sorts of fun decorations like baubles, lights, and cute ornaments. Let me tell you, these color schemes will transport you straight to the heart of the holiday season.
Get ready to feel all warm and fuzzy inside with the scent of a real Christmas tree!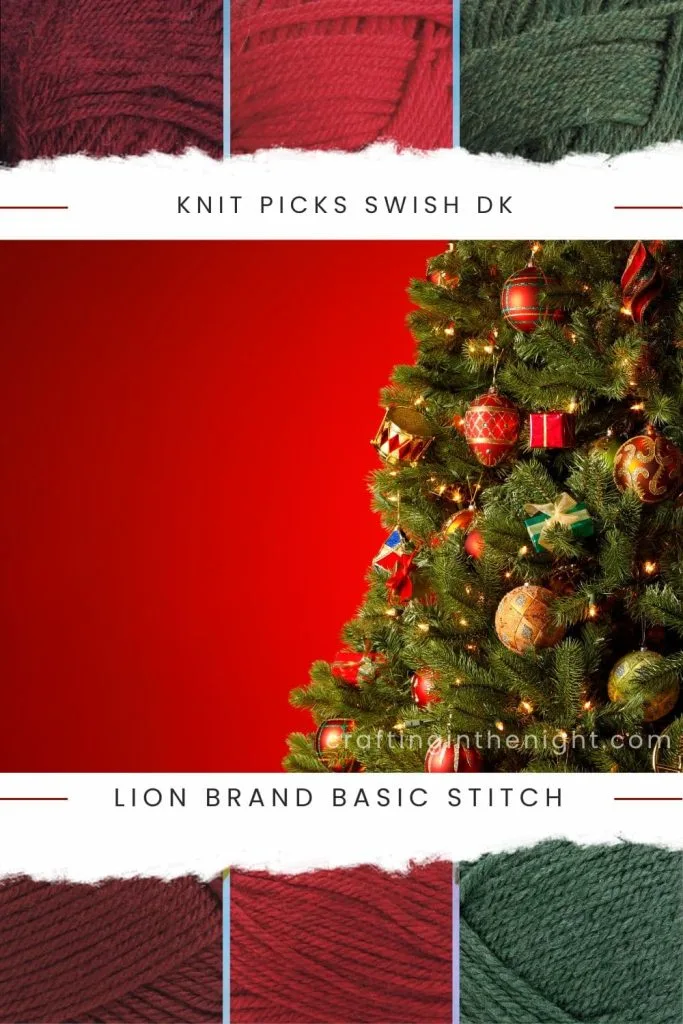 Knit Picks Swish DK
Lion Brand Basic Stitch Anti-Pilling
All Wrapped Up
Don't you just love the excitement of finding the perfect gift for your loved ones and wrapping it up in pretty paper? It's one of the best parts of the holiday season!
Check out these color palettes to make your gift-giving even more special.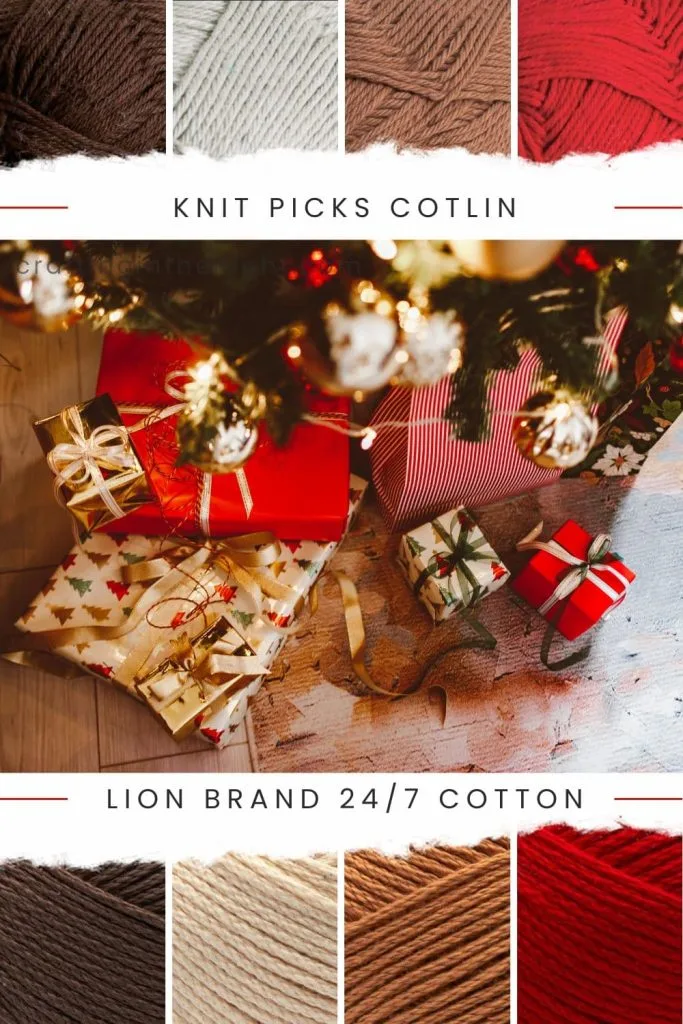 Knit Picks CotLin
Lion Brand 24/7 Cotton
Countdown to Christmas
The holiday season is a great time to reflect on our past and what brings us comfort. We all love singing the same old songs, baking our favorite treats, and spending time with loved ones.
Let's capture that cozy Christmas vibe with this color palette.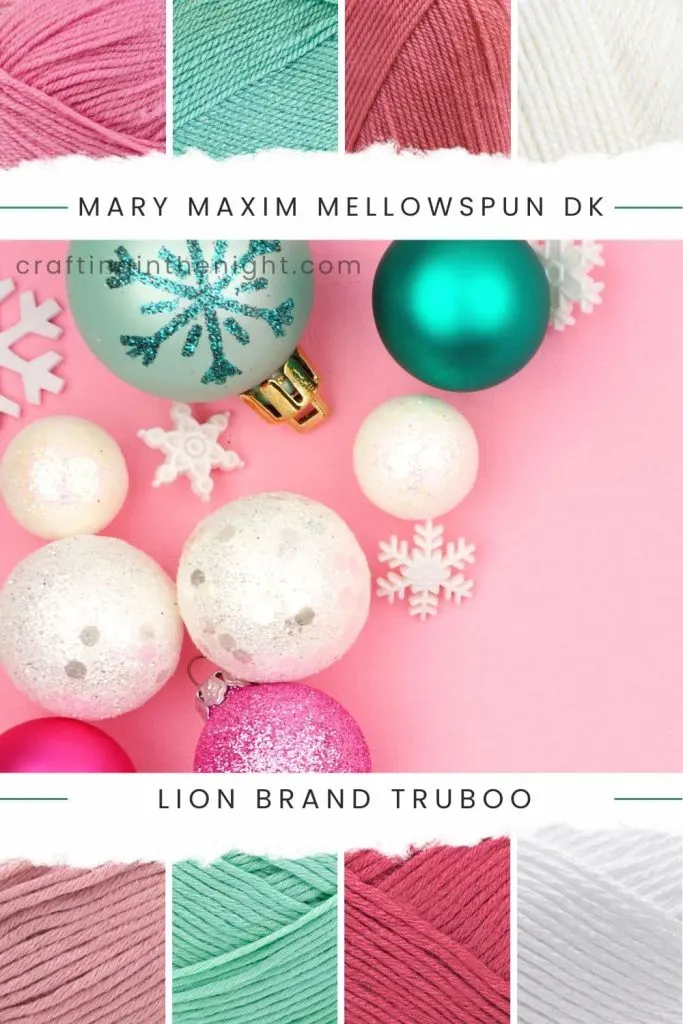 Kisses & Hollies
Ready to steal a kiss under the mistletoe this holiday season? It's hung everywhere and adds to the excitement.
Check out these color palettes that will make your heart flutter with the anticipation of that special kiss.
Knit Picks Swish DK
Lion Brand I Like Big Yarn
Santa Express
It's impossible to talk about Christmas without mentioning Santa Claus, right? He's the guy who brings happiness and excitement to kids everywhere, while also reminding them to be good.
Just like Santa, these palettes will bring you that same joy!
Knit Picks Swish Worsted
Lion Brand Basic Stitch Anti-Pilling
Goodies of Love
Christmas is awesome for many reasons, but baking cookies with your loved ones is definitely one of the best. There are so many yummy options like snickerdoodle, peanut butter, and classic chocolate chip.
We want you to feel the joy of baking together, just like these color palettes do!
The Christmas Spirit
It's Christmas time! Time to put on your favorite comfy and cheerful Christmas outfit. Don't forget to add some color to your look with these amazing palettes. Get cozy and enjoy the festive season!
Lion Brand Basic Stitch Anti-Pilling
Hello Mr. Snowman
Whether you're young or old, making a snowman is always a blast! It's a perfect way to spend time with your loved ones.
Grab these color palettes and let your imagination run wild while building your snowman!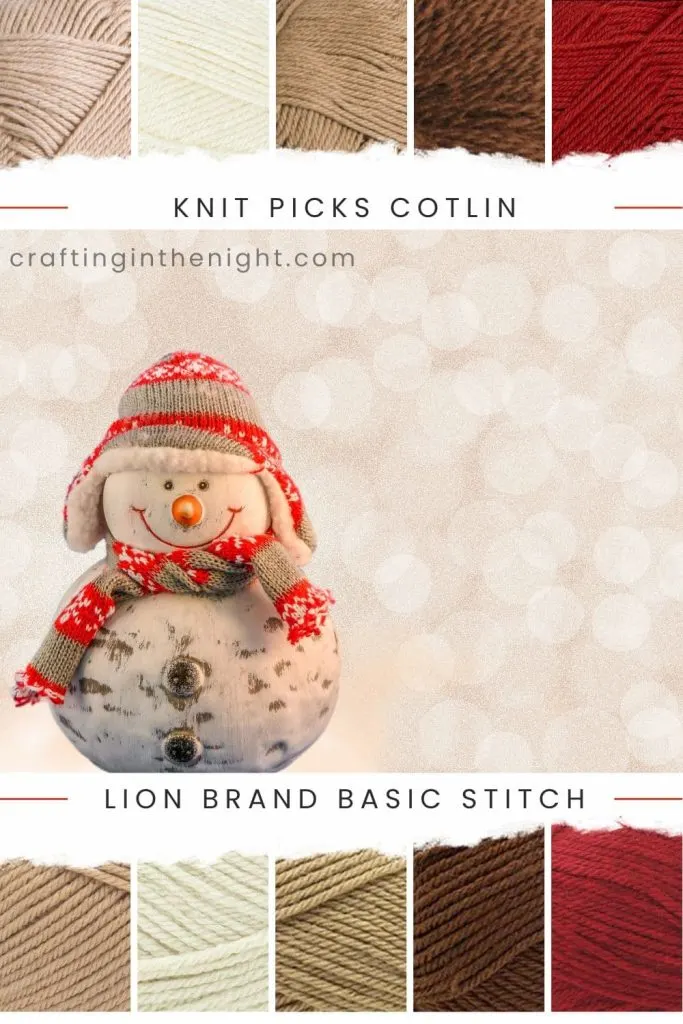 Knit Picks CotLin
Lion Brand Basic Stitch Anti-Pilling
Magic of Christmas
Christmas is such a special time for families to reunite and spend quality time together. Why not take this opportunity to show your love and affection to your family members?
Just like these palettes, let your loved ones know how much you miss them and care for them.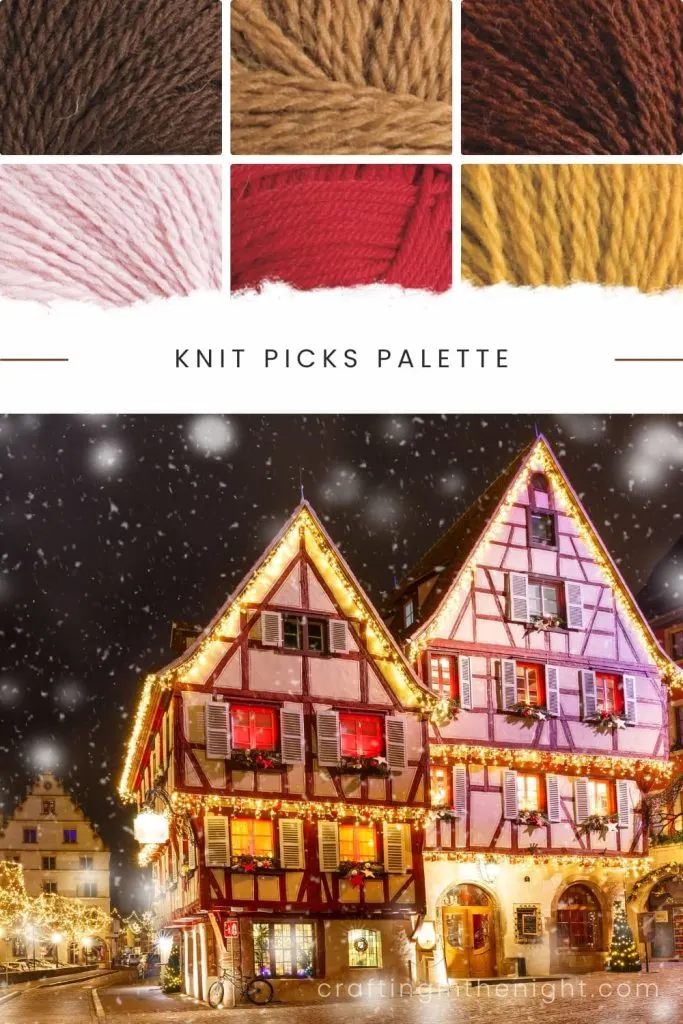 Knit Picks Palette
Best Time Of The Year
Christmas is already awesome, especially when it comes to food. It's the perfect time to hang out with your family. Why not rock your favorite ugly sweater (no judgment here!) and add some color to your Christmas dinner with these palettes? Enjoy!
Knit Picks Palette