*This post may have affiliate links, which means I may receive commissions if you choose to purchase through links I provide (at no extra cost to you). As an Amazon Associate I earn from qualifying purchases. Please read my disclaimer for additional details..
Creative block doesn't just happen to professionals and full-time artists. Crocheters can also run out of ideas and designs, especially if they have done numerous projects for many years.
This is where a crochet magazine comes in.
Crochet magazines are great sources of inspiration for beginners and avid crocheters. You can discover fresh designs and new patterns, learn tips and tricks from other crocheters, and keep up with the latest news from the crocheting industry.
There are numerous crochet magazines you can find on the market. But which one can give the best content with an affordable subscription?
We've done a thorough search and listed some of the best crochet magazines you should have at your disposal. Let's take a look at each of them.
Happily Hooked
Happily Hooked crochet magazine features numerous tips, tutorials, and interviews with experienced crocheters in the United States. At $4.08 per month, this magazine provides at least ten new patterns in every issue.
For the entire year, you get up to 120 fresh designs that you can try at home. You can also download many free pattern files on their website.
If you are serious about learning new designs step-by-step, you can purchase the "Pattern Pack Pro" for additional educational materials.
On the downside, this magazine is only available in digital form. But you can still buy the printed version whenever they release them.
Crochet World
Crochet World magazine is one of the oldest crochet magazines on the market.
It has been owned by Annie's Publication since 1978.
You can check many video tutorials and learn how to knit each pattern clearly.
This magazine is available both in digital and print form. In addition, new subscribers will receive four issues yearly at $18. But you can get up to 65% discount by subscribing for two years at $12.50 per year.
Crochet Now
Crochet Now is the UK's number 1 crochet magazine, published by Practical Publishing.
You will receive up to twenty-five new patterns and designs monthly with a yearly subscription of $49.99 on Amazon Kindle.
Crochet Now magazine is available in digital form internationally. However, the printed issues are sold exclusively in the UK.
Simply Crochet
If you're looking for a beginner's hand guide to crocheting, then opt for this magazine.
This magazine also caters to experts' needs.
It provides various tips and tricks, such as the latest crochet kits on the market, the best yarns for different clothes and blankets, unique designs for different seasons and holidays, and many more.
With a yearly subscription of $55, you get more than twenty new patterns monthly. Best of all, every issue comes with a special crochet gift.
Simply Crochet magazine is available in digital and printed editions. But if you live outside of the UK, you must pay an international shipping fee to purchase the printed issues.
WeCrochet
WeCrochet magazine is packed with exclusive interviews, helpful tips, and different unique patterns that you can make for every season and holiday celebration.
With every issue, you can also experiment with six to ten new ideas simply by following their easy guides.
This magazine costs $12.99 per issue. But some websites offer up to 50% discount that brings down the price to only $7.99.
Since WeCrochet magazine is fairly new in the market, you can only find nine issues sold in digital and printed editions.
I Like Crochet
This bi-monthly magazine costs $47.64 yearly and is available only in the digital edition. However, you need to buy the I Like Crochet Gold Club Charter membership to get this magazine.
Rest assured, Gold Club Charter members will have special access to more than twenty-five unique patterns and tutorials, exclusive detailed techniques, and expert tips.
There are also other perks you get with this premium membership.
For instance, premium members also get unlimited access to Bronze Club and Designer Patterns Collections.
Meanwhile, Designer Patterns Collections access gives you over fifty exclusive designer patterns, including small projects like baby wear, shawls, scarves, and other mini designs.
And that's a bargain you can't let go of!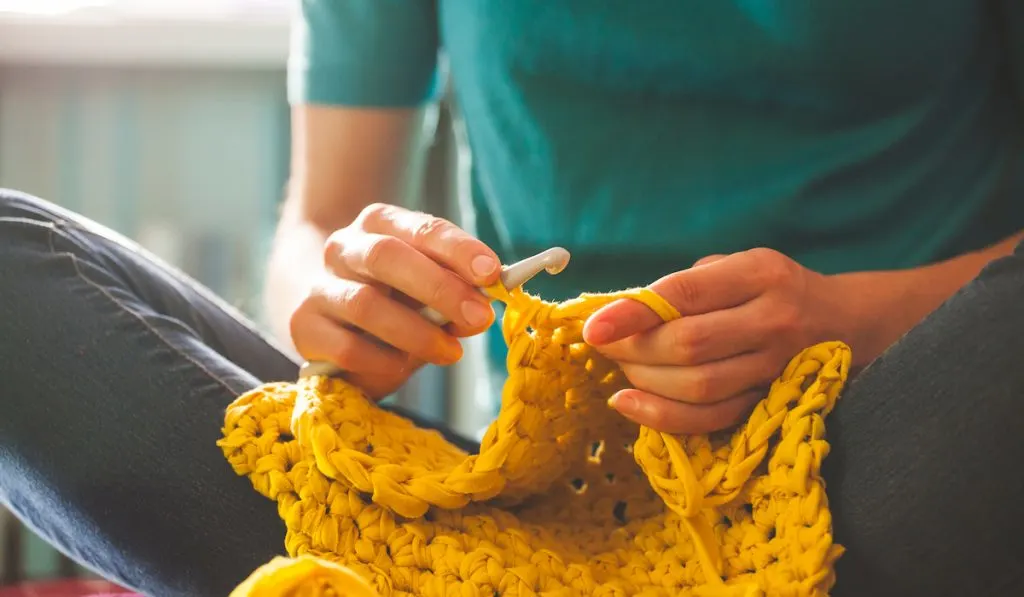 Inside Crochet
Inside Crochet is a monthly magazine filled with the latest trendy patterns for people of all ages.
However, this printed issue costs $101 per year, which can be quite pricey for some people. But you can opt for the digital version that costs only $30.52 annually.
You can also check their website and join any crocheting competition they hold every few months.
Pom Pom Quarterly
This magazine comes from a new publisher with the same name, founded in 2012. Like its name, you get 4 annual issues for only $47.74.
Since Pom Pom Quarterly is printed in the UK, you have to spare at least $20 for the shipping fee to receive the printed issue.
Alternatively, you can purchase the digital version and skip paying for the extra charge.
Pom Pom Publishing also takes an eco-friendly approach by using 100% virgin fiber paper for their magazine.
In a way, you are supporting a greater cause when you subscribe to this quarterly magazine.
Your Crochet & Knitting
Your Crochet & Knitting magazine is tailored for beginners that are looking for easy, step-by-step guides to simple patterns.
However, seasoned crocheters can also draw inspiration from many new designs in every issue.
This magazine costs $14 per issue and comes with fifty to sixty new and vibrant patterns. Best of all, you will get six to eight yarn balls, knitting needles, and a crochet hook.
Therefore, beginners can start working on their first project without worrying about finding their first crochet kit!
Final Thoughts
Aside from magazines, you can also draw inspiration from other sources, such as Etsy, Pinterest, personal blogs, and yarn shop websites.
However, Instagram is the easiest place to look for new and underrated patterns or designs.
Browse and follow crochet hashtags like #CrochetLovers, #CrochetOfInstagram, or #CrochetCommunity. You will discover tons of finished projects from hobbyists and crocheters.
Happy crocheting!
Resources