*This post may have affiliate links, which means I may receive commissions if you choose to purchase through links I provide (at no extra cost to you). As an Amazon Associate I earn from qualifying purchases. Please read my disclaimer for additional details..
Tunisian crochet is a popular type of crochet that is considered a hybrid between knitting and crochet. It is also known as "Afghan crochet." However, there is no solid evidence that it originated from Tunisia.
Some historians and crochet enthusiasts have speculated that this crochet has its origin in the Near East or northern Africa. Thanks to the French, this crochet has been widely known around the world as "Tunisian Crochet."
As it employs a firm, close stitch both in the vertical and horizontal direction, most fabrics made from Tunisian crochet stitches are slightly thicker and denser.
With this in mind, does Tunisian crochet use more yarn than regular crochet?
Tunisian crochet uses more yarn than regular crochet. On average, you can also expect to use between 25% to 30% more yarn (by weight) than knitting on the same surface.
This is because most Tunisian crochet fabrics consist of four layers of yarn in about half the surface. Due to its thickness, density, and waffle-like fabrics, it also uses more yarn than regular crochet and knitting.
However, this doesn't mean that Tunisian crochet is the only crochet that requires more yarn. In standard crochet, you will also need to use more yarn when making single crochet that is denser than double crochet.
What Is the Difference Between Tunisian Crochet and Regular Crochet?
There are a few differences in practicing Tunisian crocheting, a specialized or unique form of the craft, as opposed to other types of crochet.
The Difference in Tools
This is one of the first things that you can easily notice. Tunisian crochet uses Afghan hooks that measure between 11 and 14 inches long.
They are longer than regular crochet hooks and are designed without a fat thumb grip so you can hold many loops of yarn on the hook at once. They also have knobs on the end to prevent stitches from falling off.
Meanwhile, regular crochet uses hooks that measure around 6 inches long. The other end of the hook is straight. Some hooks are also designed to be ergonomic. Unlike Tunisian crochet hooks, regular hooks come in different materials such as plastic, aluminum, and wood.
Working on one side
With Tunisian crochet, you are just working one side by stitching and collecting the loops onto your hooks in the forward pass. Then, you are also working on the return pass to complete the row before removing the loops from your hooks. Curling will happen when you work on just one side.
Meanwhile, in regular crochet, you are working on both sides and turning your stitching at the end of the row until the pattern is complete.
Design pattern
In regular crochet, you are working on just one stitch before moving on to the next stitch. To start the next pattern down the row, you have to turn the work at the end of a row and make a series of chains. Simply put, the next stitch won't be made until you complete the first.
But in Tunisian crochet, you work on the right side or front side of the fabric.
Only once you have worked off of the hook for the return pass are the stitches considered finished before you can move on to the next stitches.
Fabric structure
Some people might think that there isn't much difference between Tunisian crochet and regular crochet. In fact, Tunisian crochet can mimic knitted or woven products. But you can distinguish one from the other by the structure of the completed fabrics.
With Tunisian crochet, its fabric stretches in many different directions. The fabric stretches more vertically than horizontally due to the bars created during the return pass when crocheting. In regular crochet, the stitches on each edge of fabric look more natural and neat.
The Recommended Hook Size
Most crochet patterns including regular crochet will recommend the yarn and hook's size that you should use. Generally, the recommended hook size for the patterns will match the hook size of the yarn used.
With Tunisian crochet, you will have to go up around two hook sizes from the recommended hook size of the yarn. Going up two hook sizes can also help in minimizing curls that usually happen at the end of the fabric.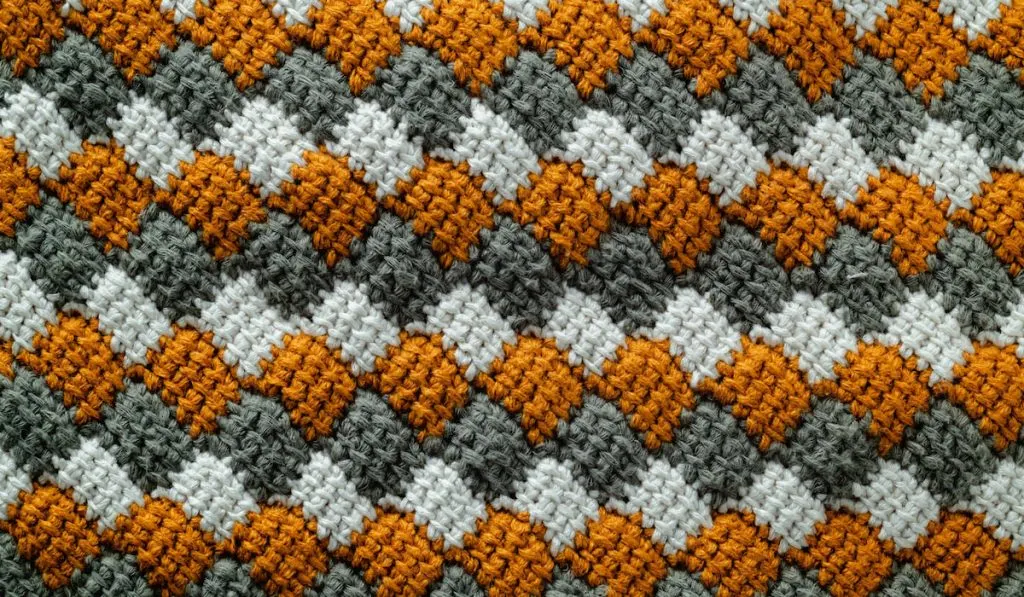 What Makes Tunisian Crochet Different
Tunisian crochet is considered a unique niche of crocheting due to its process that can produce distinctive knit-like fabrics with dense patterns and stitches. There are also other reasons that put Tunisian crochet in its own category. For instance:
When loops are put onto the hook, this will create a row that is called a forward pass. When the loops are worked off of the hook, it is called a return pass.
When working with Tunisian crochet, you will face the front row most of the time and rarely turn your work at the end of the forward pass or return pass.
Unlike other stitches, Tunisian crochet is made up of five bars which are a front vertical bar, a back vertical bar, and three horizontal bars placed at the top of the two vertical bars.
To get a neater finished edge, you will have to work the last stitch at the other edge of the forward pass into two edge loops. It is also better for you to work loosely on this last stitch to match the beginning edge stitch.
In traditional and regular crochet, you need to use a recommended hook size that is compatible with the weight of the yarn. But with Tunisian crochet, it can be single-ended hooks for beginners, double-ended hooks for working the round, and cable hooks for a bigger and complex project.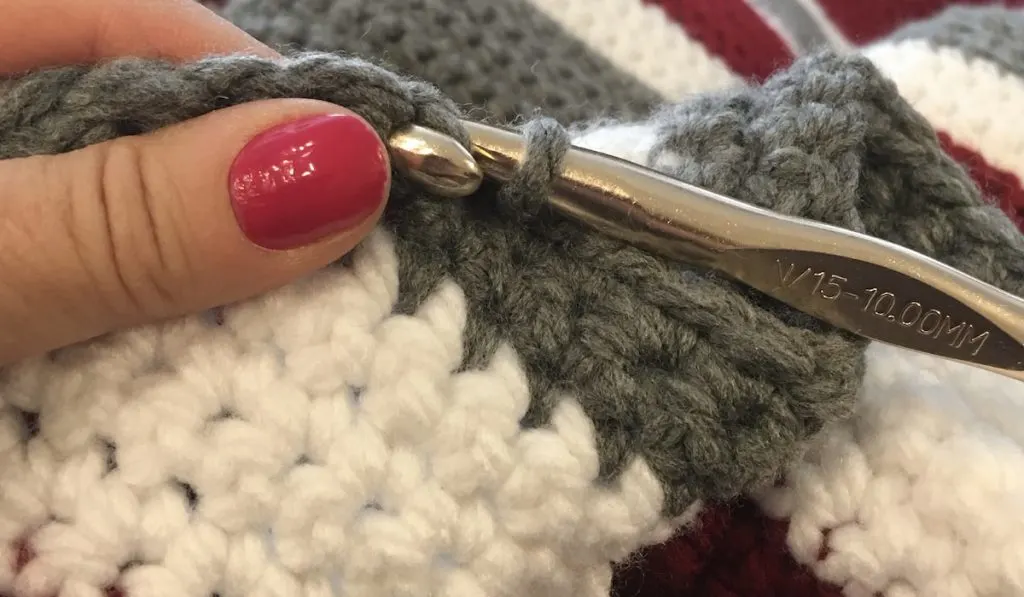 Is Tunisian Crochet Faster Than Regular Crochet?
When you first start out, crocheting can be a time-consuming activity. But for experienced crocheters, this skill can become second nature and it can take less than half an hour to produce one piece of fabric.
But what about Tunisian crochet? Do its complex and unique stitches consume more time than regular crochet?
Truth be told, Tunisian crochet is much faster than other crochet. It is also twice as fast as regular knitting. This is because when working with Tunisian crochet, you don't have to turn the fabric and your focus is directed on just one side. The stitches are also much larger than knit and other crochets. So you just need a few of them to get the same number of fabrics or sample size.
How Many Tunisian Crochet Stitches Are There?
One of the best things about Tunisian crochet is that you can make a small change on its regular stitch pattern and it will look completely different.
Despite the two-row stitches and special hooks that must be used to do Tunisian crochet, there are many different stitch variations that you can produce with this specialty technique. Here are some of the fabulous Tunisian crochet stitches that you can do:
Tunisian Simple Stitch
The Tunisian simple stitch is also known as the Tunisian single crochet stitch. It is suitable for beginners who are just looking to do their own Tunisian stitches for the first time.
What you will focus on is the forward pass and reverse pass. You also work from left to right and from right to left without turning to the other side.
Although it is the simplest stitch out of many Tunisian crochet variations, you can make many things from Tunisian simple stitch including bathmats, headbands, pillowcases, blankets, sweaters, cardigans, and many more.
Tunisian Smock Stitch
Tunisian smock stitch is similar to the Tunisian Honeycomb Stitch. You work on a two-row repeat, which means that you repeat two different rows to offset the stitches and form a beautiful diamond-shaped pattern.
This stitch also doesn't curl as much as other Tunisian stitch patterns. In order to crochet this stitch, you must first know how to do the Tunisian Simple Stich.
Tunisian Full Stitch
Tunisian full stitch is also known as the Gobelin stitch. One of the obvious differences between this stitch and the simple stitch is your hook placement. With Tunisian full stitch, you work on pulling up a loop between stitches.
You also work on a "backward pass" where the stitches are worked all the way down the row before reversing back to the beginning edge of the piece. Generally, you can expect between moderate and heavy curling for this type of stitch.
Tunisian Honeycomb Stitch
This stitch pattern is a blend between the Tunisian simple stitch and the purl stitch. With Tunisian honeycomb stitch, the yarn is pulled in the opposite direction to create stitches that can lay flat and won't curl like most Tunisian crochet variations. When working on this stitch, you repeat the same pattern that resembles a honeycomb texture.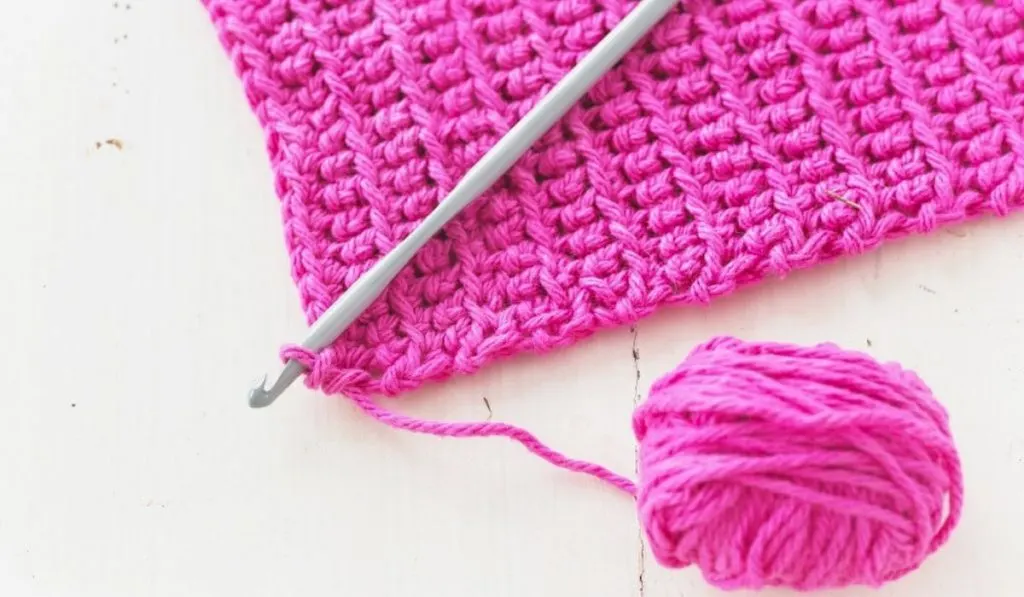 Tunisian Top Stitch
Tunisian Top Stitch is also known as the Tunisian Bump Stitch. It is fairly easy to make and similar to the Tunisian Simple Stitch, but with less dense fabrics.
Another thing that separates this stitch from the simple stitch is the place where the hook is inserted, which is in the back horizontal bar of the next stitch. This beautiful and simple mesh of fabrics is suitable for producing lightweight pieces such as summer vests or skirts.
Tunisian Reverse Stitch
Tunisian reverse stitch is one of the basic Tunisian crochets that every beginner can learn. This stitch is worked from the back of your piece with the reverse stitch that moves through the vertical bar, similar to the Tunisian Simple Stitch. The finished product looks similar to the Tunisian purl stitch. Combining this stitch with overlay stitches or adding it as additional texture to your fabric can create a gorgeous piece.
Tunisian Seed Stitch
This stitch is unique because of its combination of two different stitches, which are the Tunisian Knit Stitch and the Tunisian Purl Stitch. Both of these stitches will alternate in each row to create a beautiful textured fabric that is mostly lightweight. Tunisian Seed Stich also doesn't curl as much as other regular crochet.
Tunisian Double Crochet
Tunisian double crochet works similarly to the regular double crochet stitch. This stitch isn't considered an insertion stitch and you can work it directly onto the chain foundation without using a different stitch.
Depending on the hook that is inserted into the stitches, you can create different looks and textures. Generally, Tunisian Double Crochet can produce little to no curls on the piece.
Tunisian Cross Stitch
With Tunisian cross stitch, you will be working on beautiful patterns that have little X's on the front. Although this stitch is more complex than other stitches, you can definitely do it once you've mastered all the basic patterns.
To make the stitching easier, you should always start with the foundation row of 15 stitches before creating this pattern.
Tunisian Bobble Stitch
The Tunisian Bobble Stitch is also known as the Tunisian Popcorn Stitch. It generally consists of three or more Tunisian double stitches worked together.
What makes it different is the way you handle the loops to ensure that all stitches are uniform. This unique feature will add texture and dimension to plain fabrics or any simple piece.
Tunisian Knit Stitch
The Tunisian Knit stitch is similar to the Tunisian Simple Stitch, except for the hook placement and how you pull up the hooks. It is also similar to a combination between the waistcoat crochet stitch and knitting.
With Tunisian Knit Stitch, you will be working on the first row just like in the simple stitch and moving on to the second row with a V-shaped pattern to create the knit stitch.
Final Thoughts
Overall, Tunisian crochet carries its own unique form of stitches that produce firm and flexible fabrics. If you're looking to produce different types of dense fabrics such as blankets, sweaters, throws, and cushions, then Tunisian crochet stitches are your best choice.
Unlike regular crochet, it can take quite some time for you to learn this knitting technique. But once you've mastered it, this skill can be turned into a side hustle or even a small business of your own!
Resources