*This post may have affiliate links, which means I may receive commissions if you choose to purchase through links I provide (at no extra cost to you). As an Amazon Associate I earn from qualifying purchases. Please read my disclaimer for additional details..
Unveil the magic of the Halloween color palette and let its spectral hues inspire your next crafting venture. From haunting shades of midnight to fiery pumpkin oranges, these colors capture the very soul of All Hallows' Eve.
Whether you're stitching a bewitching scarf or a ghostly blanket, immerse yourself in a world where every thread whispers tales of ancient legends and moonlit mysteries. Venture deeper, if you dare, and let the enchanting aura of October 31st envelop every creation.
Night of the Living Dead
Halloween is all about having fun and finding joy in the spooky and creepy things. It's not just about the traditions, but also a reminder to appreciate the little things in life, like these palettes!
Let's celebrate!
Knit Picks Stroll
Lion Brand Schitt's Creek
Scaredy Cat
Did you know that crossing paths with a black cat is considered bad luck? It's an old superstition that's still around today.
Black cats are also associated with Halloween, but don't worry, they're still cute! Why not match your outfit to your furry friend with this palette?
Dance of the Dead
Halloween is here and skeletons are popping up all over the place! Did you know that skulls are thought to bring people back from the dead?
Get in the spooky spirit with these skeleton-inspired color palettes.
Pumpkin Parade
Halloween isn't complete without those spooky pumpkin faces.
And who doesn't love getting messy while digging out the seeds? Why not get creative with your color palette selection when carving your pumpkin this year?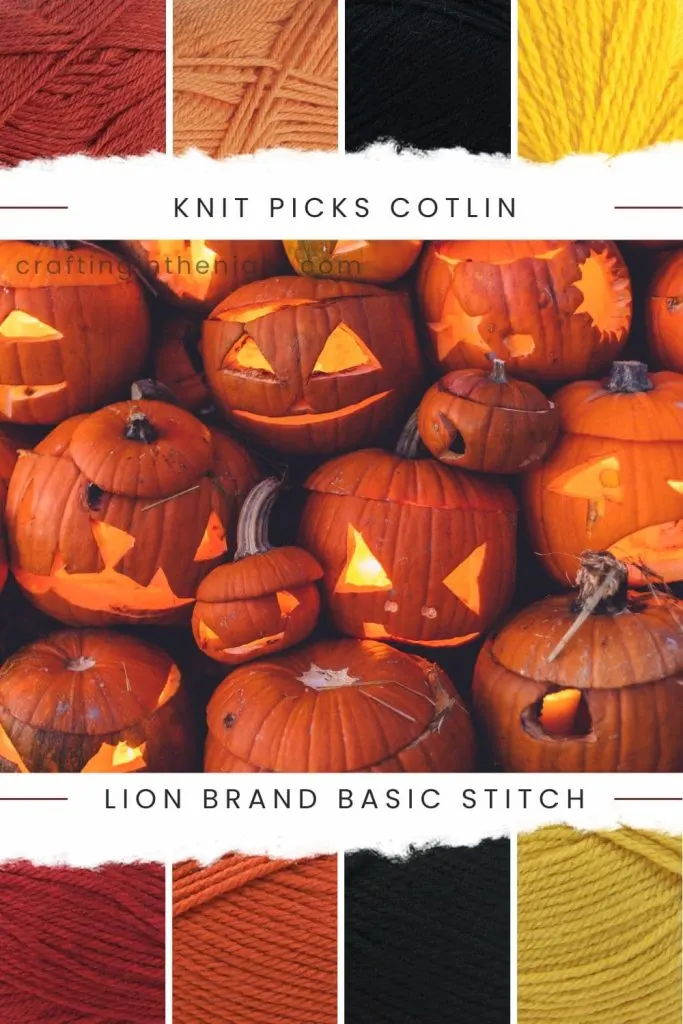 Knit Picks CotLin
Lion Brand Basic Stitch Anti-Pilling
Mischief & Mayhem
You know what's scary? Dolls! Even if you're not a horror movie buff, you've probably felt the fear. Chucky is the ultimate creepy doll, with his wild hair and creepy grin.
Let's have some fun and match our color palettes to our creepy doll vibe!
Knit Picks Swish DK
Lion Brand Hue + Me
Ghost Night Out
It's Halloween! Let's have some fun by putting a blanket over our heads and giving people a good scare.
Who doesn't love the excitement of creeping around and spooking others? Grab your costume, match it with this color palette, and let's scare some folks!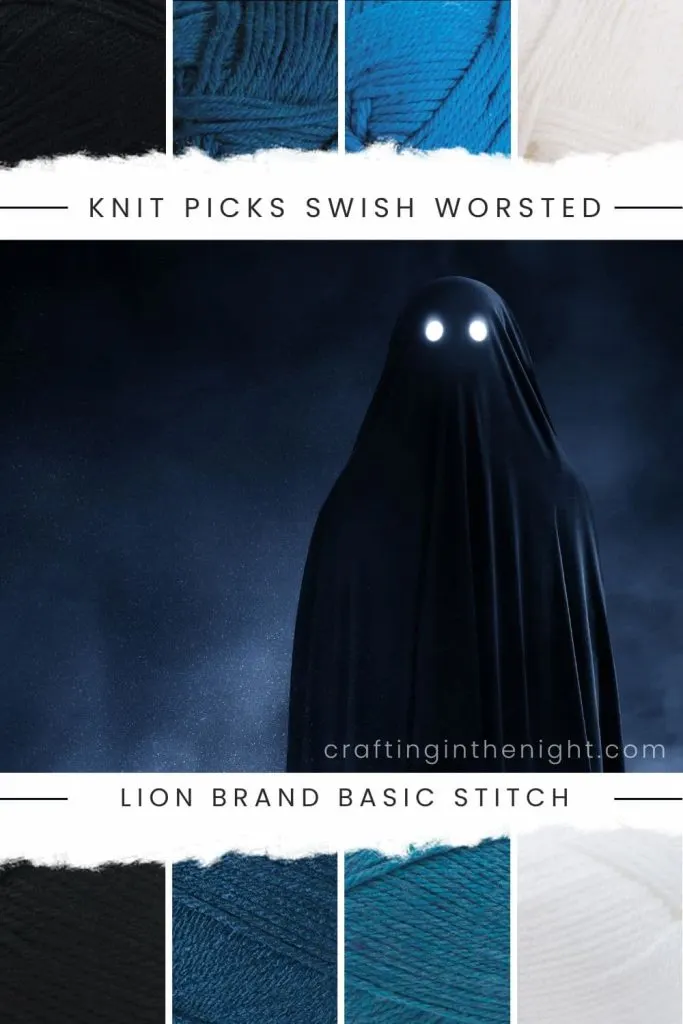 Knit Picks Swish Worsted
Lion Brand Basic Stitch Anti-Pilling
Foolish Mortals
Did you know that many young women used to believe that Halloween was the perfect day for divination? This mix of traditions led to witches becoming a symbol of the spooky holiday.
If you're feeling witchy, try out this color palette!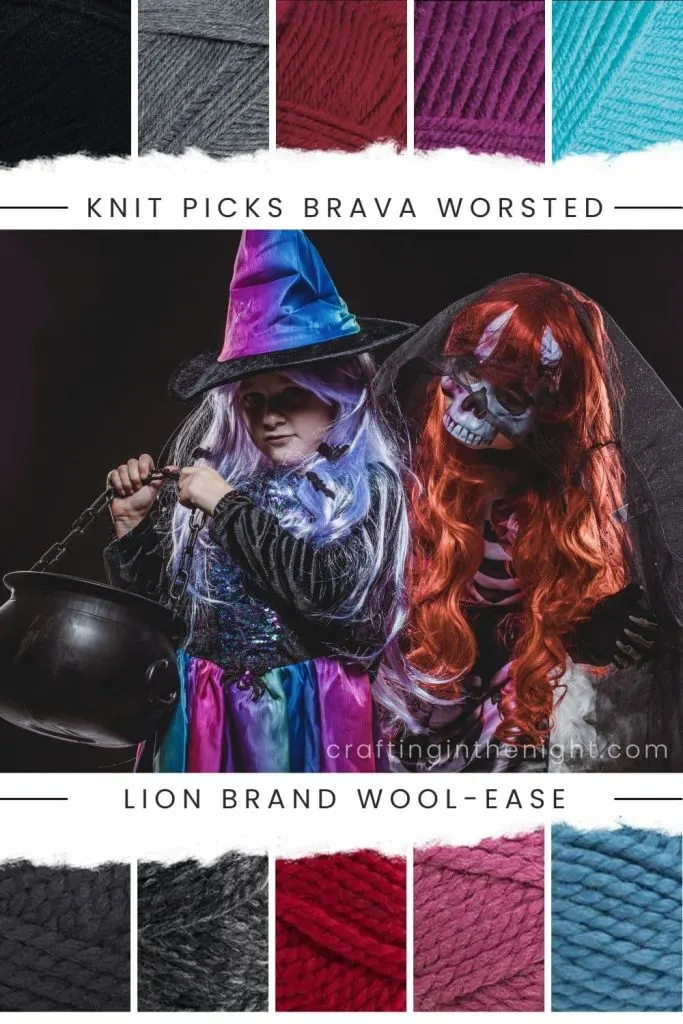 House of Horrors
Who doesn't love a good scare in a haunted house? The anticipation is thrilling, and the best part is the rush of excitement at the end.
Why not match the spooky vibe with this color palette?
Knit Picks Stroll
Lion Brand Pound of Love
Hocus Pocus
Halloween is here and so are the witches! Nowadays, witches are seen as cool and powerful, but it wasn't always like that.
Let's embrace our witchy side and try out these awesome color palettes. Don't forget your hat and broomstick!
Festival of the Dead
The Day of the Dead is a Mexican holiday where families welcome back their loved ones who have passed away.
They celebrate with food, drinks, and lots of fun! Get ready to join in the festivities with these colorful palettes.
Knit Picks Palette
Tasty, Tasty, Beautiful Fear
It's Halloween time and you know that means creepy clowns are back! Clowns have always been a bit scary, thanks to movies like Stephen King's IT.
Let's put on some clown makeup and wig and use these color palettes to scare our friends!
Knit Picks Palette