*This post may have affiliate links, which means I may receive commissions if you choose to purchase through links I provide (at no extra cost to you). As an Amazon Associate I earn from qualifying purchases. Please read my disclaimer for additional details..
Have you ever been intrigued by how beautiful sunflower crochet bags are and wondered how these lovely pieces are made?
Well, here's how! In this post, we'll explore thirteen intriguing sunflower crochet bag patterns.
Each pattern—from exquisite granny square motifs to drawstring backpacks and boho-style slouch bags—offers a distinct combination of fascination and usefulness that you'll be excited to try your hooks on.
So, grab your hook and yarn and get ready for some sunflower magic!
Sunflower Crochet Designs
There are different styles of sunflower crochets, and each is unique, bringing sunflowers to life in the most beautiful way. Some of the most common ones are:
1. Motifs
Sunflower motifs are the most common type you'll find. They are flat sunflower-shaped designs that are created by starting from the center of the round and crocheting your way outwards to the petals.
2. Color Work
Traditional sunflowers have yellow petals and dark brown centers, but you can create more beautiful designs by changing the colors.
More often than not, doing that adds a certain character and uniqueness to your design. You can do this by using tapestry/intarsia crochet or corner-to-corner crochet.
3. Filet Crochets
The filet technique is relatively easy but produces stunning results.
What Yarn Is Best for Sunflower Crochet?
While you can use almost any kind of yarn to crochet sunflowers, I've found that worsted-weight yarn is best—acrylic or cotton.
Acrylic yarn is suitable for both beginners and expert crocheters. It glides effortlessly on and off the crochet hook, making it a delight to work with.
In addition to this, it's lightweight and simple to wash and dry, which is especially useful if you intend to attach your sunflower designs to hats, blankets, or in this case, bags.
Cotton yarn, on the other hand, has excellent stitch definition, allowing the exquisite features of your crochet work to show.
It also comes in various stunning colors, giving you even more alternatives to experiment with. This opens up more creative options and allows you to bring the designs to life with different color combinations.
It's best to work with the recommended yarn for each pattern to be able to achieve a similar result.
Sunflower Crochet Bag Patterns to Try
1. Granny Square Crochet Pattern by Crochet365KnitToo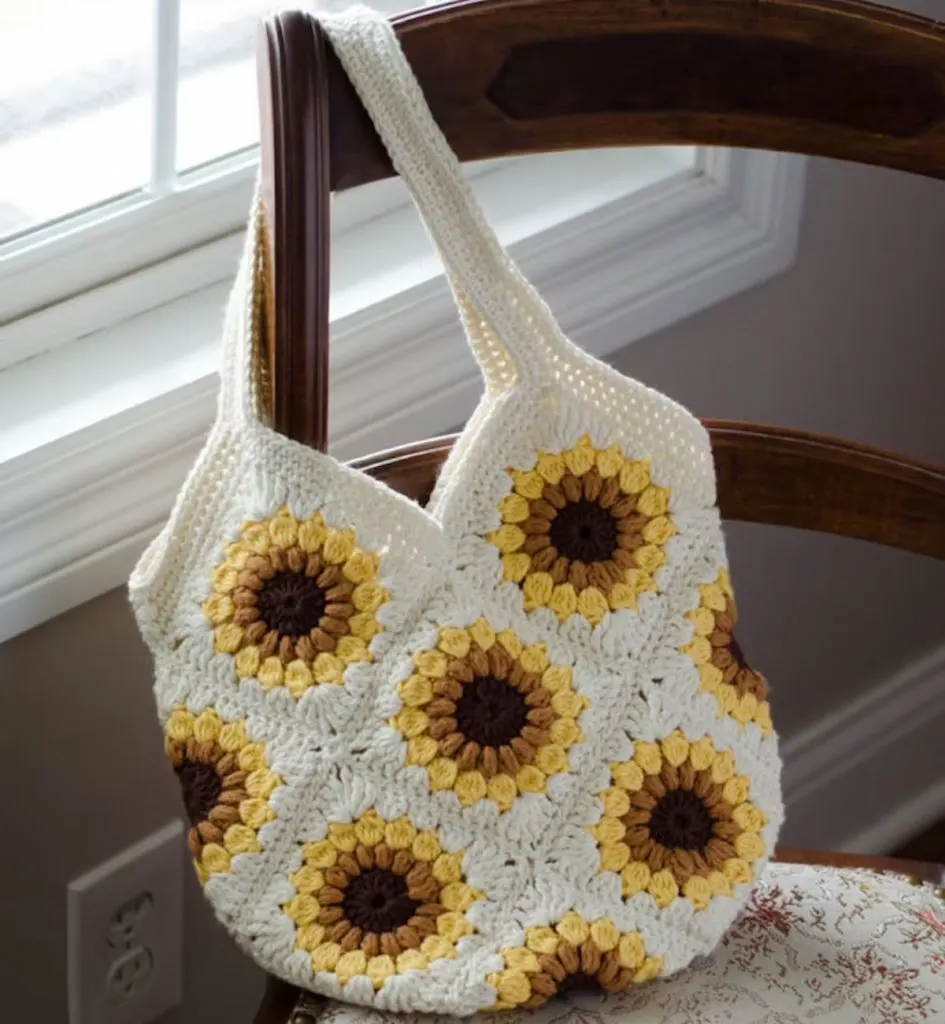 We begin our collection of sunflower crochet bag patterns with Cheryl's lovely granny square crochet design. It features a granny-style sunflower handbag pattern on a white backdrop.
The materials needed to create this bag include the following:
Worsted weight yarn
G-size crochet hook
Tapestry needle.
This pattern isn't level specific, so it's perfect for newbies and advanced crocheters.
2. Crochet Sunflower Purse Pattern by PontoCrochetPatterns
Amanda's crochet purse pattern incorporates sunflower motif granny squares connected with flat slip stitches, making it a great crochet pattern for beginners.
Use the recommended cotton yarn N.4 or worsted/aran weight with an E-4 (3.5mm) crochet hook and stitch individual squares of 4.5″ x 4.5″ (11×11 cm).
This way you can rest assured that you will witness magic unfold as you assemble a lovely sunflower bag with this pattern.
The bag is made of warm brown, yellow, and green hues, but you can use whatever color combination you prefer to make a different flower.
3. Sunflower Drawstring Backpack Crochet by AlyssiaCreates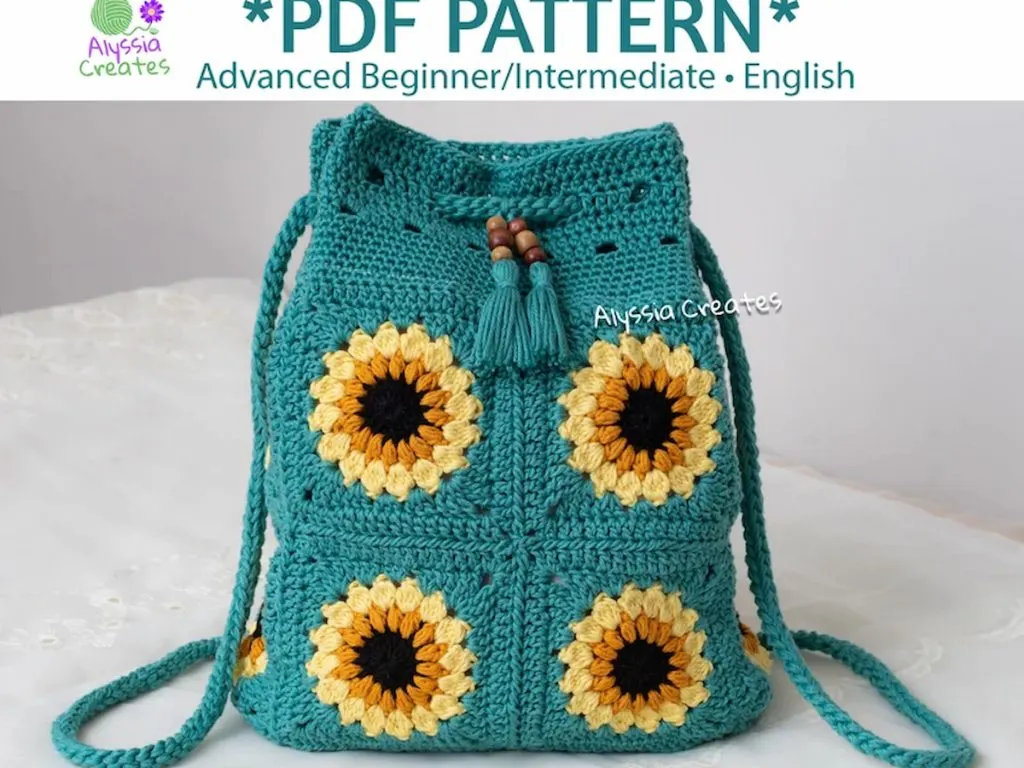 This sunflower drawstring bag crochet pattern includes a fabric lining! It is thorough and includes several photographs for visual learners.
The pattern is classified under intermediate/advanced skill level but can be attempted by advanced beginners.
The fabric lining is sewn with a sewing machine, but it may also be hand stitched – this pattern explains how to do the lining in a simple way for individuals with little to no sewing skills.
4. Molly Boho Sunflower Bag Crochet Pattern by HouseofLeoDesign
Each granny square is a lovely blend of colors and stitches, creating an addictive and intriguing crocheting experience.
This pattern is perfect for bags given as gifts to loved ones, and the instructions are thorough, well laid out, and easy to follow.
5. Square Pattern Sunflower Crochet Bag Pattern by ConserveFamilyValues
This engaging design will walk any crocheter through the process of making this lovely sunflower-themed purse with delicate square motifs that radiate beauty and charm.
Each square is 4.5″ x 4.5″ (11×11 cm), and the pattern is suited to advanced beginners and higher.
The design is a functional and eye-catching item that is ideal for adding a touch of flowery beauty to any ensemble.
6. Boho Flower Shoulder Bag Sunflower Crochet Bag Pattern by HyggeCrochetCo
This sunflower granny square tote-style shoulder bag design is a lovely spring and summer item that may be tailored to your personal preferences.
The following stitches and methods are commonly used in this pattern: chain, double crochet, slip stitch, pull-up loop, puff stitch, treble stitch, yarn over, and others. This is also a beginner pattern.
You'll need the following:
Worsted weight yarn
4.5mm hook
Tapestry needle
Scissors
7. Sunflower Toddler Purse Pattern by LTKCuties
With this beautiful design, you can make your child a delightful and quirky purse.
You'll be charmed by the fine details and the satisfaction of working with soft yarn and a crochet hook as a dedicated crocheter.
The sunflower motif takes shape with each stitch, spreading warmth and pleasure. It is doable for both beginner and intermediate crocheters.
Ashley's pattern is meticulously developed for children, ensuring a great fit for their little hands, and the supplies required are:
A j-6.00mm Hook
Scissors
4-ply yarn
8. 4 Patterns Big Pack Crochet Pattern by Emmacrochetdesign4U
I can promise that this pattern is a wonderful treasure for people who enjoy wielding their crochet hooks and creating something unique.
This design highlights the vivid splendor of sunflowers, capturing their spirit in a beautiful chic bag.
In addition to the bag pattern, you also get instructions on how to make a 12-petaled sunflower decoration, a ladybug, and sunflower leaves.
The pattern is very detailed, with precise directions and good stitch pictures, making it suitable for crocheters of all ability levels.
It will fuel your crochet love and leave you with a gorgeous sunflower purse bag that'll draw a lot of attention, whether you're an experienced hook magician or a novice.
9. Sunflower Lovers Market Bag Crochet Pattern by CornwallCrochet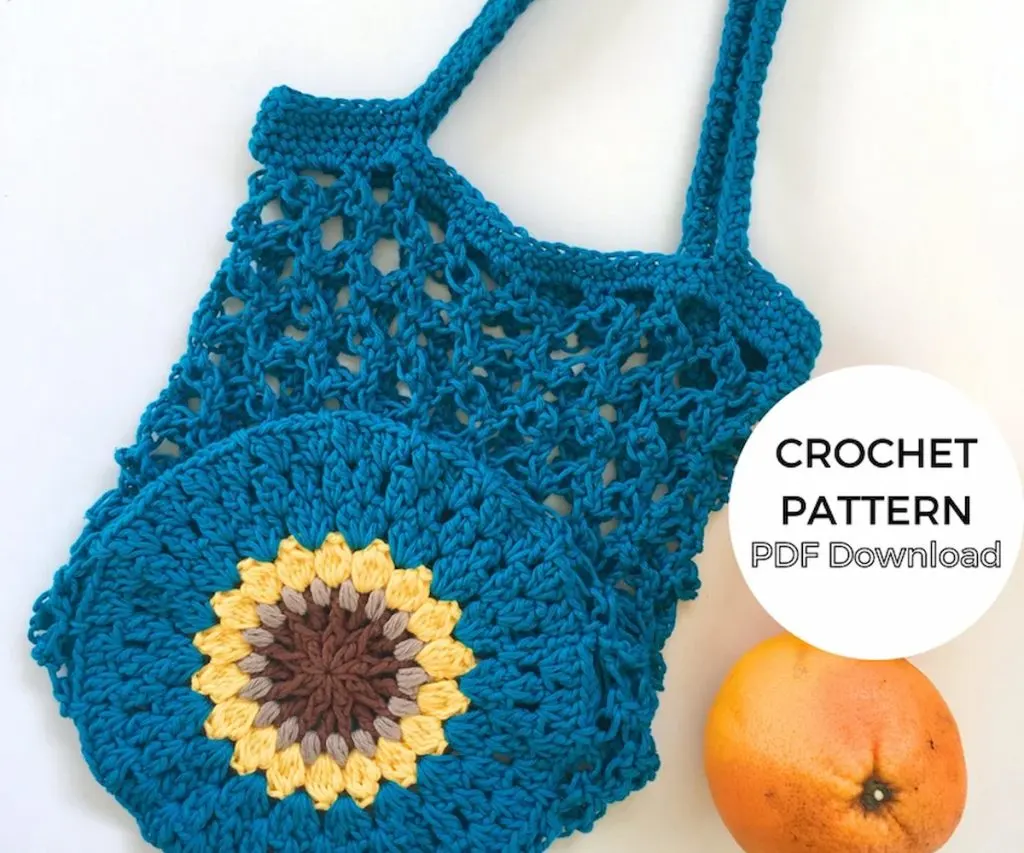 This Sunflower Lovers Market Bag crochet pattern is perfect for crocheters who want a beautiful yet functional bag.
It features an eye-catching sunflower at the base, which is easy to make.
The pattern has detailed instructions suitable for all level crocheters, so you need not worry about some of the stitches if you've never tried them before.
The instructions and comprehensive photos will help you work out all the specifics.
To make this bag, you'll need:
Aran weight yarn
5mm crochet hook.
10. StarBurst Four Way Granny Square Tote Bag Crochet Pattern by CraftedbyCatUK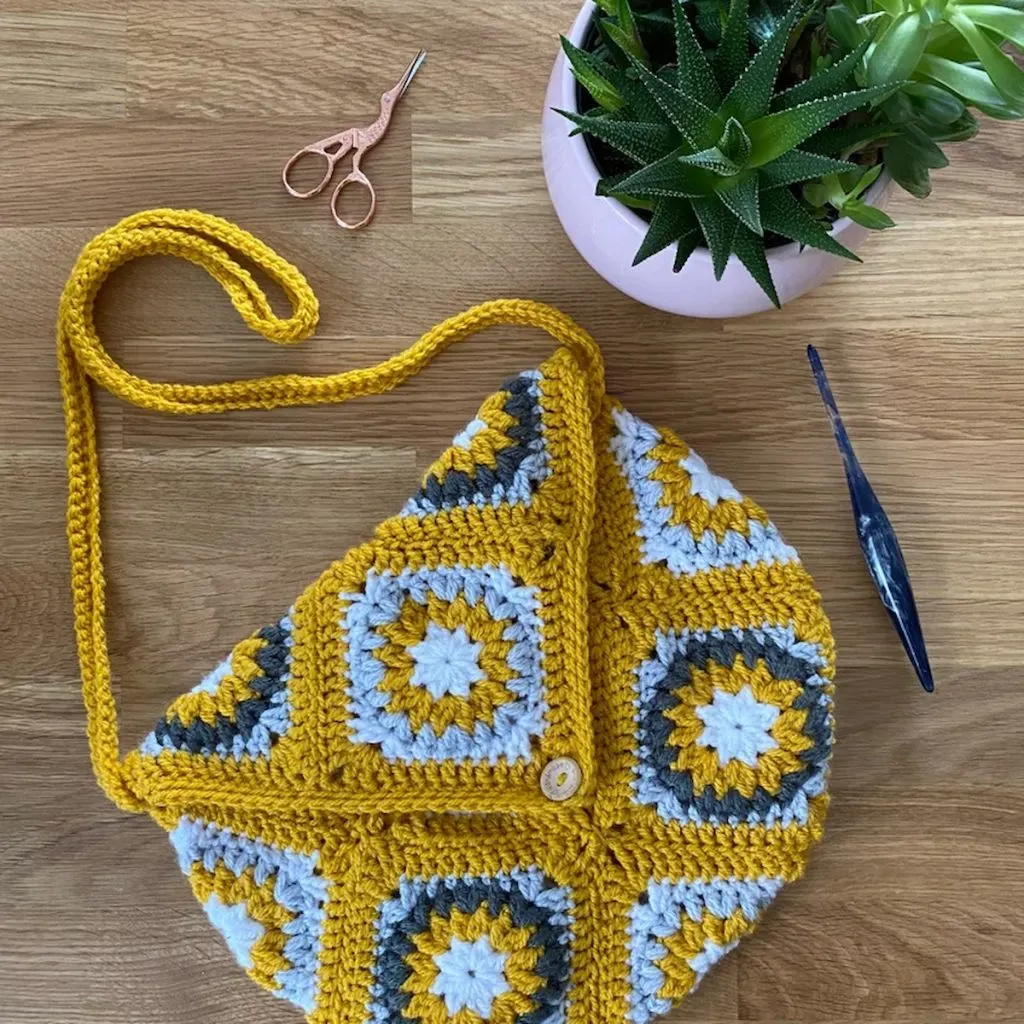 This pattern covers instructions for how to make a crossbody bag, a clutch bag, a shoulder bag, and a backpack from sunflower granny squares.
You must know how to work in rounds, the basic crochet stitches, and how to join new colors to complete this design. It's best suited to advanced beginners or higher.
11. Sunflower Bag Crochet Pattern by SaundraroseDesigns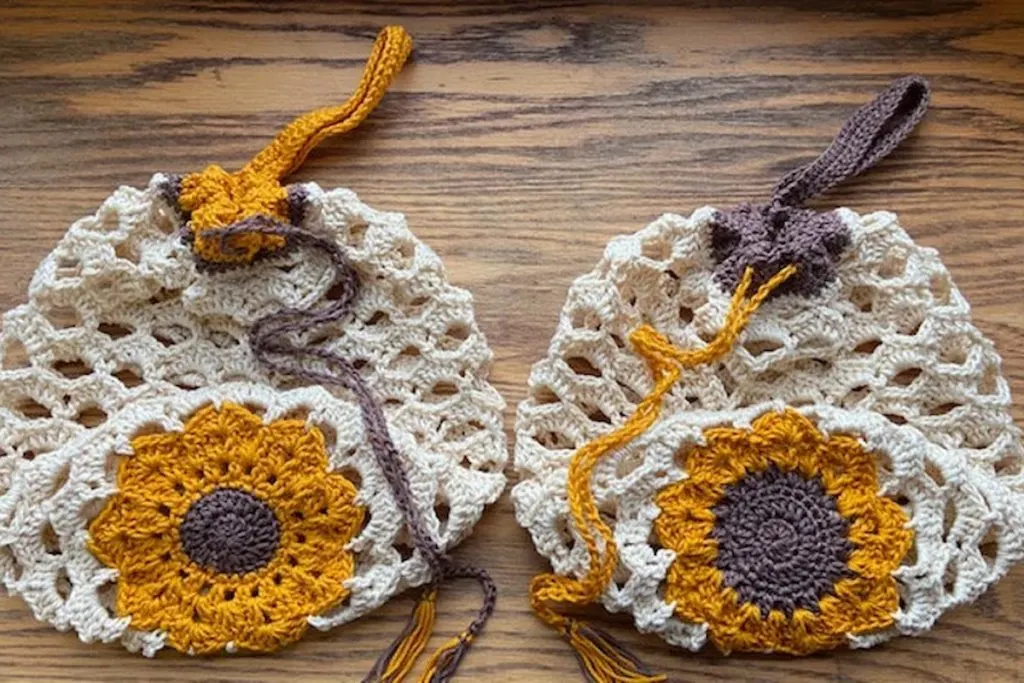 This was the first pattern Saundra created herself, and it will look wonderful as a cotton bag that may be used as a market bag, everyday bag, beach bag, or something similar.
Crocheters looking for both creativity and utility will love this pattern.
The delicate intricacies that bring the sunflower pattern to life will capture you from the first stitch.
With each chain, double crochet, and slip stitch, the yarn gradually turns into a gorgeous sunflower design.
12. Sunflower-power Crossbody Bag Pattern by RippleBeachmade
This lovely design will transport you into a world of vivid colors and delicate stitches, allowing you to crochet a stylish and flexible crossbody purse with unquestionable flare.
It is enjoyable, fast, and simple to make. It is suitable for beginners and may be used to make coasters or earrings!
13. The Sunny Daze Satchel With Fringe by EvelynandPeter
This pattern is a must-have for any crocheter wishing to spice up their accessory collection with a touch of charm and utility, and it's perfect for summertime.
The patterns are detailed and easy to follow, and in no time, you'll be showing off a lovely sunflower-themed satchel that you meticulously handcrafted.
This pattern requires intermediate-level crocheting skills and is not recommended for beginners.
Conclusion
To sum it up, each pattern in this guide has been meticulously developed to satisfy crochet lovers of all skill levels, from beginners to seasoned experts.
There's a design to fit your taste and fire your creativity, whether you're inclined to the beauty of granny squares, the elegance of tiny patterns, or the practicality of drawstring backpacks.
Grab your crochet hook, choose your favorite yarn, and set off on a crochet adventure filled with the beauty and delight of sunflowers.
Allow your imagination to bloom as you stitch these lovely sunflower patterns to life.
Good luck with your crocheting!
Resources