*This post may have affiliate links, which means I may receive commissions if you choose to purchase through links I provide (at no extra cost to you). As an Amazon Associate I earn from qualifying purchases. Please read my disclaimer for additional details..
The white color palette stands as a testament to purity, serenity, and infinite possibility.
More than just a hue, white offers a canvas of endless potential, capturing subtleties from the softest snowfall to the crisp clarity of moonlight. When paired or accented with other colors, white magnifies their vibrancy, providing a harmonious balance that's both timeless and contemporary.
For creators across mediums, the nuances of white open doors to artistic exploration. Whether as a foundational base or a highlighting accent, white seamlessly weaves into any design, adding depth and dimension.
In this post, we journey through the ethereal realms of the white color palette, inspiring your next knit, crochet, or artistic endeavor. Embrace the elegance of white, and let your creations glow with a luminous, transcendent beauty.
Milky White
White is a beautiful and graceful color that's often associated with good things and new beginnings. White is like a blank canvas, waiting for us to seize the opportunities and create something amazing.
Let's get creative and make countless variations of white with this awesome color palette!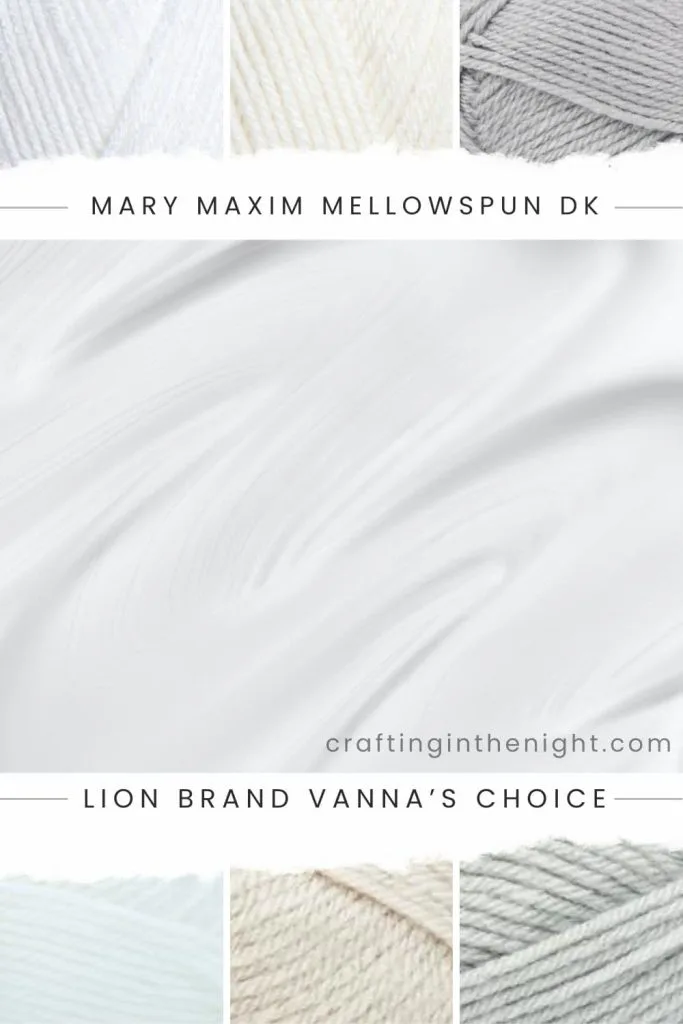 Jewels of the Sea
Do you ever wonder what makes shells so captivating?
Is it their stunning shapes and vibrant colors? Or perhaps it's the sense of adventure they carry, like treasures discovered after crossing vast oceans. Collecting shells allows us to feel connected to the vast world, just like this color palette.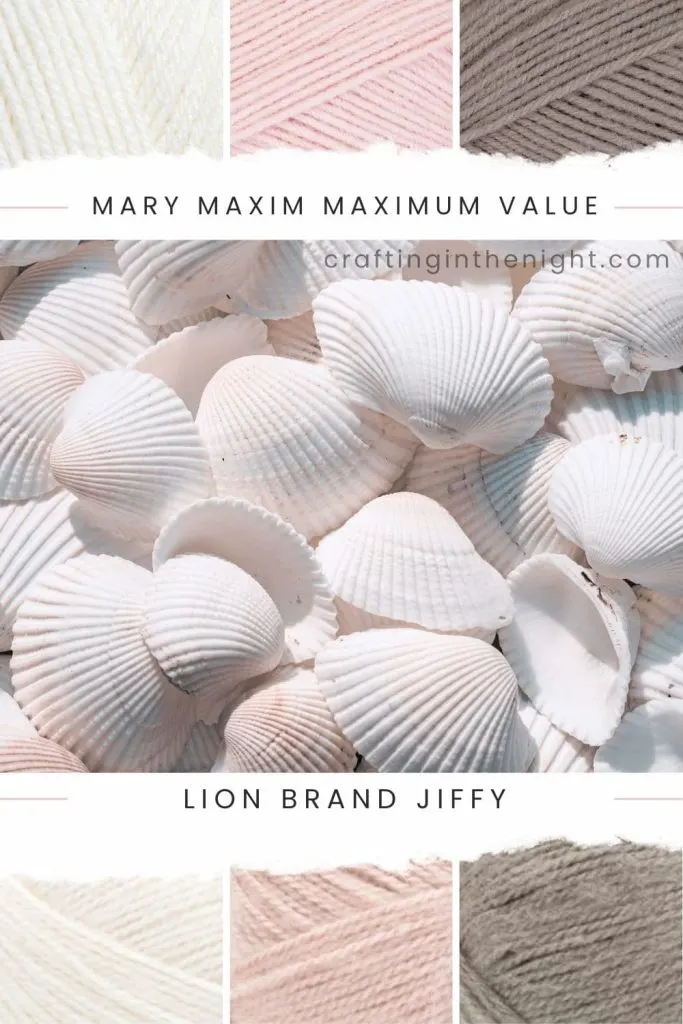 Blooming Daisy
Can you feel the summer vibes? Those adorable wild daisies are popping up all over the place, signaling the arrival of sunny days.
These lovely blooms symbolize purity, innocence, new beginnings, joy, and cheerfulness. Let's match their cheerful spirit with this amazing color palette.
Mary Maxim Starlette
Lion Brand Feels Like Butta Thick & Quick
The Swan Lake
Have you ever seen a swan gliding across a lake? They're so majestic and peaceful to watch.
Swans are known for their beauty and elegance and have become a symbol of refinement. Why not match their grace with this stunning color palette?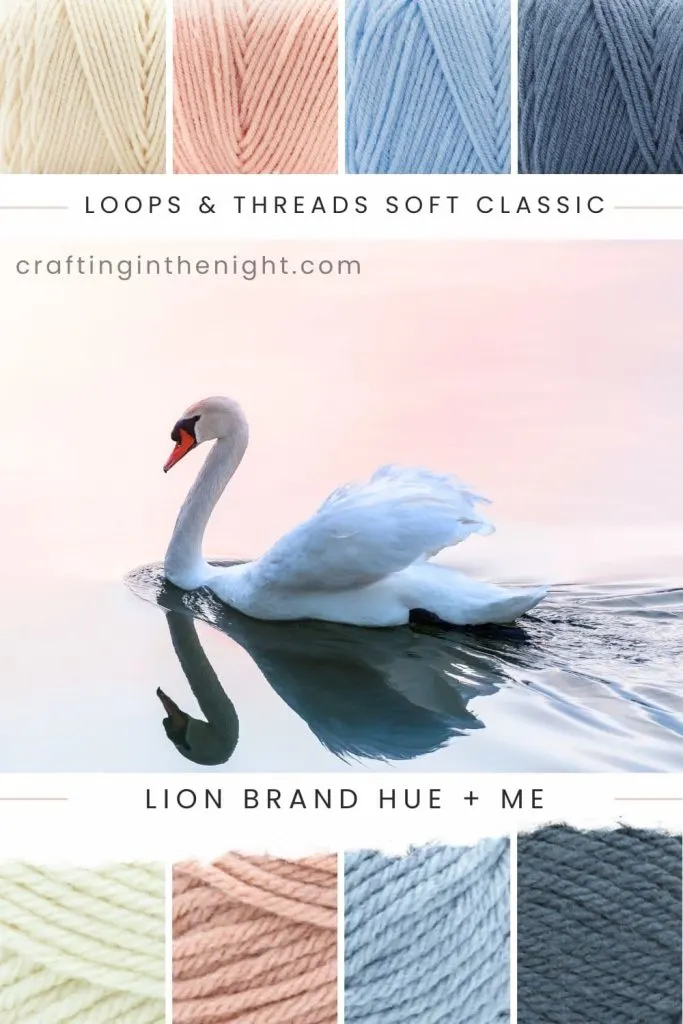 Loops & Threads Soft Classic Solid
Lion Brand Hue + Me
Sparkles in the Air
Have you ever paused to truly admire the beauty of a snowflake as it delicately descends and settles on the ground? They are truly breathtaking!
When countless snowflakes gather, they form an enchanting winter wonderland that both children and adults cherish. So why not complement your attire with this exquisite color palette inspired by snowflakes?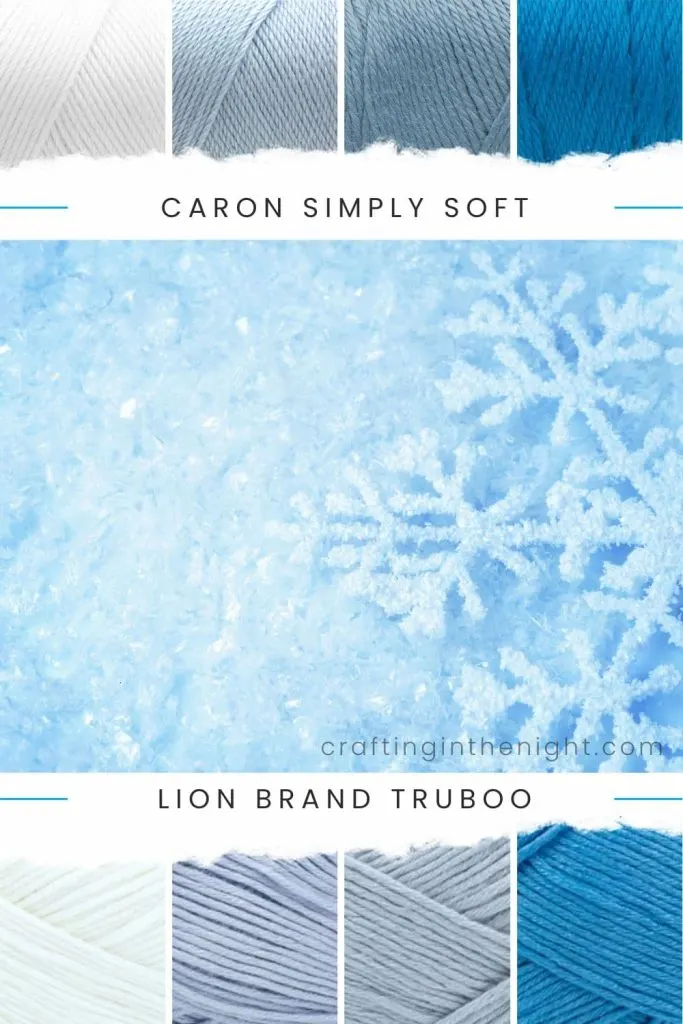 Mermaid's Tears
Pearls are often linked to mermaids in stories and artwork. They represent beauty, purity, and wealth. Legend has it that "mermaid's tears," pearls, and sea glass capture the enchanting glow of a mermaid's beauty.
Why not embrace this magical color palette just like these mysterious creatures?
Knit Picks Swish DK
Lion Brand Re-Spun Thick & Quick
Light Above
Did you know that lighthouses aren't just for guiding ships? They're also incredibly beautiful attractions!
From charming traditional designs to impressive modern architecture, these beacons of light are adored by everyone. Why not take a look at this nautical, lighthouse-inspired color palette?
Knit Picks Brava Worsted
Lion Brand Vanna's Choice
Angel Delight
White roses are a timeless and beautiful gift, cherished for centuries for their elegant beauty and delightful scent. Express your feelings and show someone you care by choosing this stunning color palette to bring a smile to their face and brighten up their day.
Knit Picks Brava Sport
Lion Brand Pound of Love
Notes of You
Writing is a wonderful daily habit that brings us joy and calm. Whether it's a quick note, a shopping list, or a heartfelt thank-you, putting words on paper is a source of peace, focus, and confidence. Discover the delight of diary writing, which is represented in this cool color palette.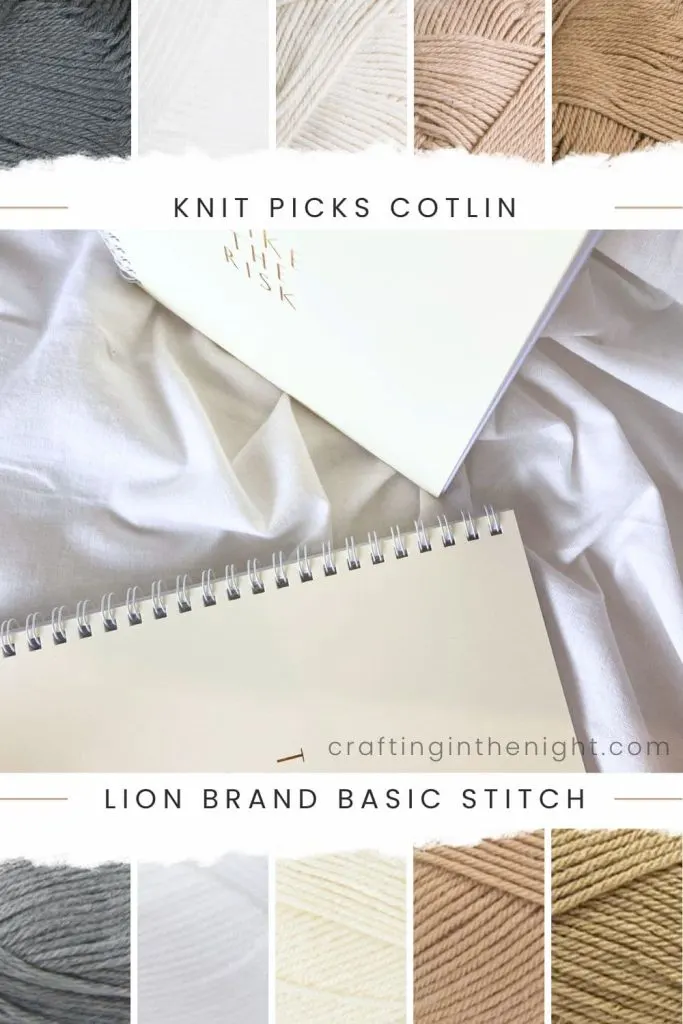 Knit Picks CotLin
Lion Brand Basic Stitch Anti-Pilling
White Coastal
Isn't it amazing how traveling lets us explore the breathtaking landscapes of our world? And when it comes to stunning views, nothing beats the beautiful coasts around the globe.
From pristine beaches to towering sea stacks and lush coastal forests, these mysterious and gorgeous coastlines never fail to amaze and delight us, just like this color palette.
Knit Picks Palette
Safe Skies
Flying is the start of an amazing adventure! It's so magical to look out the window as the plane takes off. In just a few hours, you'll be in your dream destination, after floating among the clouds.
Use this time to chill, unwind, think, imagine, and have fun. Let your mind wander like this beautiful color palette.
Knit Picks Palette