*This post may have affiliate links, which means I may receive commissions if you choose to purchase through links I provide (at no extra cost to you). As an Amazon Associate I earn from qualifying purchases. Please read my disclaimer for additional details..
Step into the tranquil realm of the lavender color palette, where every shade paints dreams of rolling fields and serene sunsets.
From the softest hints of lilac to the rich depths of amethyst, this palette is a tribute to nature's most soothing flower.
As you embark on your crafting journey, let these hues transport your creations to a world filled with calm and elegance.
Dive deep into this lavender-infused wonderland, and let your projects radiate with the timeless grace of this beloved bloom.
Lilac Garden
Have you heard of the "Queen of Shrubs"? It's the lovely lilac!
These fragrant flowering bushes are a favorite in gardens, and you might even remember them from your grandma's.
Match your style to these beautiful flowers with these lovely color palettes.
Fresh Threads
T-shirts are awesome, right? They're comfy, versatile, and perfect for any occasion. Plus, they're a great way to show off your personal style.
Check out this lavender color palette to match your shirt and feel extra cozy!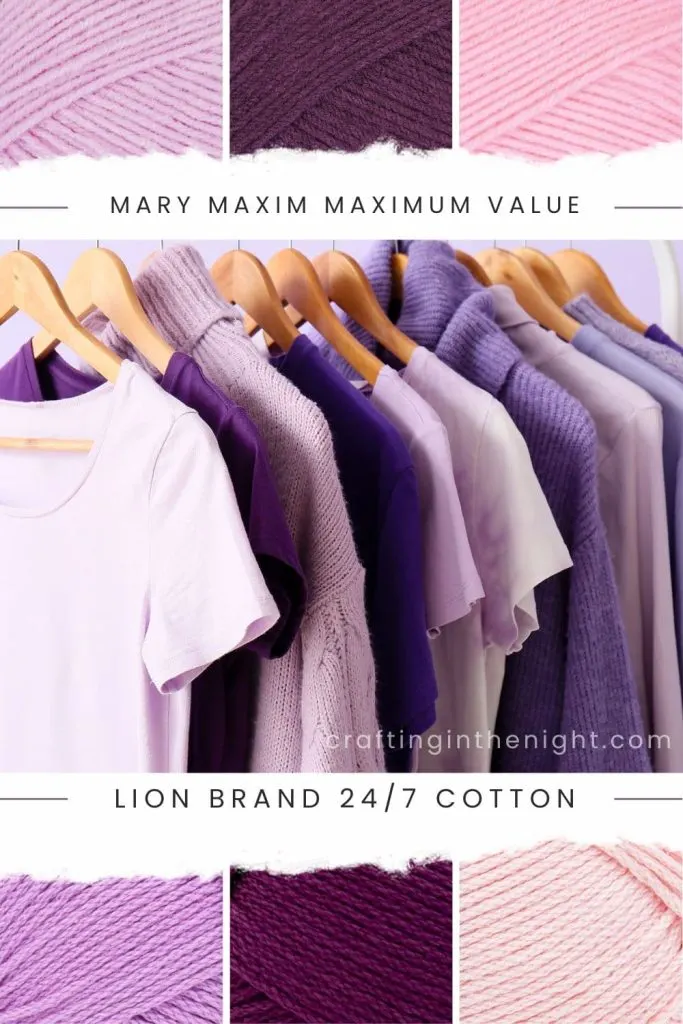 Mary Maxim Maximum Value
Lion Brand 24/7 Cotton
Walk With You
Sneaker shoes are amazing because they're so versatile! Everyone loves them, no matter their age or gender. Kids' sneakers are especially cool with their bright colors and fun designs.
Pick out your favorite pair and match them with this awesome color palette theme!
Lion Brand Vanna's Choice
Broken Beauty
It's amazing how an artist can take broken pieces of stone or tiles and create a beautiful pattern. It reminds us that even though we may feel broken, we can still come together and create something wonderous.
Let's embrace our uniqueness and wear these palettes to match the beauty of mosaics!
Knit Picks Brava Worsted
Lion Brand Truboo
Whispering Petals
Have you ever smelled lilacs? They're amazing! The scent is so rich and intoxicating that it'll stir your heart and soul.
Lilacs have been a symbol of blooming romance for generations, and it's no wonder why. They're delicate and fragrant, just like this color palette.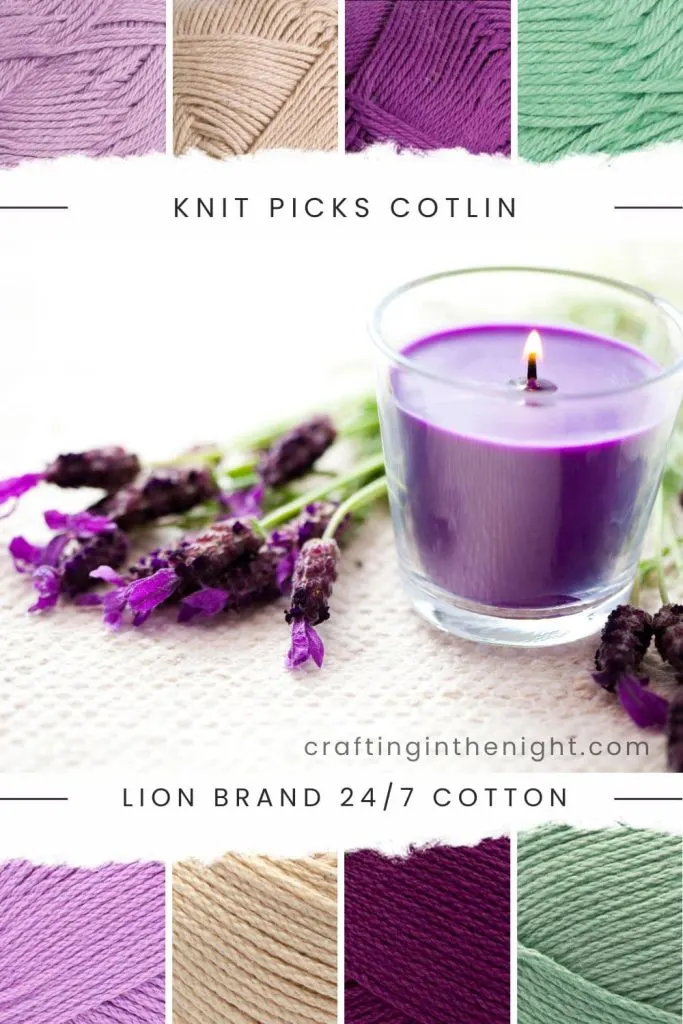 Sweetest Taste
Are you searching for a delicious dessert to make your next event extra special? Look no further than macarons!
These artisan treats come in a variety of colors and are perfect for any occasion, from birthdays to weddings to baby showers.
Browse our macaron-inspired color palettes to find the perfect match for your style.
Knit Picks Palette
Lion Brand Pound of Love
Goodbye Days
Have you seen the stunning lavender sky? It reminds us of our connection to something greater and the limitless possibilities when we open our hearts and minds.
Trust your intuition and find the answers within. Try a lavender sky-inspired color palette to match your mood.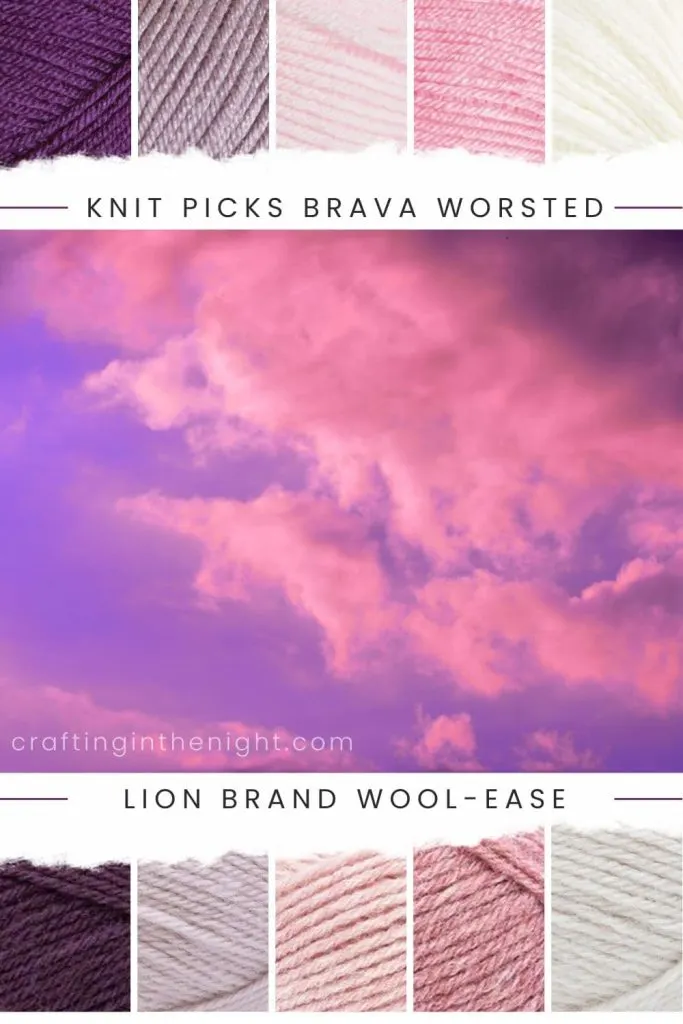 Knit Picks Brava Worsted
Lion Brand Wool-Ease
Ride With Me
Biking is amazing because it lets you discover new places, both near and far. You might even stumble upon hidden gems you never knew existed!
Let's explore the world around us with this cool color palette.
Knit Picks Swish Worsted
Lion Brand Heartland
Lavender Haze
Have you ever experienced the magic of being in the mountains early in the morning? It's like being on a picturesque island in the sky!
The beauty of mountains is that they can stir up emotions, provoke thoughts, and inspire awe. Why not let these color palettes do the same for you?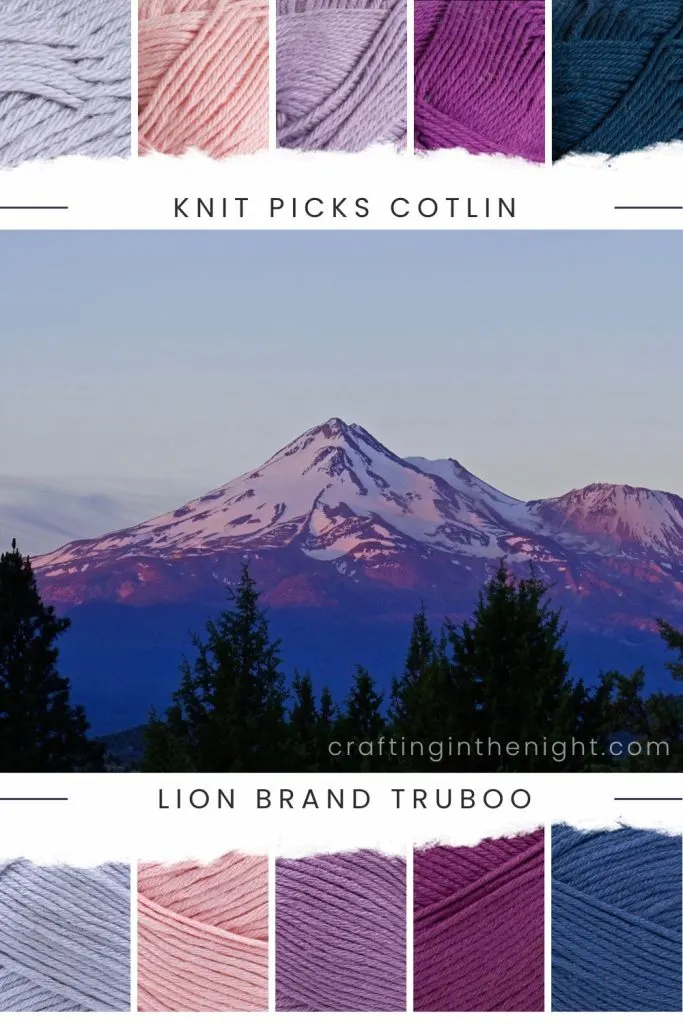 Knit Picks CotLin
Lion Brand Truboo
In the Fields
Have you ever taken a leisurely stroll through a field and appreciated the beauty of nature?
Slowing down and taking it all in allows you to notice the little things like the colors of an insect's wings, the sweet smell of flowers, and the gentle whispers of trees.
Let's all take a moment to appreciate the beauty of nature, just like the colors in this gorgeous color palette.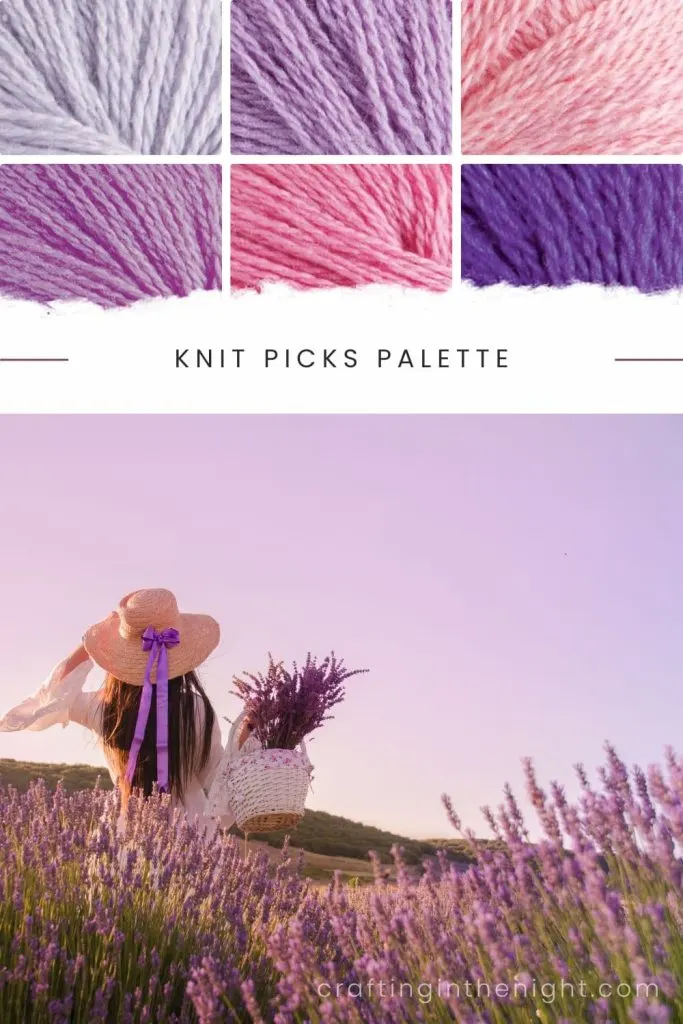 Knit Picks Palette
The View
Have you ever witnessed the breathtaking beauty of dawn?
As the sun starts to rise, the sky transforms into a mesmerizing blend of colors. It's like a magical moment where everything changes, and something new arrives.
Why not match your style with this stunning color palette inspired by the alluring beauty of dawn?
Knit Picks Palette