*This post may have affiliate links, which means I may receive commissions if you choose to purchase through links I provide (at no extra cost to you). As an Amazon Associate I earn from qualifying purchases. Please read my disclaimer for additional details..
Embrace the enchanting beauty of winter with a captivating color palette that paints the world in serene and cozy hues.
In this article, we'll explore the magic of winter colors and how they can transform your surroundings into a seasonal wonderland.
Whether you are a fan of icy blues, warm earthy tones, or the classic whites of winter, we've got tips and inspiration to help you infuse the spirit of the season into your life.
Let's dive into the enchanting world of winter color palettes and discover how they can elevate your winter experience!
Let It Snow
Winter has arrived, and even if you don't have snow-capped mountains around, there's still something magical about this season wherever you are.
That's why we've got the perfect color palette to match the whimsical vibes of winter.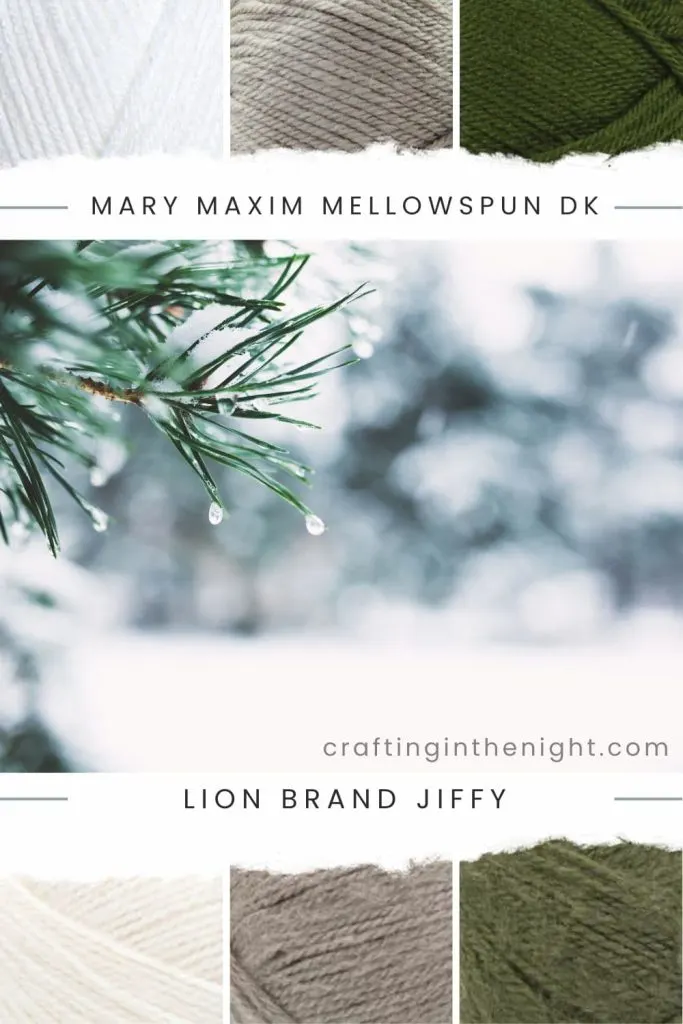 Fairy Lights
Isn't snow stunning? It has this magical ability to transform the way light, shadows, and colors appear.
Imagine the breathtaking sight of snow falling against a backdrop of evening lavender, sparkling with iridescent brilliance.
You can capture this enchanting vibe by incorporating a snow-inspired color palette into your style.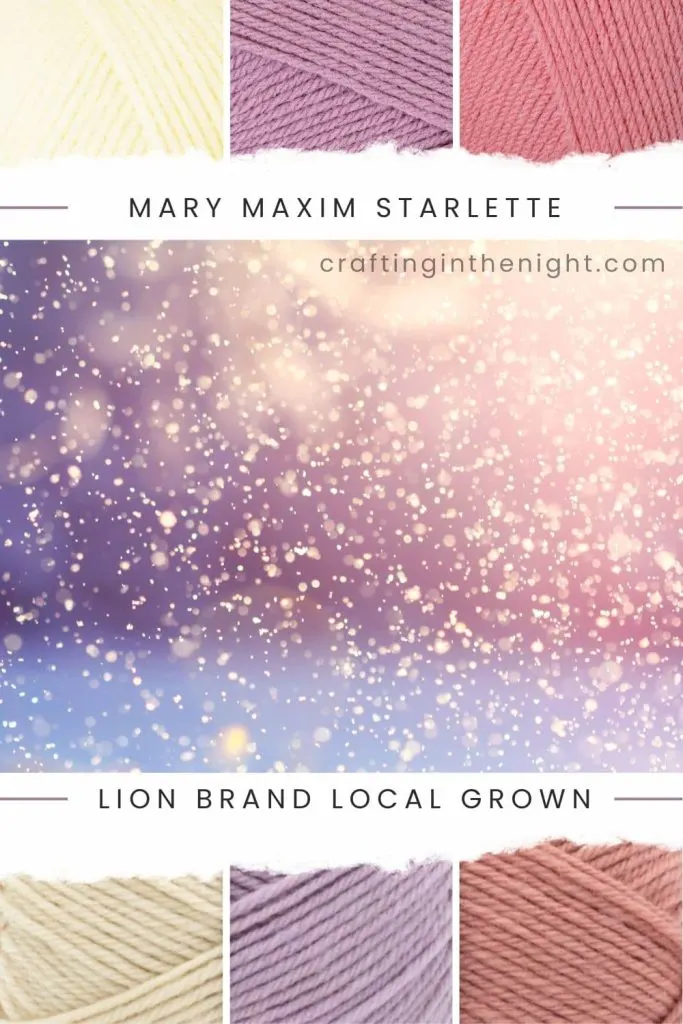 Mary Maxim Starlette
Lion Brand Local Grown
Dashing Through the Snow
Isn't it amazing how everything transforms into a magical wonderland when it's covered in snow?
Those gloomy, dull winter days with bare trees and lifeless grass suddenly become a refreshing break when a beautiful blanket of snow covers the landscape.
Why not add some of that magic to your creations with a snowy landscape-inspired color palette? It's the perfect way to match the beauty of the winter season and add a touch of enchantment to your look.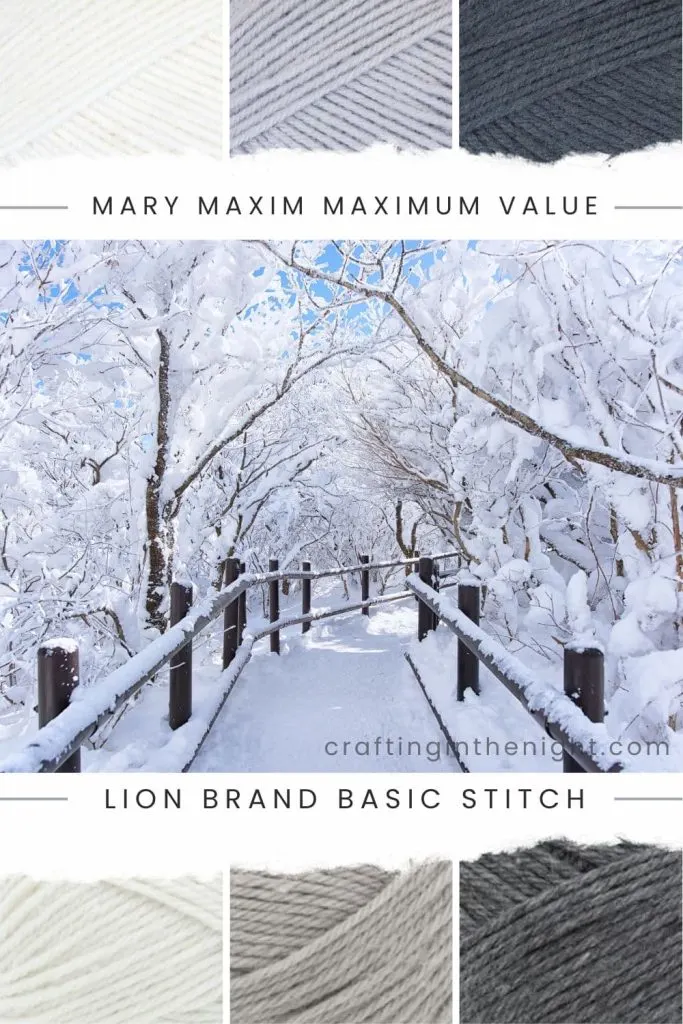 Frosty Mornings
Have you ever noticed how frost can turn ordinary things into something magical?
The best part is that it appears out of nowhere and disappears just as quickly, so we never get bored of it. That's why I want to share with you this amazing color palette inspired by frost.
Lion Brand I Like Big Yarn
Sunlight's Peak
Don't you adore the stunning orange hues that grace the winter landscape? They evoke a sense of coziness and familiarity, much like this delightful color palette.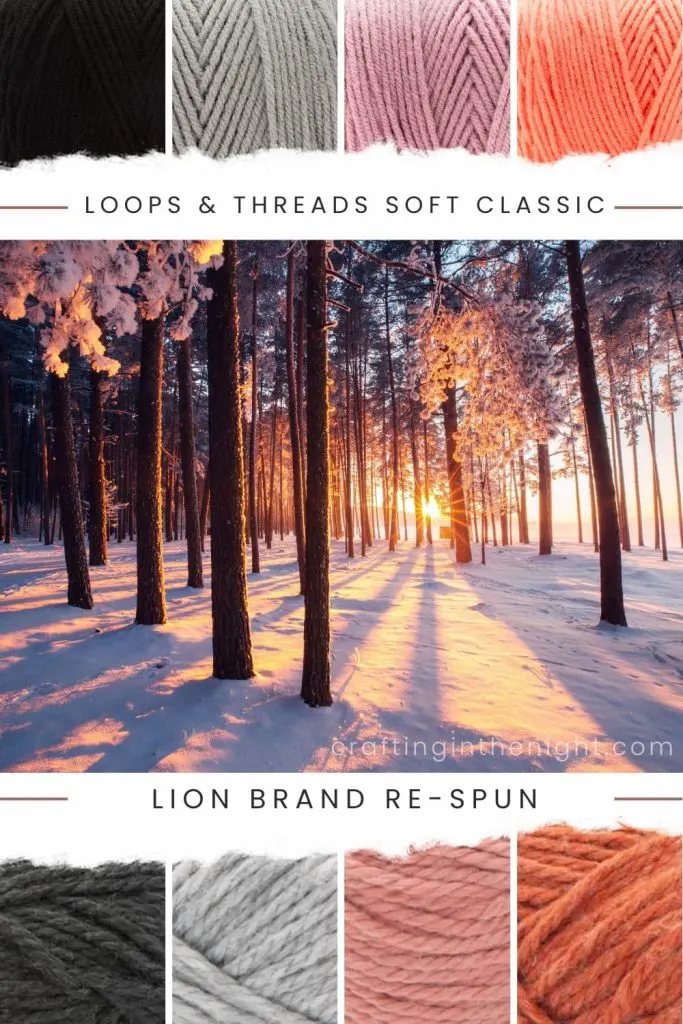 Loops & Threads Soft Classic
Lion Brand Re-Spun Thick & Quick
A Cup of Good Cheer
Winter is finally here, and you know what that means: it's time to snuggle up in cozy sweaters!
There's nothing quite like the feeling of being wrapped up in a warm knit that makes you feel like you're getting a constant hug. Let's not forget about sipping on your favorite hot drink while you're at it.
Plus, this winter color palette is just so captivating and adds to the cozy vibes.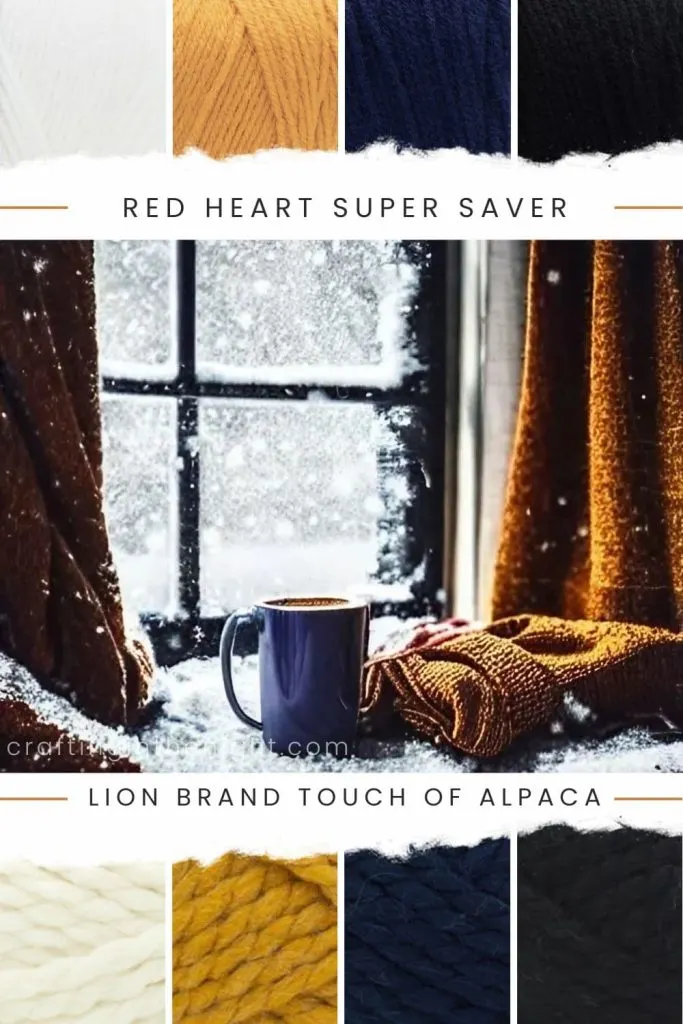 Lion Brand Touch of Alpaca Thick & Quick
Magical Frost
Isn't it incredible how stunning and imaginative snowflakes are? They come in all sorts of shapes and sizes, and no two snowflakes are ever identical.
Let yourself be inspired by this lovely color palette, just like the intricate radiance of a snowflake.
White Out
Have you ever noticed how marvelous ice and frost can be? It's worth taking a second look, especially on those chilly days when you see flowers and plants covered in it. They take on a whole new beauty and form.
That's why I wanted to share with you this amazing color palette inspired by frozen flowers.
Knit Picks Swish Worsted
Lion Brand Pound of Love
Taste of Winter
Winter's transformation into a breathtaking wonderland when snow falls is truly amazing.
Its unique charm sets it apart from other seasons, covering everything in a splendid white frost.
The layers of snow create a magical world, making you feel like you're lost in a pure winter wonderland, just like the colors in this palette.
Knit Picks Brava Worsted
Lion Brand Vanna's Choice
Winter Mornings
Isn't it amazing to wake up to the sparkling ground in the sunshine on a chilly morning, perfectly complementing the elegant orange hues of the sun against the pure white snow?
Well, get ready to embrace this magical morning glow by choosing an outfit that matches this impressive color palette.
Knit Picks Palette
Frozen in Time
It's officially winter season! Even if you don't live in a place with snow-capped mountains, there's still something special about this time of year.
When the first cool breeze blows through the trees, you can't help but feel the enchantment in the air. Why not embrace the frozen magic of winter with this amazing color palette?
Knit Picks Palette