*This post may have affiliate links, which means I may receive commissions if you choose to purchase through links I provide (at no extra cost to you). As an Amazon Associate I earn from qualifying purchases. Please read my disclaimer for additional details..
Step into a world ablaze with passion and energy as we explore the captivating realm of the red color palette, ideal for inspiring your knitting and crochet projects.
In this article, we'll journey through the spectrum of reds, from fiery crimsons to rich burgundies, and uncover how these vibrant hues can infuse warmth and vitality into your crafting endeavors. Whether you're an avid crafter or a beginner, these red tones offer endless possibilities for creating stunning knit or crochet items.
From cozy scarves to statement blankets, we'll provide you with tips and ideas to make the most of this dynamic color palette.
Delve into the world of reds and ignite your inspiration, whether you're knitting, crocheting, or simply seeking to add a touch of vibrancy to your life!
Chance of Luck
Life has this amazing knack for throwing signs and symbols our way, don't you think? Dice are one of those symbols that holds some deep meanings. It's all about chance, probability, and that extra thrill of risk.
Why not embrace the excitement and roll the dice, just like this vibrant color palette?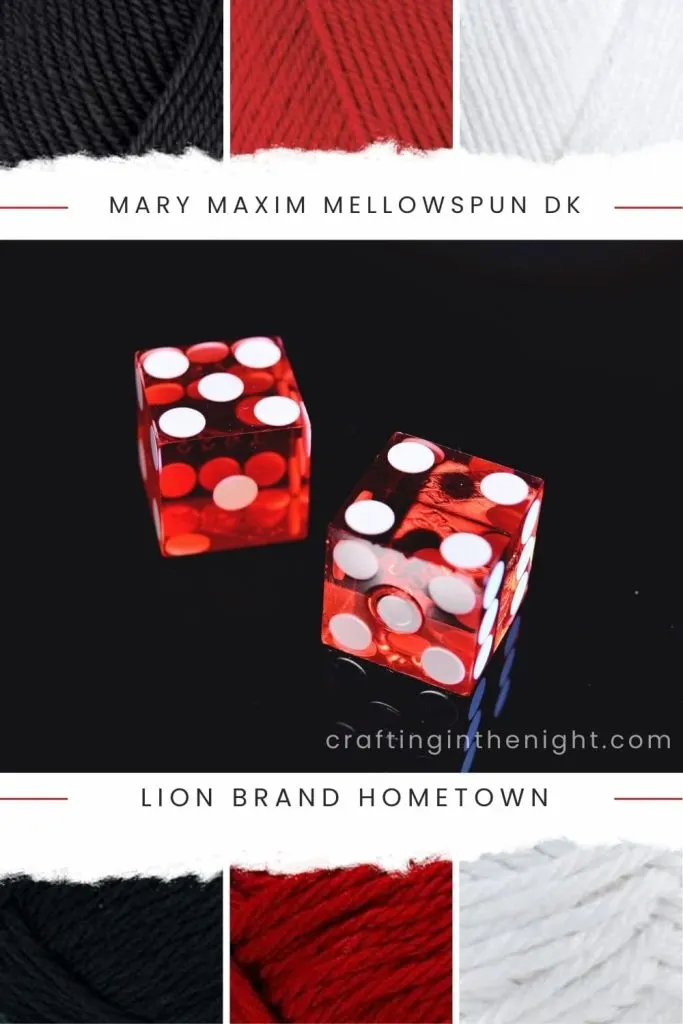 Lion Brand Hometown Bonus Bundle
Crimson Blood
Did you know that blood has a lot of meanings? It can represent things like pain, purity, loyalty, and even our connection to our ancestors. Blood is super important in many cultures, both physically and symbolically.
Why not wear this color palette to match the symbolism of blood?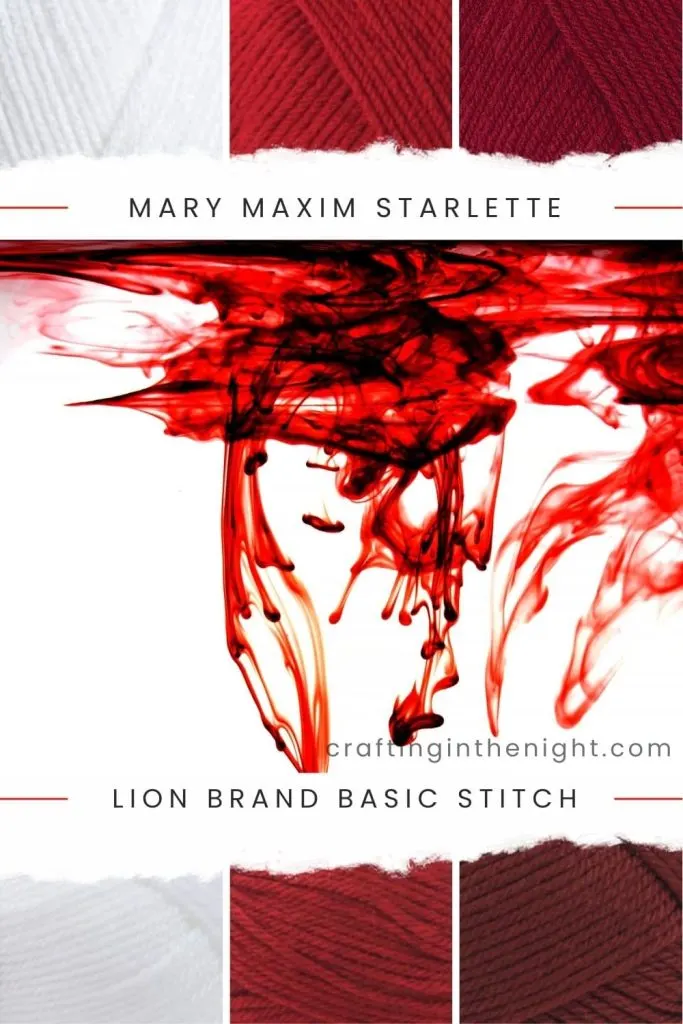 Lion Brand Basic Stitch Anti-Pilling
Beauty of Roses
Red roses are the ultimate symbol of a beautiful love story. They represent passion, desire, true love, and romance. If you want to say "I love you," there's no better way than with these timeless flowers.
Show your love with this stunning color palette!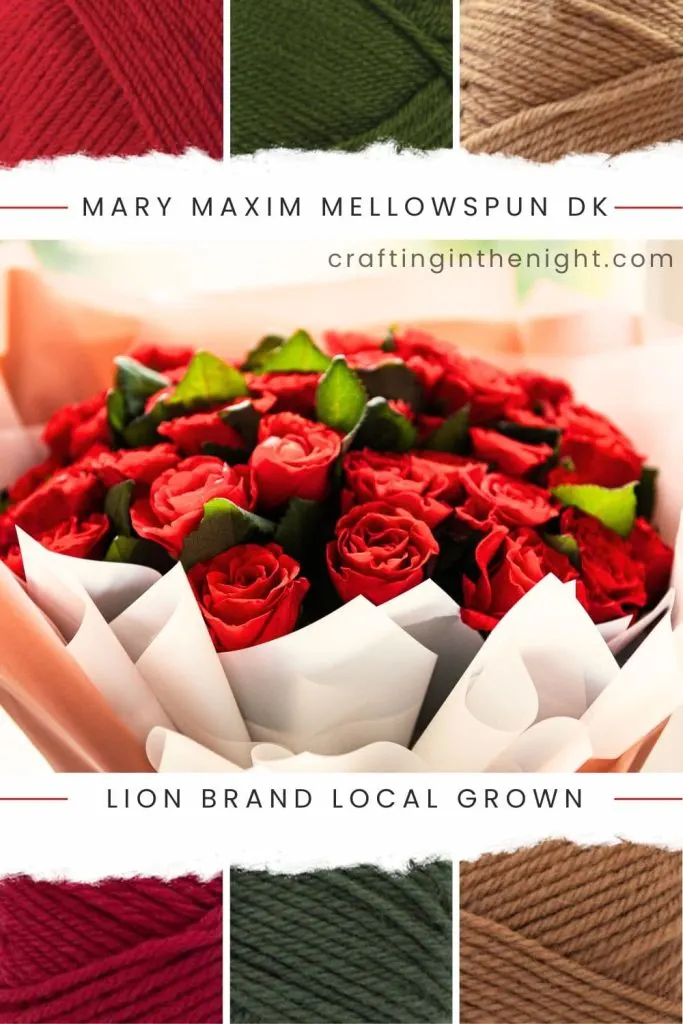 Garden of Paradise
Have you ever tried a blood orange? Cutting through the pale orange skin reveals a surprising display of red. Their juicy flesh is a refreshing snack that will wake up your taste buds.
Why not incorporate a color palette as bright and bold as the color of a blood orange?
Blood Moon
Blood moons are truly fascinating! They have a rich history of myths and legends, often linked to rituals and witches. But let's not forget their breathtaking beauty and the thrill they bring.
With their alluring and mysterious nature, why not embrace this captivating color palette to match their enchantment?
Knit Picks Palette
Lion Brand Bambu 7 Cone Yarn
The Ruby Slippers
Have you ever been enchanted by the allure of red shoes? Just like Dorothy's ruby red slippers, they have a certain power that can transport you to a magical world. From ballerinas to pop stars, red shoes have been a popular choice for centuries.
Why not ignite your imagination and try out this fairytale-inspired color palette? Who knows where it might take you!
Lion Brand Basic Stitch Anti-Pilling
The Secrets of Spice
Did you know that spices and herbs have been used for centuries for both cooking and healing? They not only make our food taste and smell amazing, but they can also help protect us from diseases.
Try this spice-themed palette, and let's journey towards better health and happier lives together!
Chic Rouge
Who doesn't love a pop of red lipstick? It's like the classic little black dress of makeup: It works for any occasion and with any outfit.
Whether you want to make a bold statement or add some sophistication to your look, red lipstick is a versatile and empowering choice that's sure to turn heads.
Why not pair it with this color palette?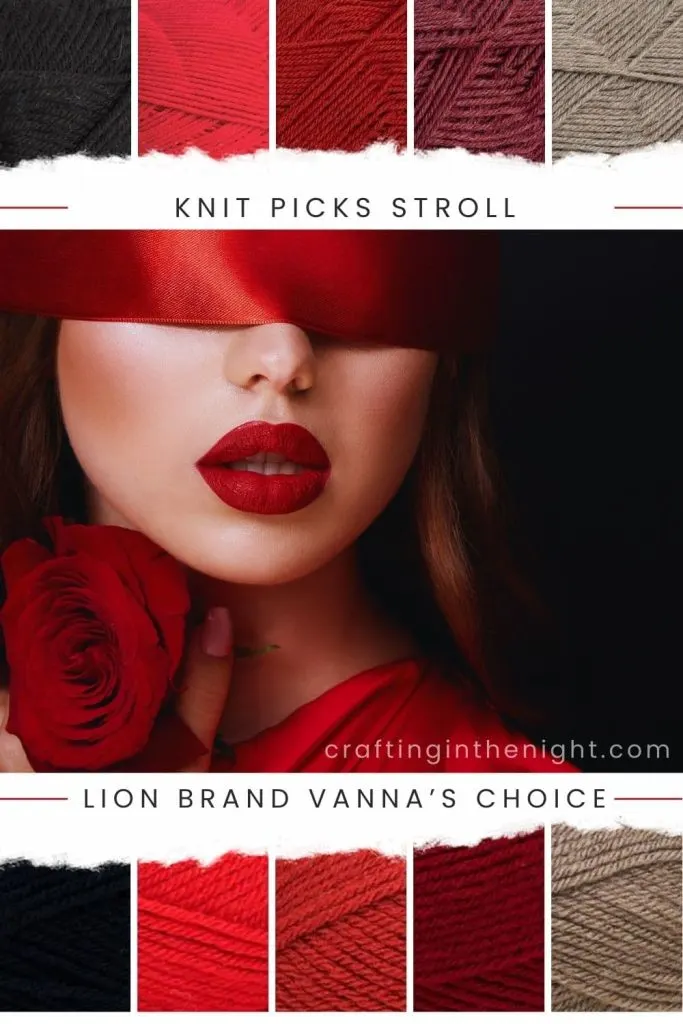 Lady Luck
When a ladybug lands on you, it's a wonderful sign of good luck and it is said to bring you extra patience and less stress. It's truly a magical experience to have a ladybug land on you.
Why not embrace the magic and enjoy this beautiful color palette inspired by ladybugs?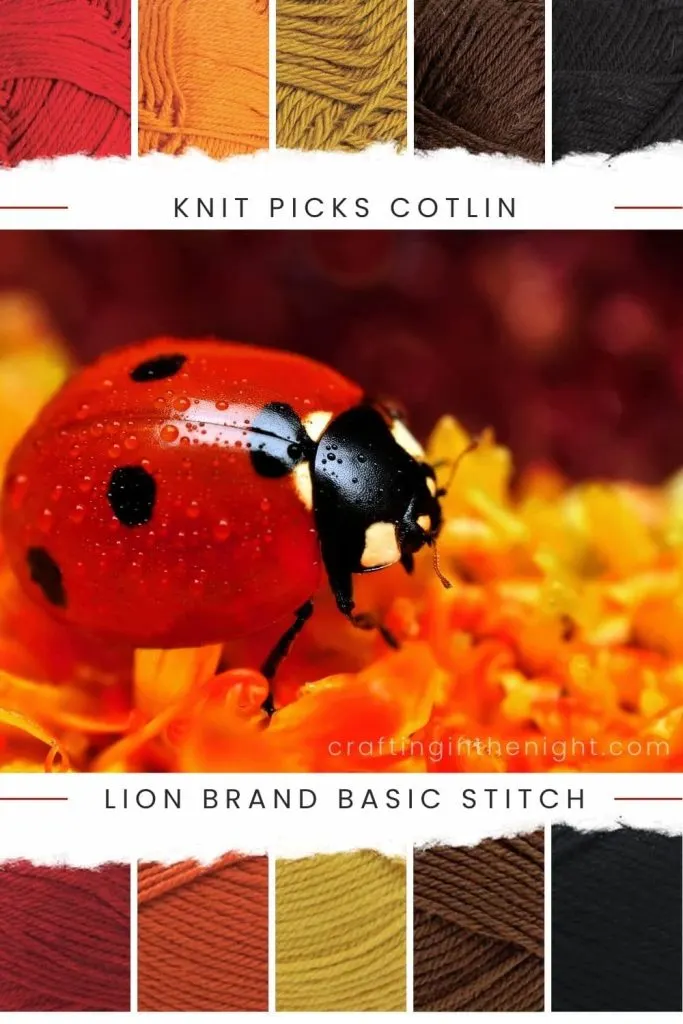 Knit Picks CotLin
Lion Brand Basic Stitch Anti-Pilling
Scarlet Sky
Have you ever witnessed a breathtaking red sky at sunrise or sunset? It's truly a sight that fills your heart with thoughts and emotions.
When you're lucky enough to see this beauty, take a moment to appreciate the strength, power, and drive you've been given.
Embrace the blessings of the red sky with this vibrant color palette.
Knit Picks Palette
Blurred Stars
City lights transform the night into a breathtaking spectacle, infusing it with vibrant energy. From above, cities resemble enchanting planets, each with its unique charm. These dazzling lights not only enhance the beauty of our surroundings but also serve as a beacon of hope amidst darkness.
Just like the stunning colors in this palette, find your own light and illuminate the world.
Knit Picks Palette