*This post may have affiliate links, which means I may receive commissions if you choose to purchase through links I provide (at no extra cost to you). As an Amazon Associate I earn from qualifying purchases. Please read my disclaimer for additional details..
Journaling is a means of self-expression which helps us in organizing our thoughts and emotions and allows us to create a deeper sense of self-awareness and self-discovery.
Journaling is a great way to record our thoughts and ideas and get them on paper. There are many different ways to journal and here we will delve into what art journaling is all about.
What Is Art Journaling?
Art journaling is a combination of verbal and visual journaling. It is a way to record your thoughts, memories, and ideas through art.
Enjoy the art of creating and exploring your creative side while journaling. Express yourself through art, whether with words, illustrations, paintings, or a collage.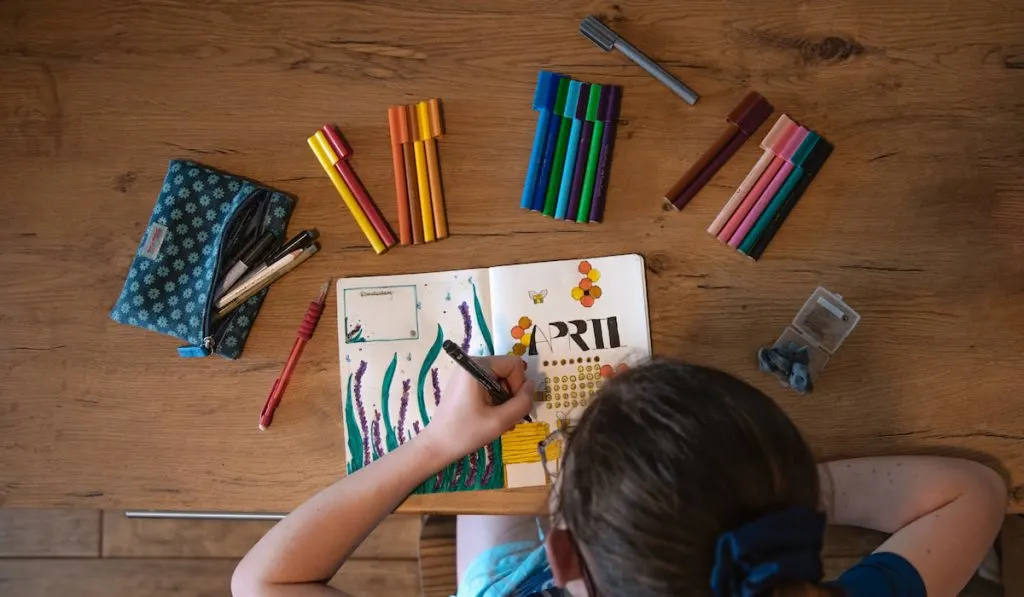 Art journaling is for everyone, you don't have to be an artist to start. This is your personal journal with art, with no rules or constraints, so you can do whatever you want freely and release your artistic side. Feel empowered with art journaling and start creating.
Why Should You Start an Art Journal?
Journaling itself has so many benefits. Journaling can help us with our personal development and spiritual growth.
It helps us to delve deeper into our thoughts and be aware of what we are feeling which helps us analyze the root of our emotions. Journaling is also a great learning tool that gives us valuable insight on our challenges, experiences, and thought processes at a certain time.
Art journaling is a way to express our emotions, feelings, and thoughts through art. In this creative journey, it will help us organize our thoughts, reduce stress, and learn and understand ourselves even more.
How Do You Start an Art Journal?
It is easy to start an art journal and you don't need a lot of things to begin. Even a simple composition notebook or a few papers, a pencil, or a pen will help you in starting your art journal.
The first thing to do to start an art journal is to gather your supplies. Think of what you want to start with, what sort of supplies you might need. This is completely customizable depending on your skills, interests, and personal preference.
Select the right book to start your journal. You have to think about the size. if you like to create large drawings or paintings, choose a bigger book. But if you are the type to want to bring your journal everywhere you go, a small or a medium-sized book would be best.
The next thing is creating a background. If you don't wish to start with a white blank page, you can create different backgrounds. Paint the pages with watercolor or acrylic paint, create layers using torn-up pages from old magazines, books, or wrapping papers.
Once any glued or painted pages have dried, you can now start putting in some notes, sketches, and doodles. Now with a book and a background, you can now start your journey through art journaling.
What Do You Write In an Art Journal?
Art journaling doesn't require any rules and you can write anything in your journal book. From your thoughts, feelings, ideas, hopes, dreams, fears, your daily life and anything you can think of.
There are a lot of journaling ideas and concepts out there and so many different topics you can do. But if you do not know where to start and are new to journaling, here are some ideas to get you started.
Introduce yourself, write or draw your favorite things, your likes and dislikes, dreams, hopes and fears.
Draw your self-portrait.
Create a map or draw your favorite places. It can also be places you've always wanted to go to.
Draw a favorite childhood memory.
Draw your favorite people who have been significant in your life.
Add some favorite quotes, personal mantras, and favorite lyrics and draw how these words made you feel.
Collect flowers and leaves and include them in your journal.
Paste some old photos and a brief description of those memories.
Draw your favorite pet.
These are just some ideas to help you start. There is no right or wrong in art journaling. Just focus on yourself, what you want to do, and begin creating!
What Are the Basic Supplies Needed for an Art Journal?
You do not need a lot of complicated items to begin an art journal. You can start and use some basic supplies such as a journal book, pencils, pens or markers.
Whatever type of art journaling you prefer, you should choose the materials that are suitable for the type of art you will create. A simple book and pens are good for people who are starting out and love to draw and write.
For anyone who wants to experiment with different supplies and techniques, feel free to use items such as markers, highlighters, watercolors, acrylic paint, gesso, stencils, stamps, and so on.
A white ink or a correction tape could be helpful to have as well to correct some mistakes you might come across. Old magazines, newspapers, and wrappers are a good addition to creating layers in your journal.
Just make sure you have glue sticks handy for these. Painting in your art journal can be messy so it is nice to put wax paper or parchment paper between the pages of your book to avoid paint soaking on the other pages.
Just make sure to get journals with a heavier paper if you are into these mixed-media types of art journaling to make sure all of your art forms will hold up.
What Types of Art Journaling Are There?
There are many types of art journaling out there and mostly any type of journal can be an art journal. You can have one art journal where everything goes, from quotes, writings, sketches and painting, all in one book.
Or you can have multiple journals each for a specific purpose. A journal for your quotes, one for your sketches and drawings, one for your thoughts, and so on.
Having multiple art journals will help you focus on one specific purpose and be more detailed. Find something that fascinates you and explore your creativity with these different types of art journaling.
15 Types of Art Journaling for Beginners To Consider
1. Mixed Media Journal
Mixed media art journaling uses a variety of styles and techniques all in one journal. From words, drawings, and paintings, to pictures and collage, you can use different supplies to create. Experiment with what colors and materials look good together and create art without limits.
2. Bible Art Journal
Express yourself and your spirituality in a creative way. Bible art journaling is a great creative outlet for people who love reading the Bible. Write down notes, prayers, favorite verses and draw inspiration from the Bible.
3. Positive Affirmations Art Journal
We all need positive affirmations in our everyday life and having an art journal for this would lift us and help us become a more positive person. This is an inspirational book where you could put all your favorite positive affirmations and create art all around it. Writing positive affirmations will help you feel inspired and motivated in life.
4. Gratitude Art Journal
We have so many things to be grateful for and writing everything that you are grateful for will make you feel lucky and blessed. We get so busy in our lives that sometimes we forget about the small and simple things in our lives.
Keeping a gratitude art journal will create a deeper appreciation of your life and will help you feel grateful for those small and simple things that makes you completely blessed.
5. Idea Art Journal
Write down your ideas, goals, achievements, projects, and any other that would help you be motivated and inspired in your personal journey. This journal is somewhat like a vision board, where you put all your goals and dreams.
An idea journal will also help you to remember ideas you may have and to further develop them and provide encouragement. It is also a good starting point to help you reach your goals.
6. Dream Art Journal
Try to write, draw, and paint whatever you've dreamed about and create a visual image of it. This helps you observe, process, and understand your thoughts and sleep patterns.
7. Quotes Art Journal
Keep a journal of all the quotes and beautiful words that inspire you and touch your heart and create art around it. Decorate using your pens, markers, or paints for a more artistic look. You will love to keep going back to this book of quotes and the inspiring art that you made.
8. Lyrics Art Journal
Like quotes, music and lyrics also touch us in different and wonderful ways. Words have a way to touch us and when we discover some words in songs that we love, writing them down in a journal is a good way to express ourselves with the help of music.
When certain lyrics move you, you can create art based on the images and feelings that you feel when you hear that particular song. Create art with the music that has inspired you.
9. Book Art Journal
For readers out there, a book art journal is a wonderful journal to visualise all your favorite books and write down all those lines and quotes that touch your soul. Draw the cover of the book or draw specific storylines that you love. Make a note of your thoughts and feelings about the books.
10. Travel Art Journal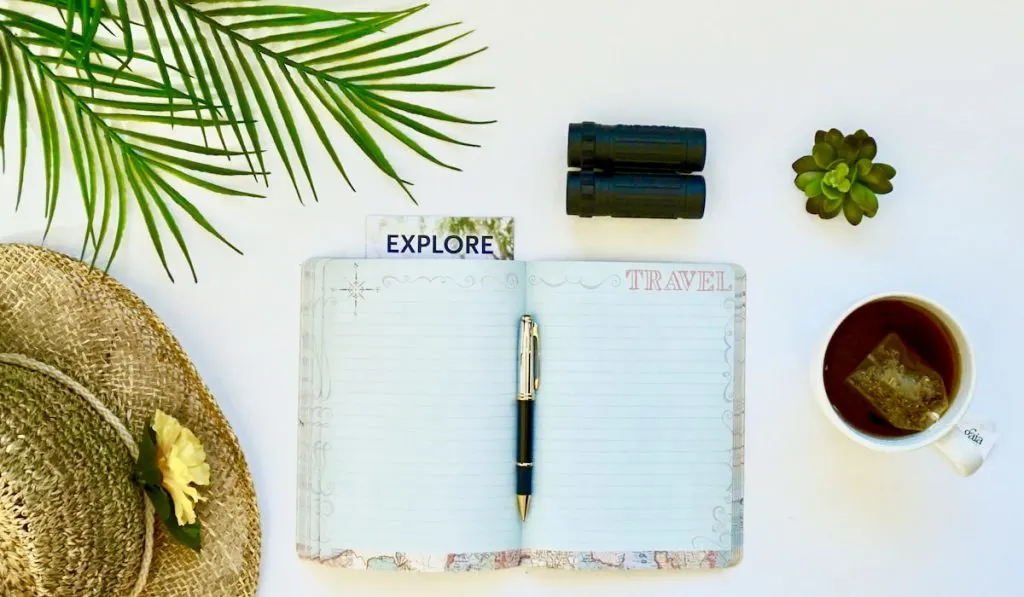 Traveling is a wonderful experience and what a lovely way to document your travels is with a travel art journal. Bring your travel art journal wherever you go.
Write and draw places you've been, places you wanted to go, foods you've eaten and all the different sceneries and experiences you've had. Print your photos from the trip, keep any tickets and mementos and put it in your travel art journal.
11. Memories Art Journal
A memory art journal is like a scrapbook or a photo album. Memorialize any event or period in your life that has been valuable to you and create an art journal of it. Put photos, mementos, notes, and other decorative materials into it.
12. Sketch Art Journal
If you love to doodle, draw and sketch and are not really into writing words about your thoughts and feelings, then a sketch journal is the way to go. Draw to tell a story, express your emotions, and explain a concept.
You don't need to have paint and water to start your sketch art journal. All you need is a blank notebook and a pencil, pen, or marker of your choice and you're free to sketch whatever it is in your mind.
A sketch journal is also good for you to be able to practice different techniques. If you like sketching things you see, bring your journal everywhere you go and sketch away.
13. Doodle Art Journal
Doodling is a fun way to unwind and express yourself without the restraints of everything that you draw having to be perfect. Doodling can be relaxing as it gets you in the zone of drawing lines, circles and dots keeping your mind calm as you are focused on doing one particular thing. It is a carefree activity that helps your mind wander away from the daily stresses of life.
14. Color-Themed Art Journal
Make a color theme for your journal. If you love the colors blue and gold, you can use these two colors all throughout your journal. Write, draw, and paint using these two colors that you've chosen for a more uniformed look.
15. Collage Art Journal
Paste all of those cut out papers from old magazines, books, and newspapers to create a nice collage. If you have a favorite line from a book or magazine, paste it there. Cut out words and things that you love and inspire you and put it all in your journal.
How To Keep Journaling Regularly
We already know the wonderful benefits of art journaling and how to get started with it but how do we keep on journaling regularly and consistently? Here are some tips to help you keep a journal and consistently create art.
Include Journaling in Your Regular Routine
Make journaling a part of your regular routine by journaling consistently. Create a time in each day for you to journal for at least a few minutes.
This can be in the morning when you're having your coffee or at night before you sleep. Make time to write even for a few minutes a day.
Picking a consistent time to journal will help to establish a daily journaling habit. You can even set reminders to get started on journaling.
Find a Peaceful Place
Find a peaceful and quiet place to write and create in your journal that is free from distractions. This will help you concentrate on your thoughts and in a way create a peaceful atmosphere to journal away everything that is inside your head.
Create a List of Journal Prompts
Figuring out what you want to write may hinder you from actually starting or writing effectively in your journal.
If you're having a hard time coming up with ideas, writing out a list of potential prompt ideas at the back of your page will help you start or continue your art journaling.
Carry Your Journal With You
If you're traveling a lot and are always out of the house, bring your journal with you.
If somehow you suddenly have a burst of inspiration or need to vent out your emotions and thoughts, at least you'll have your journal already with you.
Keep Your Entries Short
You don't need to have multiple pages done or finish a whole page of artwork in one sitting. You can just draw or write whatever you feel like at that moment and continue on to the next.
Set Aside Artistic Perfections
Always remember that art journaling is a form of self-expression where you can freely do whatever you want to do without judgment. Journaling is for you and you alone so create not with the intention of other people but for yourself.
Art journaling is a free space to jot down your feelings and express yourself through art. Remove any pressure, expectations and judgments you create for yourself and just focus on enjoying the process of creating art. Art journaling is for everyone, so journal with love and create art freely.
Resources: